Morgens gegen 03.00 Uhr ist meine Nacht wieder zu Ende. Ich fange an Bilder zu bearbeiten. Als ich morgens meine Medikamente raushole, stelle ich fest, dass es richtig heiß in der Schublade ist. Der Lüftungsschlitz fü den Kühlschrank ist unter dem Kühlschrank angebracht. Es fehlt wohl genügend Raum für die entsprechende Zirkulation innerhalb des Schrankes. Und bekanntlich steigt Wärme nach oben... Somit wird also die Schublade aufgeheizt.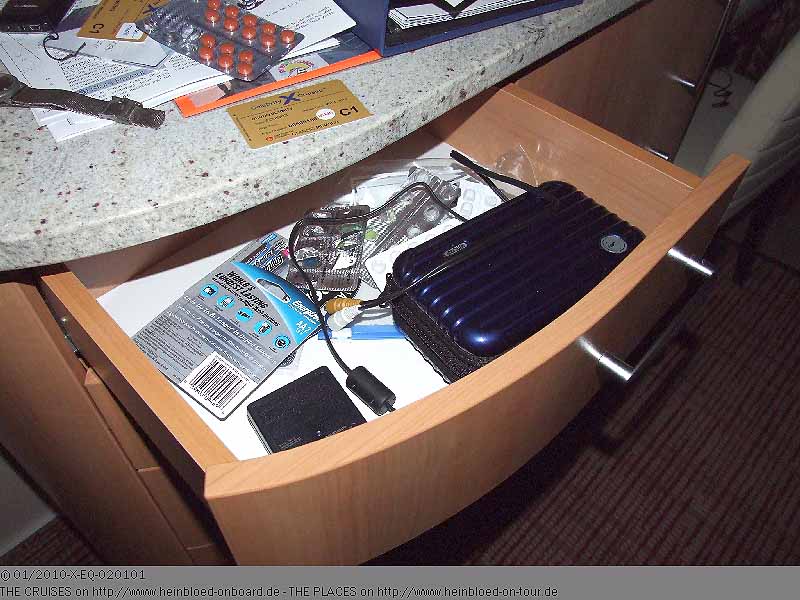 Around 03.00 am my night terminated again. I started to check the pictures. When I took out my medicines this morning that it was quite hot in the drawer. The ventilation slot for the fridge is unter the fridge. There was no space for an appropiate air circulation within the cabinet. Everybody should know: warm air descents upwards. So this heated the upper drawers.

Convenient was the 230 V-Socket for European plugs you only need one mulitple socket to plug in several electrical appliances.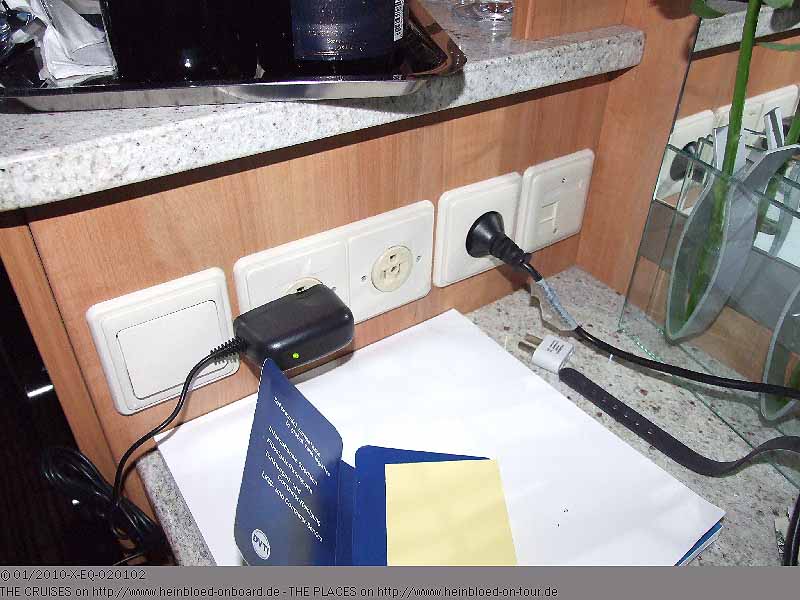 Angenehm ist die 230 V-Steckdose, so dass man mit einem 3-er-Stecker auskommen würde, um mehr Geräte anzuschließen.
WLAN im Zimmer läuft erst dann, wenn man sich angemeldet hat. Das geht über den Fernseher. Hierzu braucht man wiederum die Tastatur, die sich in der Schublade befindet, in der sich auch der Fön befindet (unter dem Spiegel). Gewöhnungsbedürftig ist allerdings die "Maus".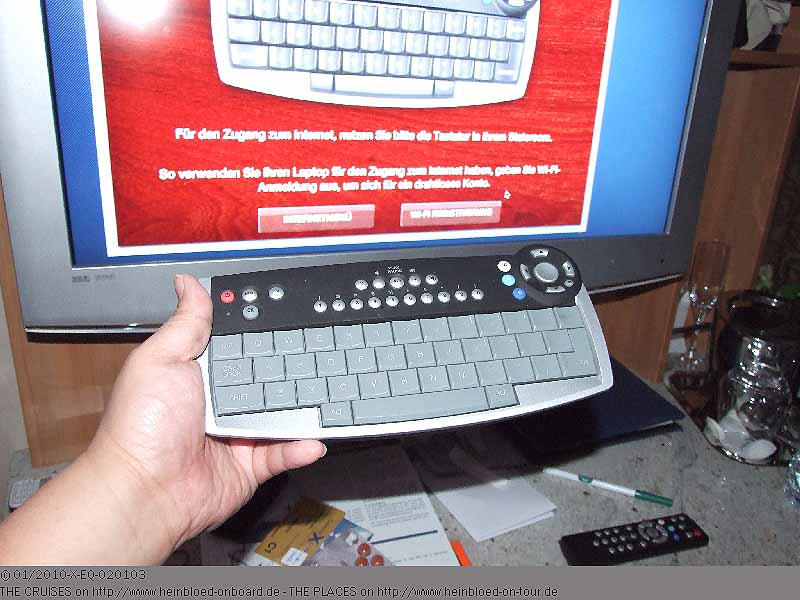 WiFi ran after registration in your stateroom. This worked trough the TV. Therefore you need the full keyboard which you find in the drawer with the hair dryer (under the mirror). Strange to handle was the mouse-function.

Contrary to the maps in the catalog and daily programme we sailed West around Cuba.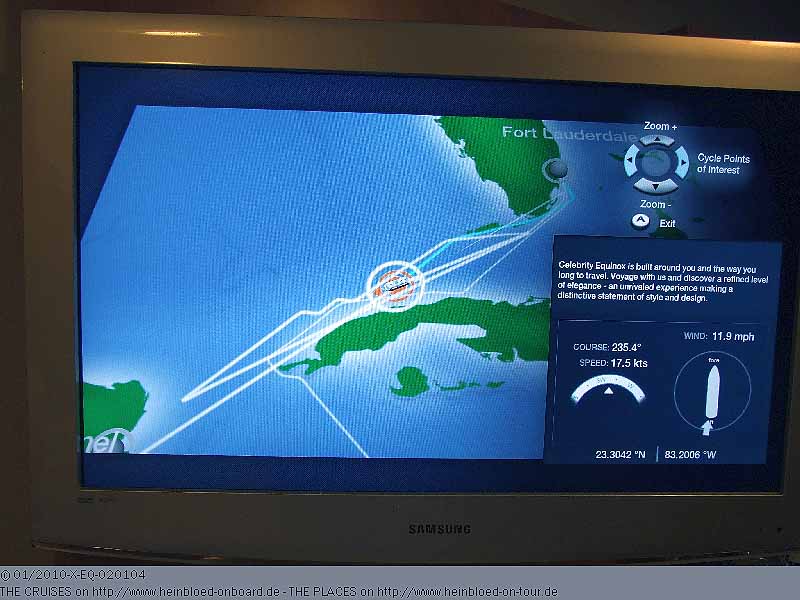 Entgegen der Karte im Katalog und im Tagesprogramm umfahren wir Kuba an der Westseite..
Was auch genial ist: bei manchen "Doppeltüren" ist eine Flügeltür vorgeschaltet, so dass zwei Kabinen miteinander verbunden sind, ohne dass eine Verbindungstür zwischen den Kabinen Platz an der Wand wegnimmt.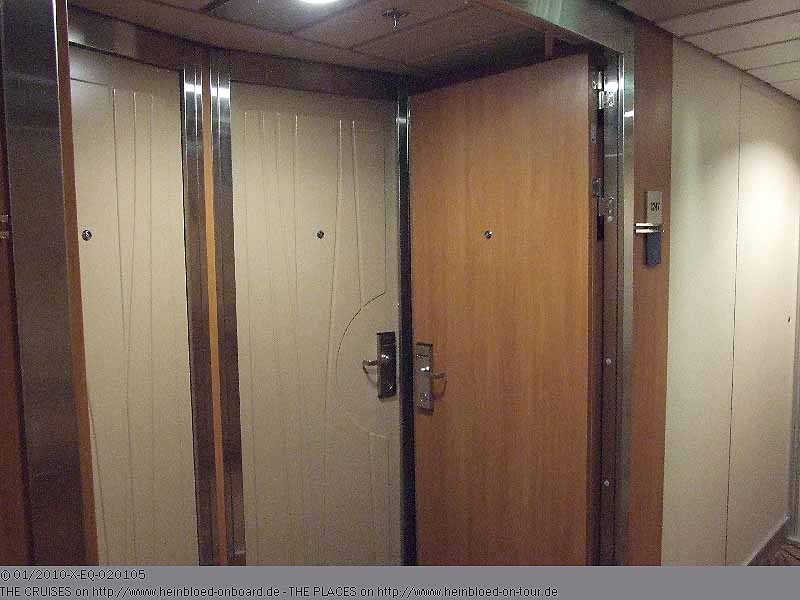 What was totally genious: with few "double entrances" you have an additional double wing door so you get two cabins connected without loosing the space of the connecting door at the wall of your stateroom.

We asked the reception for personalized stationaries. On my boarding pass you have my complete name. In the TV-System they used one part of name and on the stationary the other part.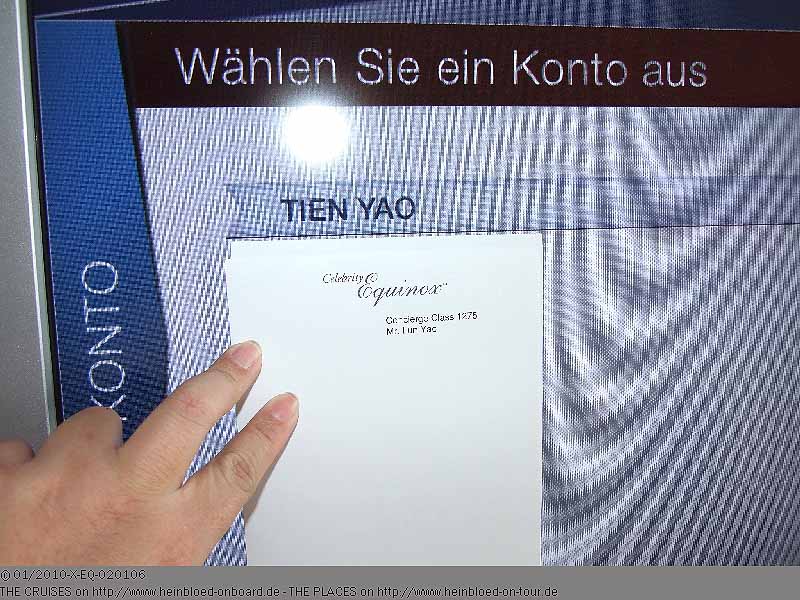 An der Rezeption haben wir auch nach dem personalisiertem Briefpapier gefragt. Auf der Bordkarte wird mein Name vollständig geführt. Im TV-System mit dem einen Teil und auf dem Briefpapier mit dem anderen Teil.
Immerhin kommen mit dem Briefpapier auch ein paar Postkarten mit.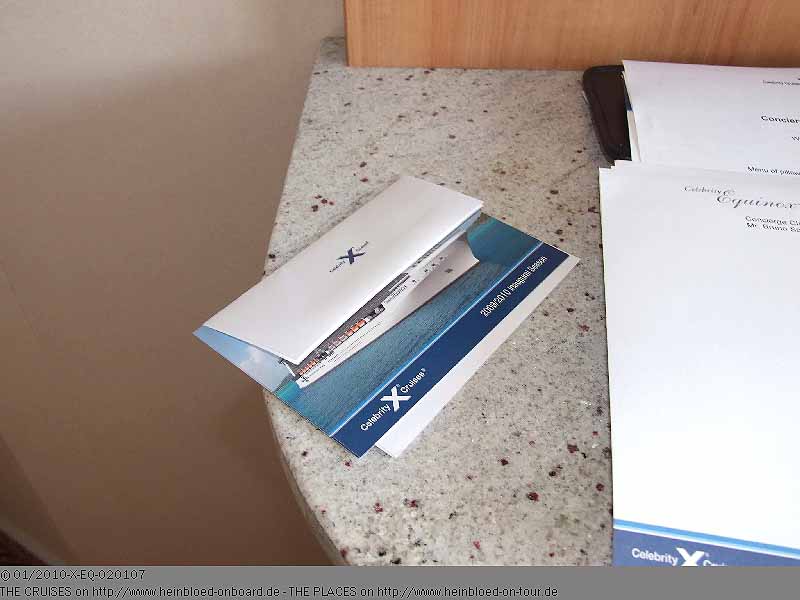 But we got some postcards with the stationary.

We got only one of the leather cover as they ran out. But my NCL-lanyards were still in my baggage.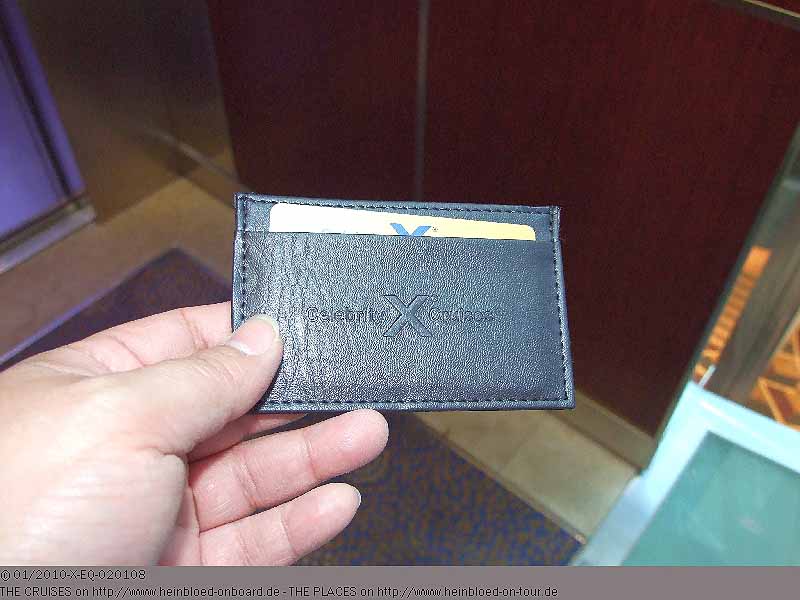 Zunächst bekommen wir nur einen Lederkartenetui, da sie wohl ausgegangen sind. Leider ist mein NCL-Lanyard im Koffer.
Von der Lage her ist unsere Kabine schon toll. Nur vor der Kabine auf dem Gang zum Fahrstuhl ist es immer eiskalt. Irgendjemand hat wohl da schon versucht mit einem Handtuch Abhilfe zu schaffen, aber das eine Handtuch alleine ist wohl zu wenig. Die einzigen Erinnerungen, die wir mit der CENTURY verbinden...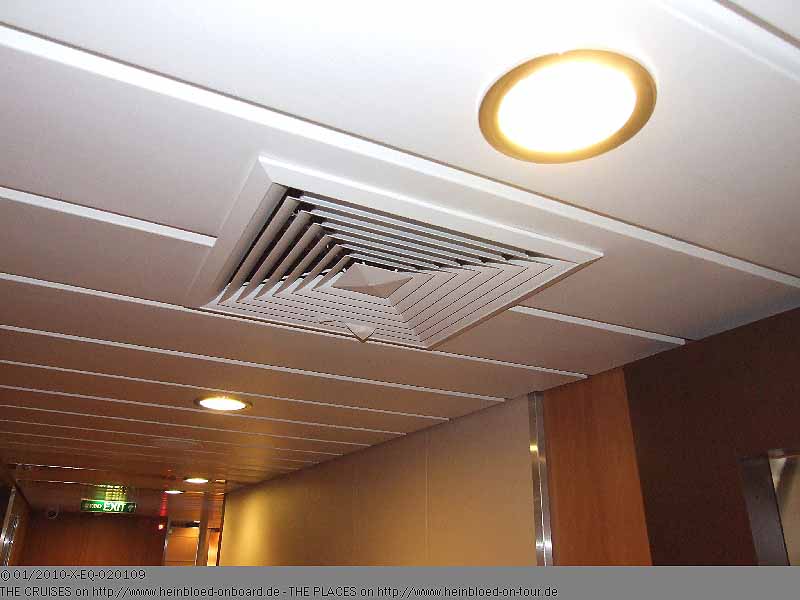 The location of our staterooms were great. But in front of our cabin all the gangway to the elevators it was always icecold. Someone tried already to fix the problem by using a towel. But just one towel was not enough. The only memories we had with our CENTURY cruise...

Someone asked in the forum how the cabins were seperated with the stairways: there was a door which was always open.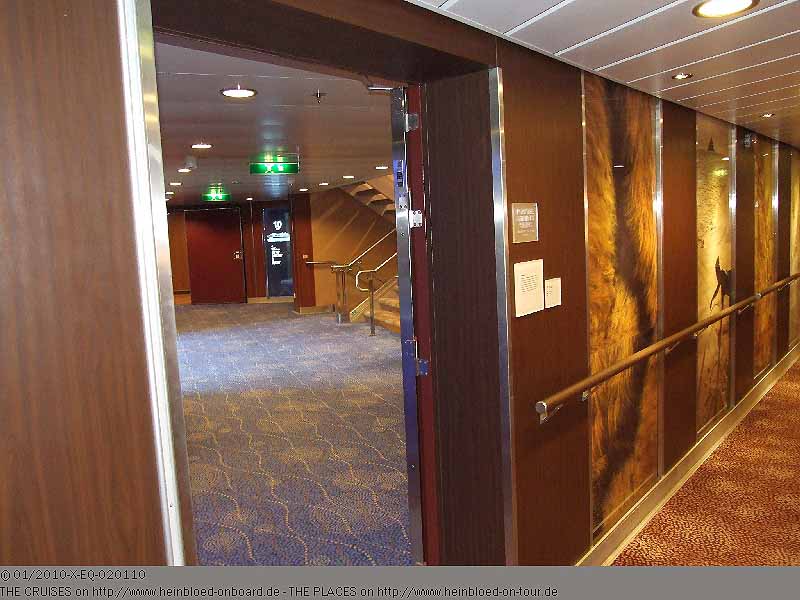 Dann gab es noch das Thema in einem Forum, wie die Kabinen von den Treppenhäusern getrennt sind: es gibt eine Tür, die jedoch immer offen steht.
Auch die Schiebetür zu den Fahrstühlen steht immer offen. Betroffen wären höchstens die Suiten-Gäste, die direkt an dem Durchgang wohnen. Wir wohnen weit genug weg und bekommen gar nichts mit.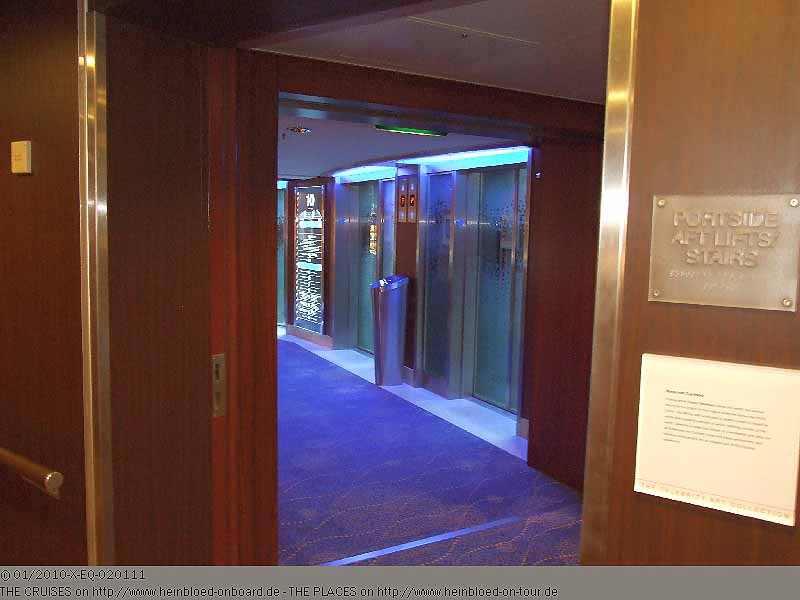 There were sliding doors to the stairways which also remained open. Noises may apply to Suite-guests only as their suites were close to this part of the gangway. We lived far enough apart and did not remark anything.

In the afternoon we enjoyed the sun on our balcony. Due to the foot rest it was really comfortable to stay there.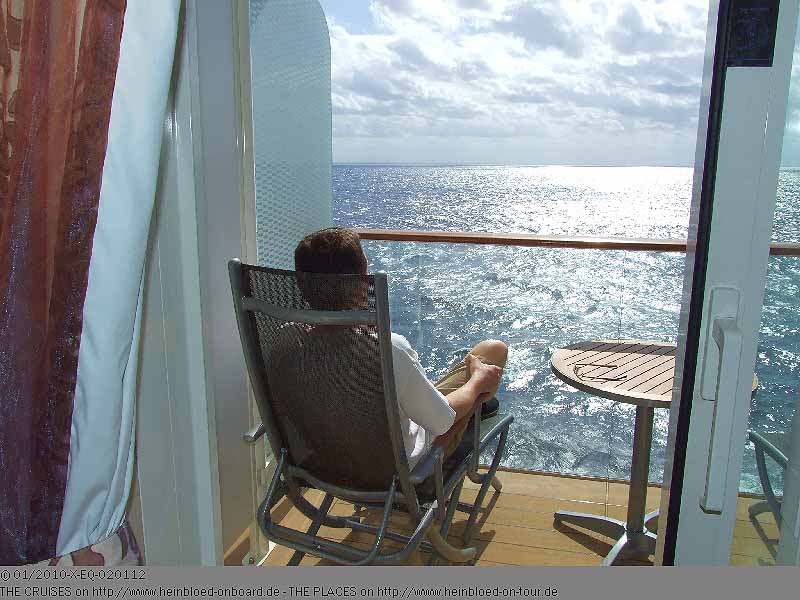 Nachmittags genießen wir die Sonne auf dem Balkon, der aufgrund der Fußablage wirklich komfortabel ausgelegt ist.
Das Frühstück kann zwar über den Fernseher bestellt werden, aber eigentlich ist nur die Menüführung in Deutsch. Die einzelnen Frühstückskomponenten werden in Englisch beschrieben.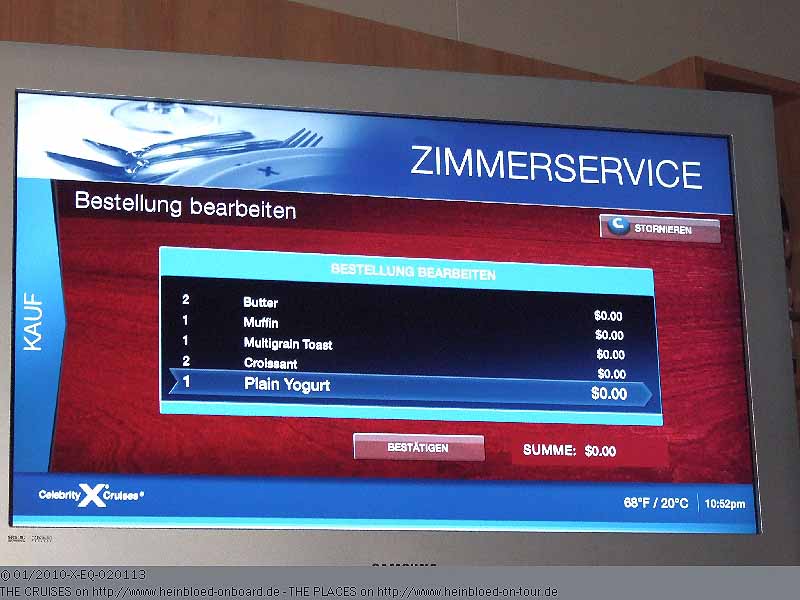 You can order your breakfast on the TV screen but only the TV-navigation was in German. The single breakfast-items were described in English.

And the very first time we got a sheet in front of our bed.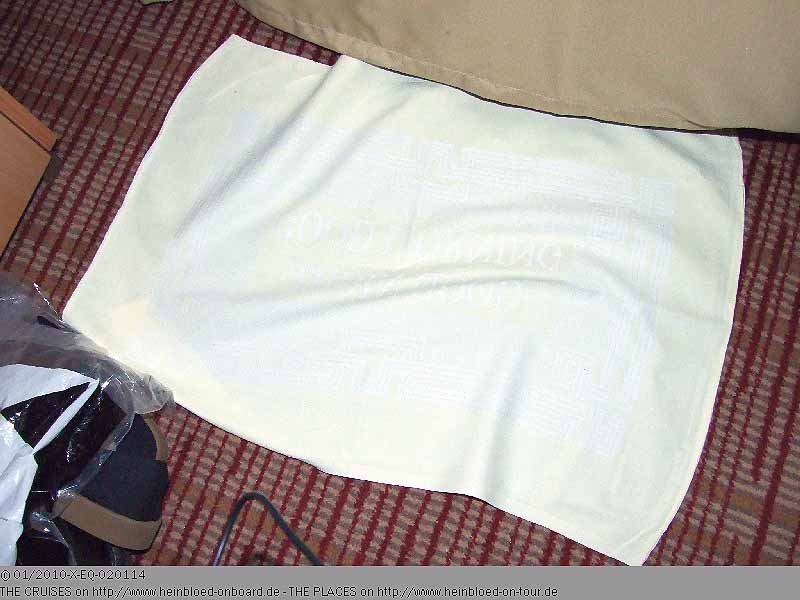 Und erstmalig bekommen wir vor die Betten heute Nacht eine Matte oder Tuch oder was auch immer.
Beim Frühstück steigt unsere Begeisterung für Celebrity... Es gibt die Säfte vom Tablett zum Selbstauswählen...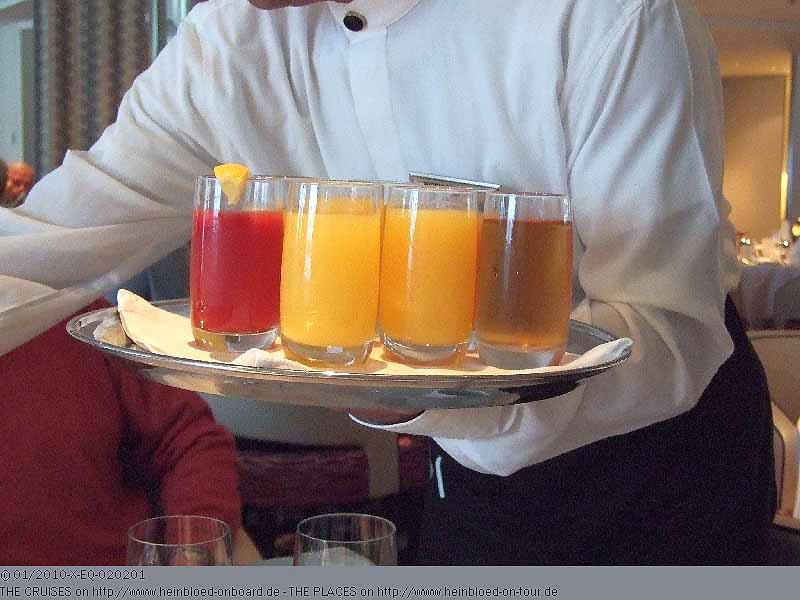 With the breakfast our sympathy for Celebrity increased... You get juices for your personal selection from the tray.

And the tray service for the Danish Pastries. And they still have the wonderful brioche... everthing what NCL does not offer anymore... Maybe we will rebook our NORWEGIAN JADE-voyage in January 2011.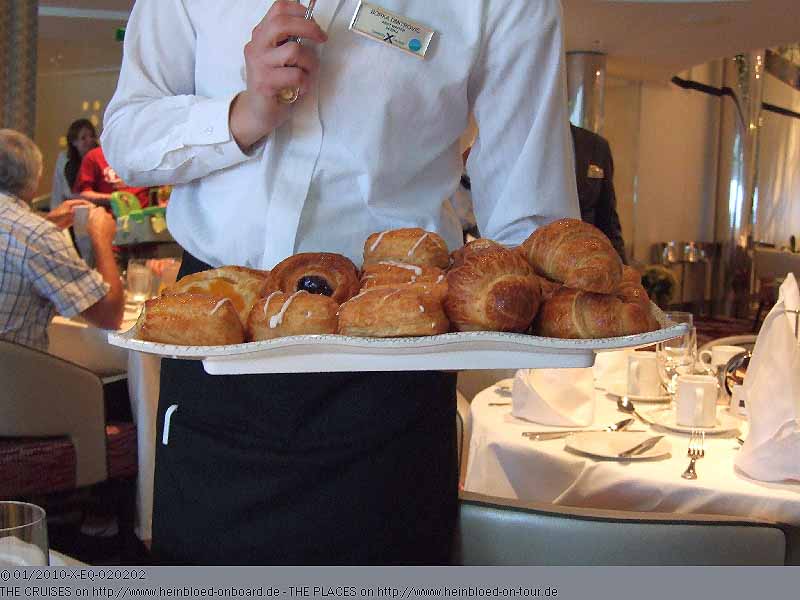 Und der Tablettservice beim Frühstücksgebäck. Und die traumhaft-leckeren Brioche gibt es immer noch... alles was NCL abgeschafft hat... Vielleicht buchen wir ja doch noch die NORWEGIAN JADE-Reise im Januar 2011 um...
Bruno bekommt seinen Blueberry-Muffin, der lecker ist und somit sind die anderen 50% auch reingeholt...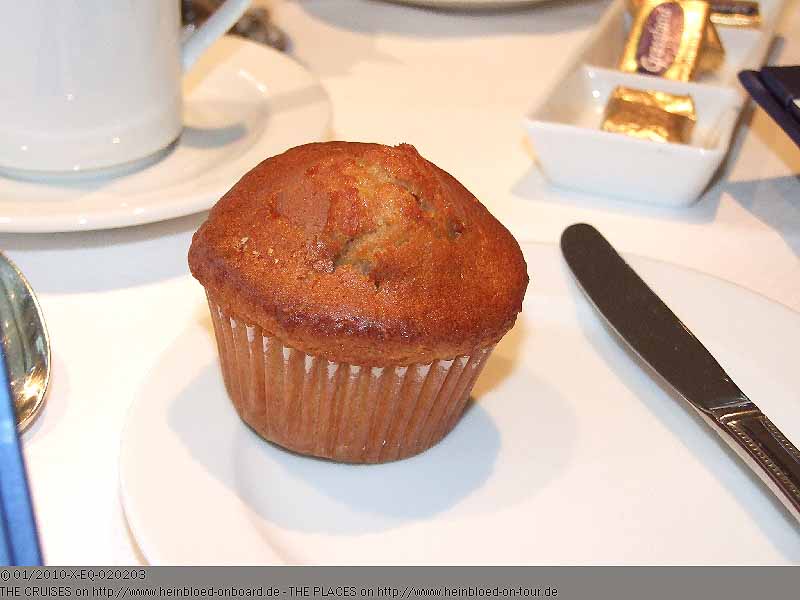 Bruno got his Blueberry-Muffin which was so yummy... so the other 50% for a further decision for Celebrity were in.

But when he found exactly one blueberry in his muffin, the 50% was decreasing again... So NCL can still hope...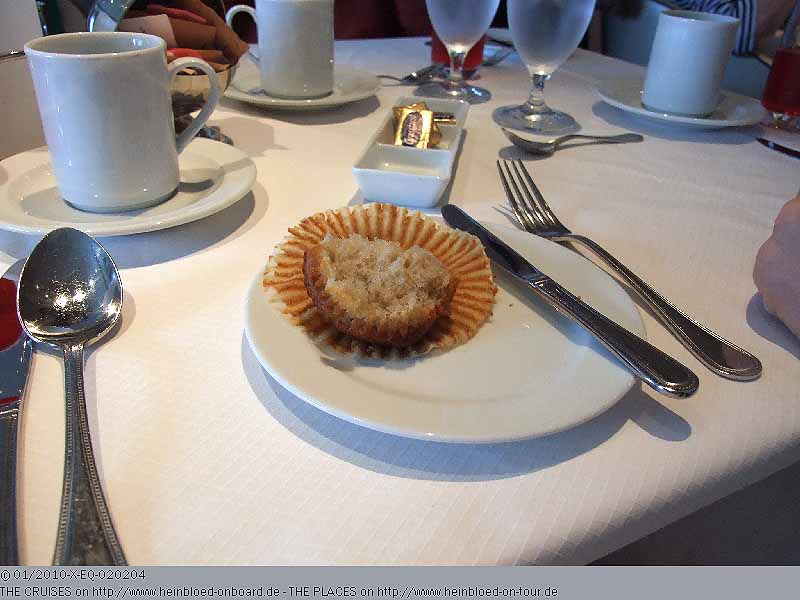 Nur als er nur eine einzige Heidelbeere findet, wurden die 50% wieder etwas zusammengestrichen. NCL: ihr dürft noch hoffen...
Ich bekomme meinen grünen Tee und es ist eine sehr leckere Sorte. Nicht mehr das Stroh, das ich vor zwei Jahren auf der CENTURY bekam.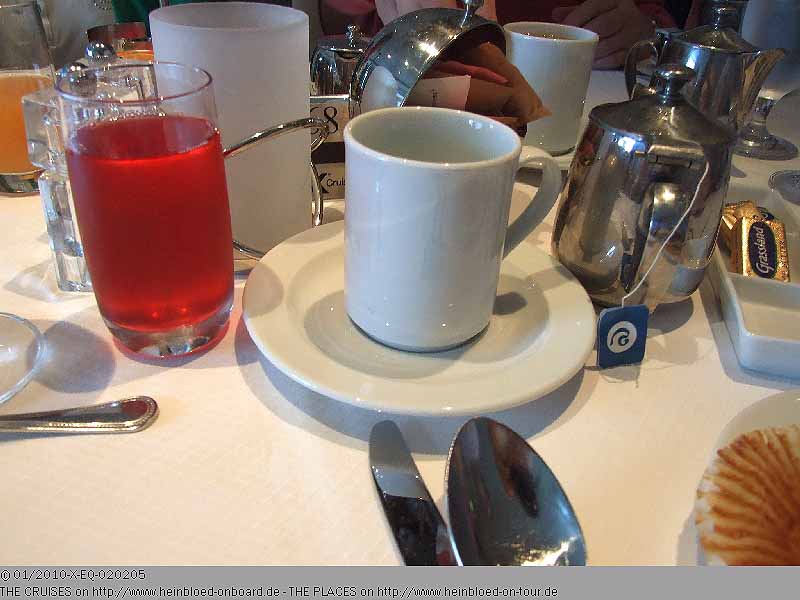 I got a green Tea and a very tasty brand. Not anymore the straw which I got two years agon on CENTURY.

A very nice fruit plate.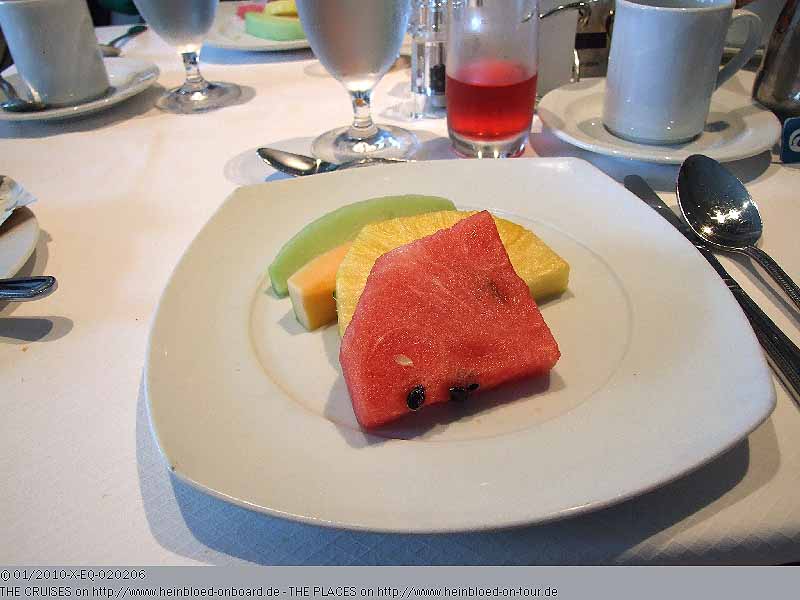 Ein leckerer Früchteteller...
Egg Benedict, aber da ist NOCH NCL vorne in meiner Gunst. Und es gibt sogar Labskaus... (das Corned Hashed Browns schmeckt fast wirklich so...). Schade, dass man beim Frühstück sein Besteck behalten muss, auch wenn man es demonstrativ zum Mitnehmen auf den Teller legt. Neue Policy. Soll aber nur beim Frühstück gelten.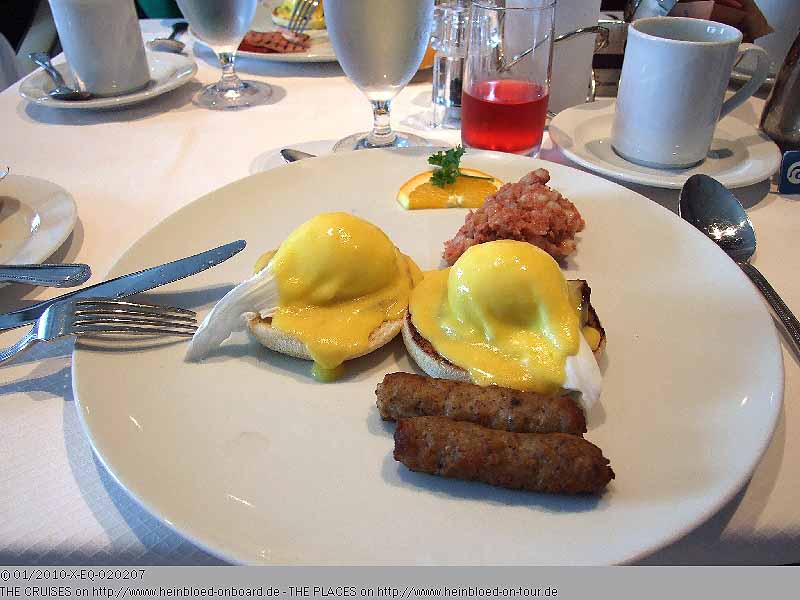 Egg Benedict, but here NCL has STILL my favour. And there was some Corned Hashed Browns. Only a shame that you need to keep your silverware even you placed it for clearing on the plate. New Policy. Should be only for breakfast.

The portion of salmon would be enough for a whole family.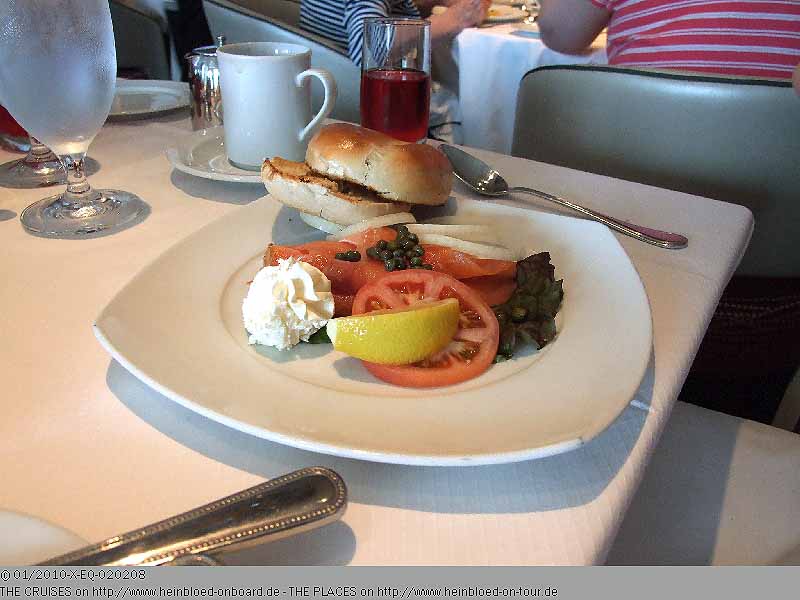 Die Lachsportion hätte für eine ganze Familie gereicht.
Und wenn man nicht so viel frühstücken will: etwas leckeres bekommt man auch im Café al Bacio.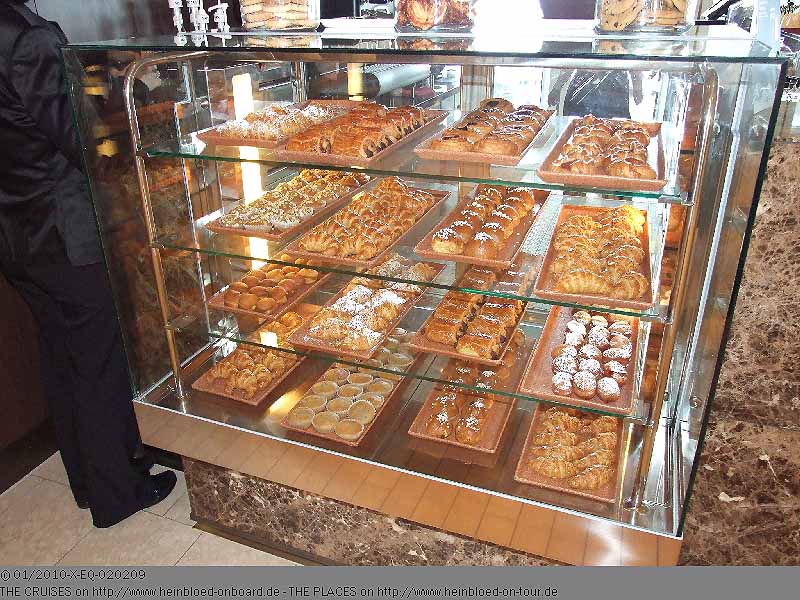 If you dislike to have a big breakfast you find something small and nice at Café al Bacio.

I could see in internet: Celebrity took care of everything. The phone number of the port agent in George Town and all further information was maintained in Lufthansa's system. Unfortunately the quality of Internet was very unsteady all over the cruise.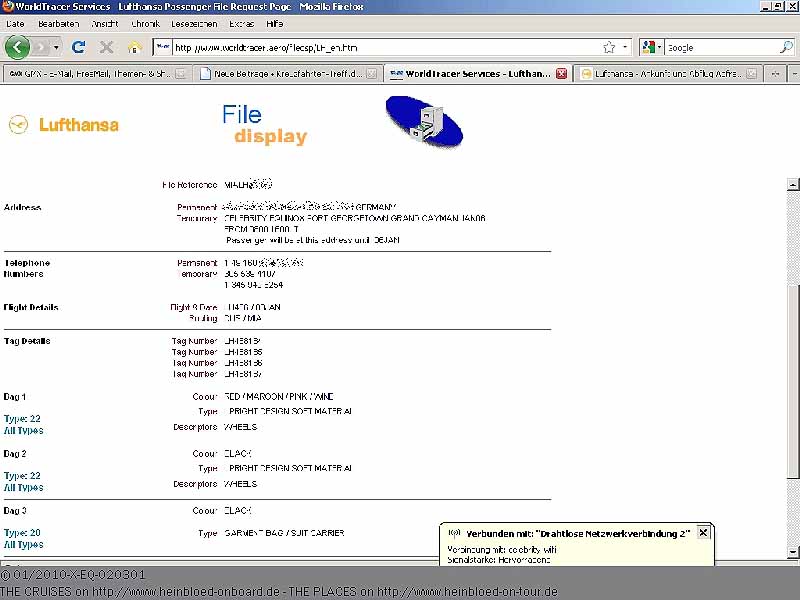 Im Internet erfahre ich bereits, dass Celebrity alles in die Wege geleitet hat: Es steht schon die Telefonnummer des Agenten in George Town drin und auch schon alle Informationen, die Lufthansa braucht. Leider ist die Qualität des Internets stark schwankend.
Das einzige Relikt aus der Vergangenheit steht vor der Rezeption. Über die Rezeption erreichen wir unseren Concierge Cristina, der sich um ALLES kümmert. Damit ist aber wirklich ALLES gemeint.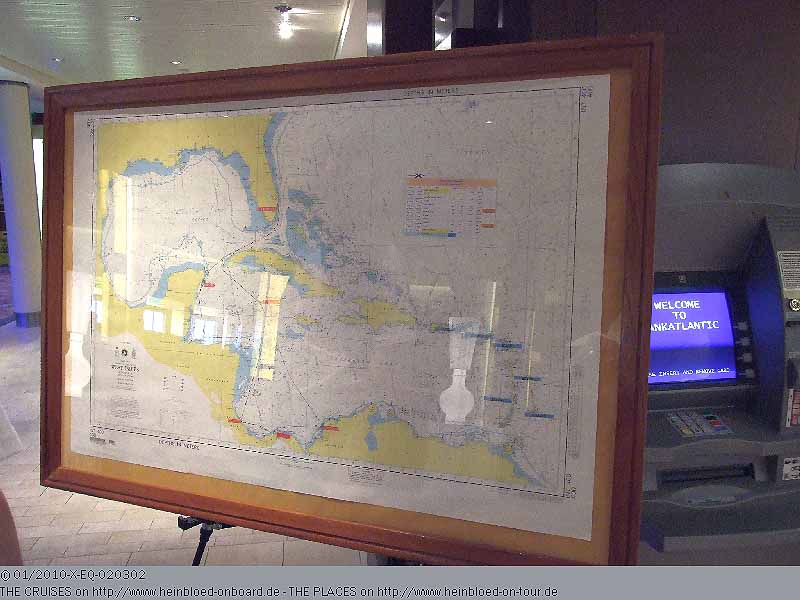 The only relict from the past was in front of the front desk. At the front desk we reached our Concierge Cristina who took care of EVERYTHING. EVERYTHING meaned EVERYTHING.

Our Concierge Cristina and our very first person-in-touch who took care of our problems: Ljubi. They gave us the feeling that we were on vacation and must not worry about anything.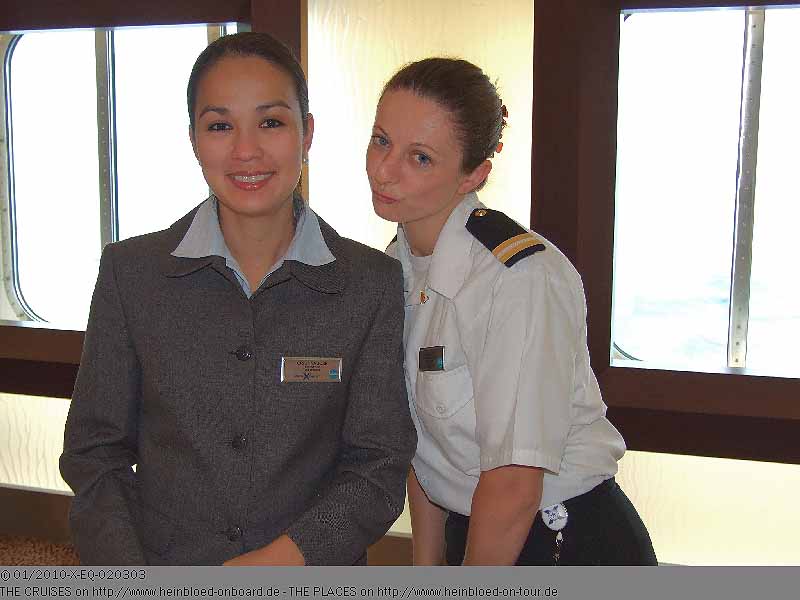 Unser Concierge Cristina und unsere allererste Ansprechpartnerin, bei der wir unser Unglück geschildert haben ist Ljubi. Sie haben einem wirklich das Gefühl vermitteln können, dass wir in Urlaub sind, und um uns nichts kümmern müssen.
Sogar für einen Smoking wird KOSTENLOS für den formellen Abend gesorgt. Ich hätte mit dem Vorschlag gerechnet, dass wir doch im SB-Restaurant essen oder den Zimmerservice nutzen sollen. Aber wir bekommen Smokings. Nur ein Problem: wir kennen natürlich unsere US-Größen nicht.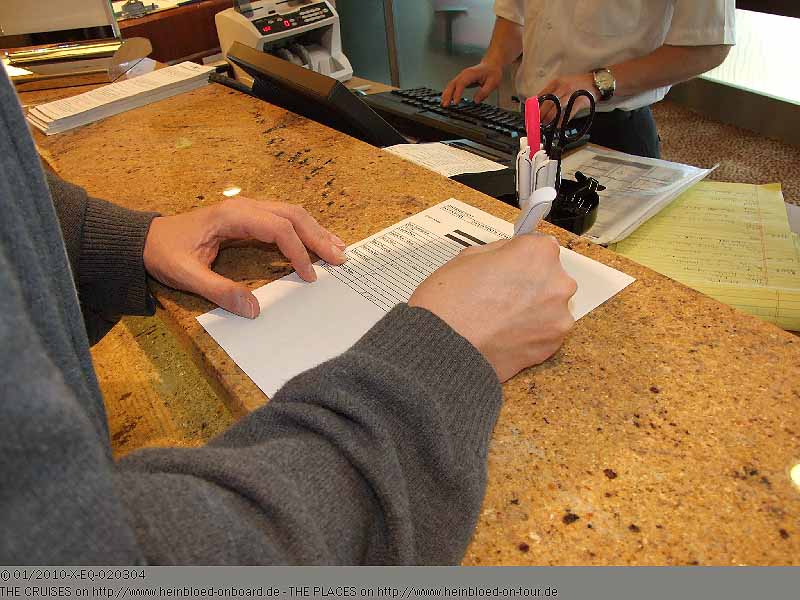 They arranged COMPLIMENTARY even for a tuxedo for the night's formal night. I was waiting for the suggestion to have our dinner in the buffet-restaurant or to use the room service. But we got tuxedos. Only one problem: of course we did not know our US-sizes.

As long as we had baggage we could use COMPLIMENTARY the EXPRESS-laundry service. It was so wonderful that we just could enjoy this treatment. But honestly our personal bags would have been nicer.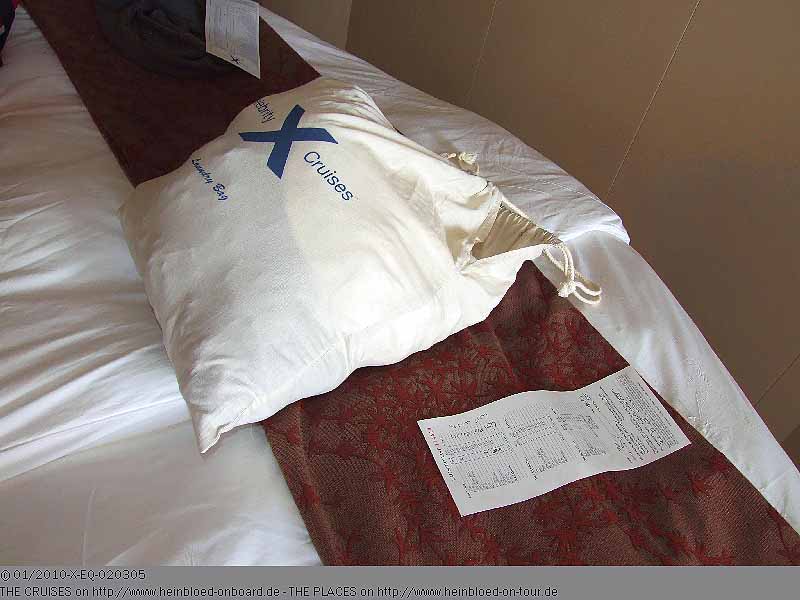 Solange wir kein Gepäck haben, dürfen wir alles KOSTENLOS im EXPRESS-Service waschen lassen. Es ist schön, dass wir das alles genießen können. Aber unser eigenes Gepäck wäre uns doch lieber.
Es geht weiter zum
Connections Party von Celebrity für cruisecritic.com-Mitglieder
. Ich hatte mir lange überlegt, ob ich hingehen sollte, aber es hat sich doch wieder alles zum Positiven gewandelt. Es gibt das gleiche wie bei NCL nur mit Service.

We went to the Connections Party from Celebrity for cruisecritic.com Members. I was considering very long if I should attend this meeting but everything went well. You get the same like on NCL but with service.

We should make ourselves our nametags.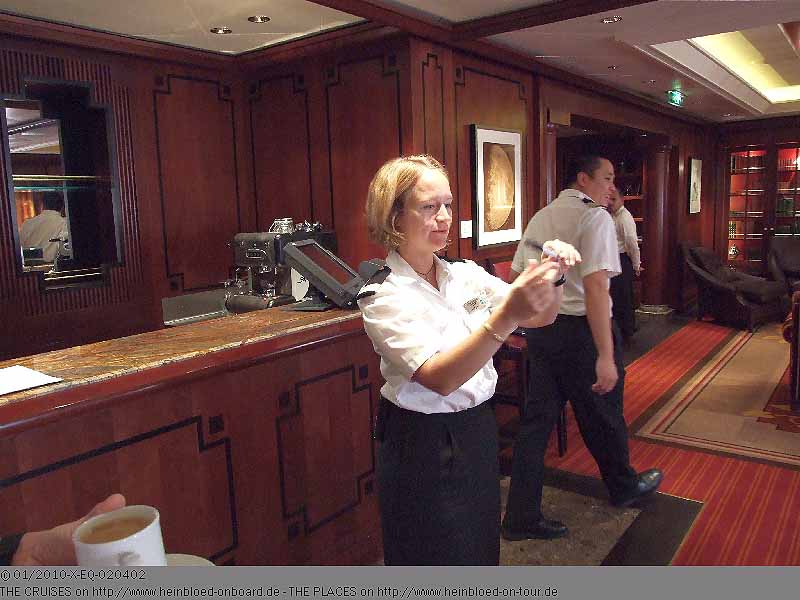 Wir sollen uns selbst Namensschilder machen.
Das ganze findet im Michael's Club statt.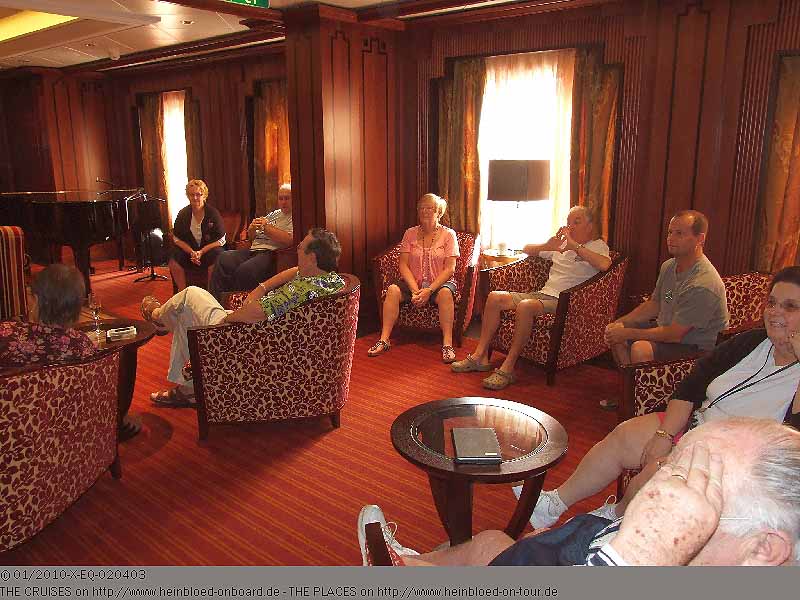 The meeting was held in Michael's Club.

So we made the name tags ourselves.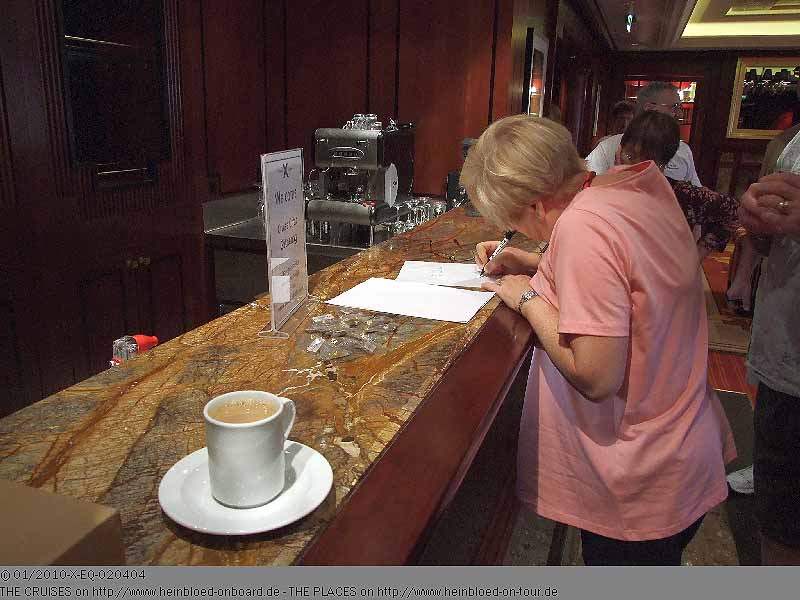 So machen wir uns daran uns selbst zu beschriften.
Zur Belohnung dürfen wir uns eine Connections-Nadel nehmen.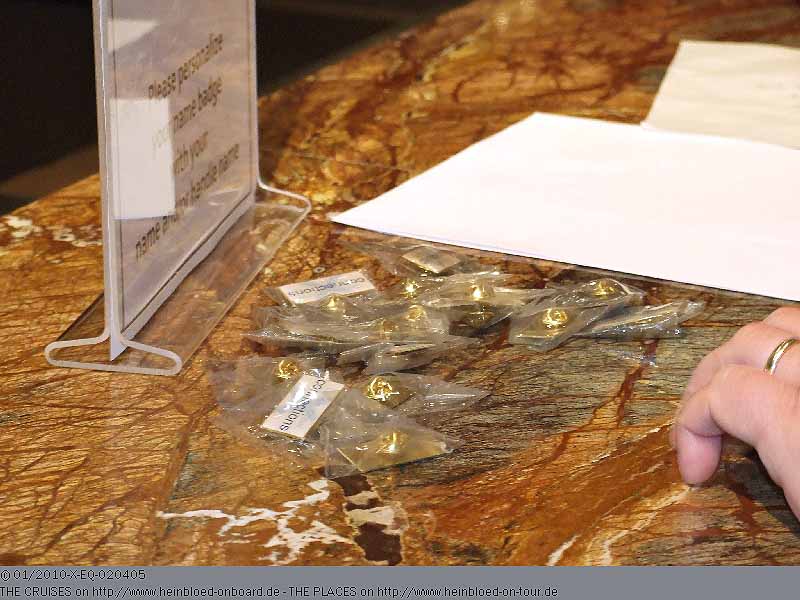 As small reward we could take a Connections-Pin.

Bob (Bobs cruising) we met already yesterday.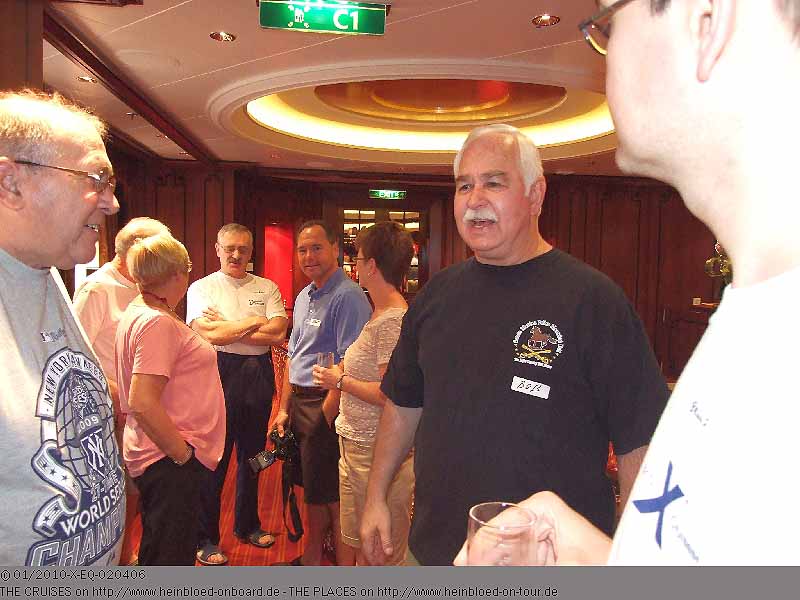 Bob (Bobs cruising) haben wir bereits gestern kurz getroffen.
Robin (ellbon) war gestern Abend bereits mit uns zum Abendessen. Amanda (CruiZZe) hat gerade vor der Abfahrt geheiratet.
Herzlichen Glückwunsch
. Und rechts ist Sandy (ein "s" von ssCRUISERS). Sie haben den Roll-Call eröffnet und gemeinsam ist ein Ausflug in Roatan geplant.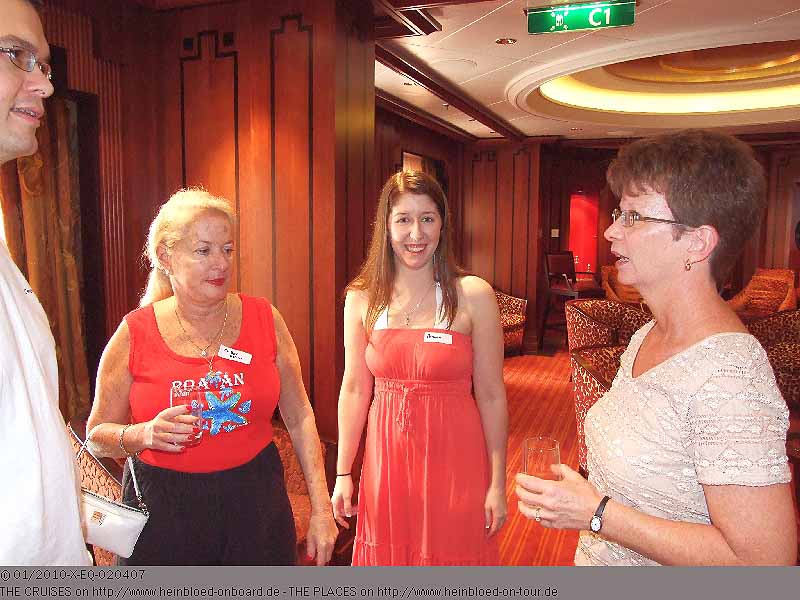 Robin (ellbon) was last night already with us dining. Amanda (CruiZZe) just married the day before sailing. Congratulations! On the right is Sandy (one "s" from ssCRUISERS). They opened the roll-call and one common tour is planned for Roatan.

And here was the person who made the very first postiing: Scott (the other "s" of ssCRUISERS). What I missed: no senior-officers and no little speech from a crew member.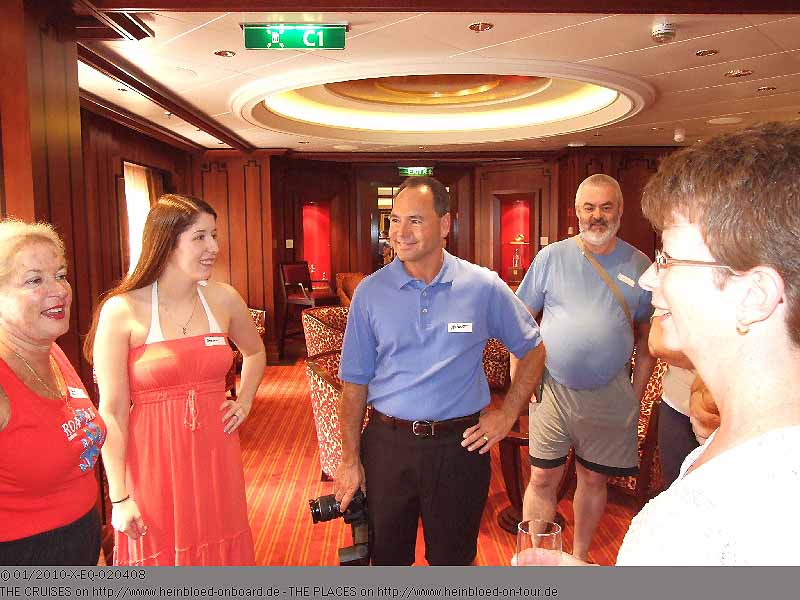 Und hier auch derjenige, der als allererster zu der Fahrt gepostet hat: Scott (das andere "s" von ssCRUISERS). Was sehr schade war: keine Senior-Offiziere und keine kleine Ansprache von einem Besatzmitglied.
Last not least: Alexandra (besser unter moeve in diversen Foren bekannt) mit ihren Eltern. Sie hat es gepäcktechnisch nicht ganz so schlimm erwischt wie uns.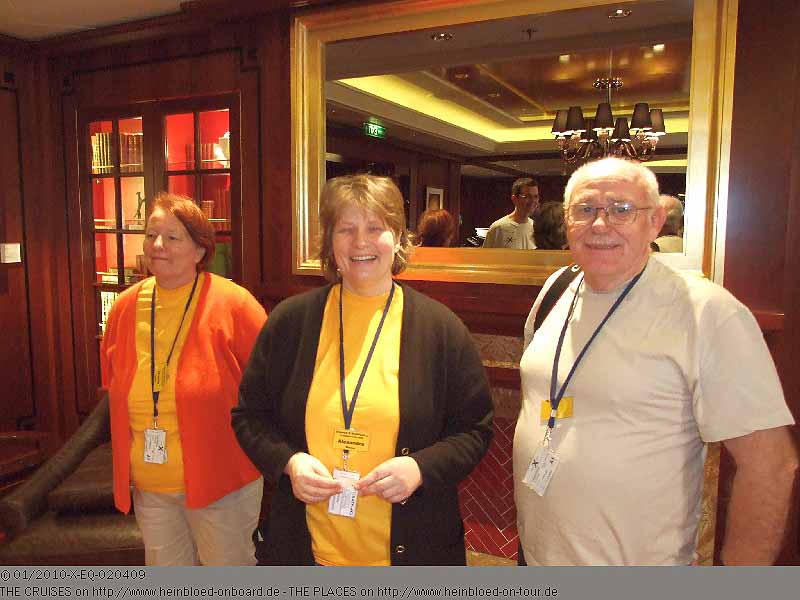 Last not least: Alexandra (better known as moeve in various forums) with her parents. They had more luck than us as their baggage made it the last minute to the ship.

We started to discover the ship with Katie and Charlie. Let us start with The Lawn on Deck 15.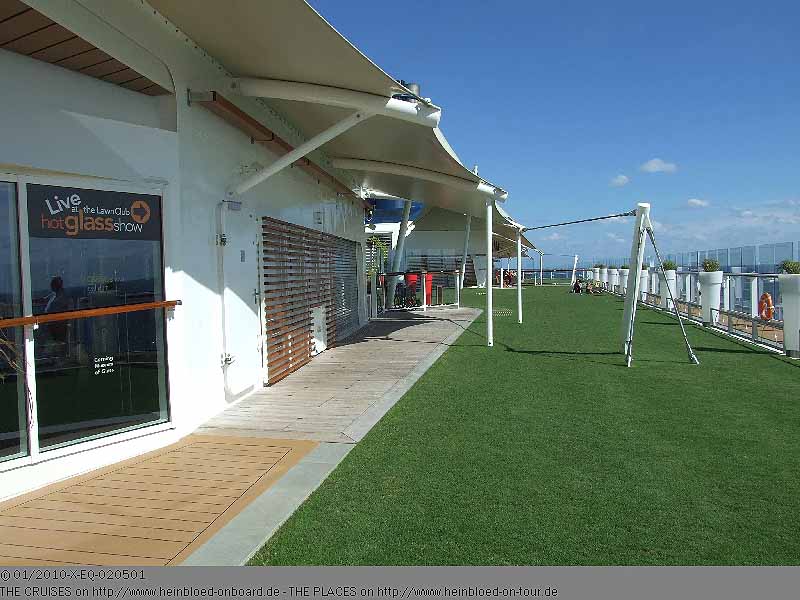 Mit Katie und Charlie fangen wir langsam mal an das Schiff zu entdecken. Mit The Lawn auf Deck 15 fangen wir an.
Gerade findet eine Hot Glass Show statt.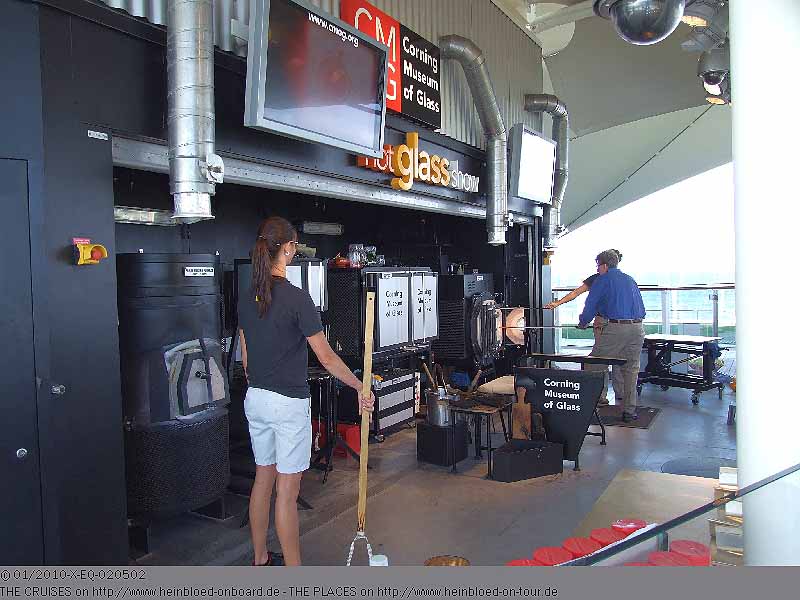 Just now there was a Hot Glass Show.

Great what they offered here.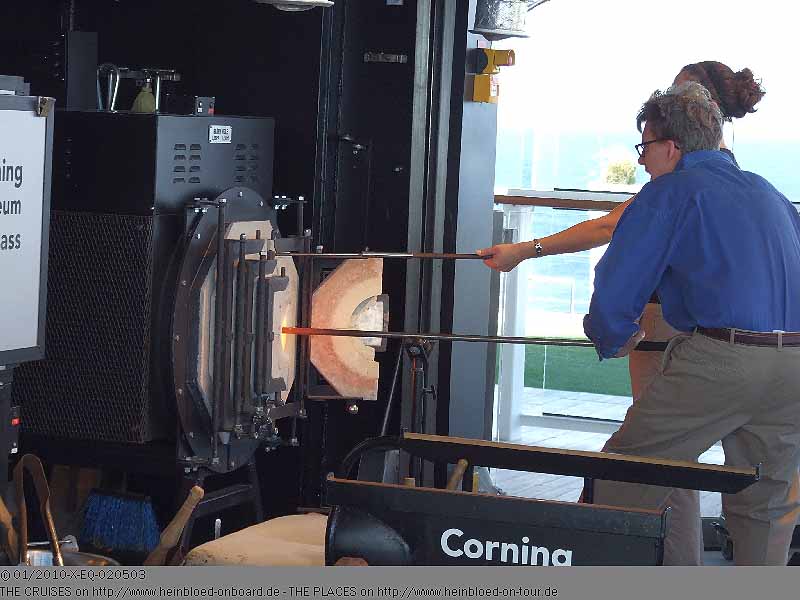 Wirklich klasse, was hier geboten wird.
Da das Glas am Schluss zu Recycling zwecken zerstört wird, fragen wir uns am folgenden Tag, ob die Glassplitter am Balkon daher kommen könnten...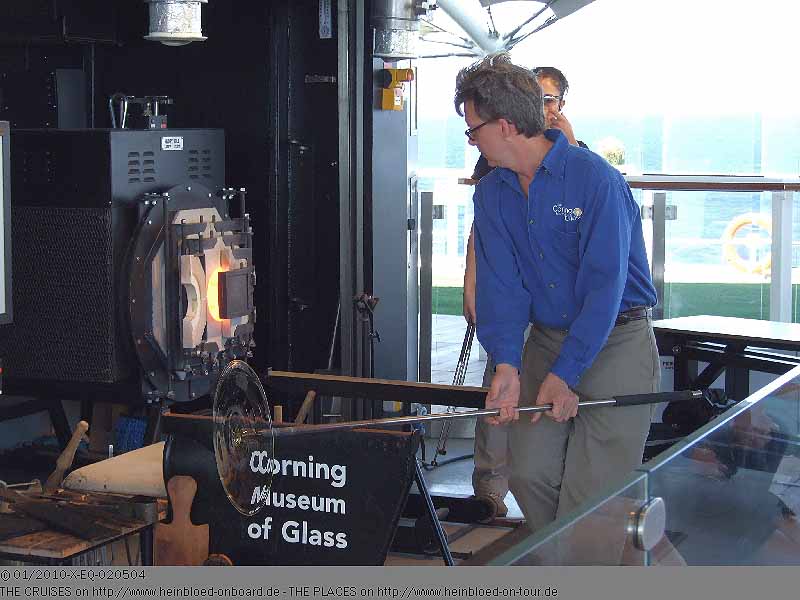 As the glass will be destroyed for recycling purposes we asked the next day if the glass splinter on our balcony might came from here...

A true English lawn looked another way - or???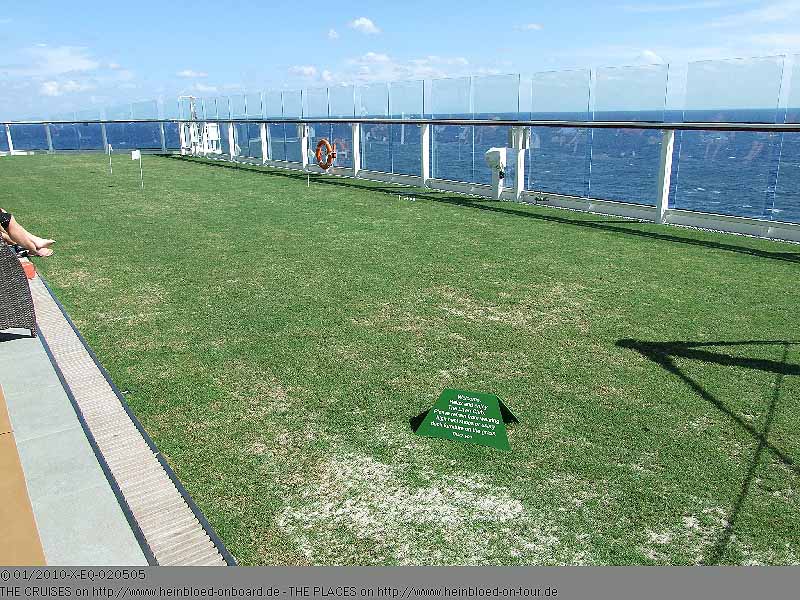 Ein englischer Rasen sieht anders aus - oder???
Es liegt alles bereit. Man muss keine Golfausrüstung mitbringen.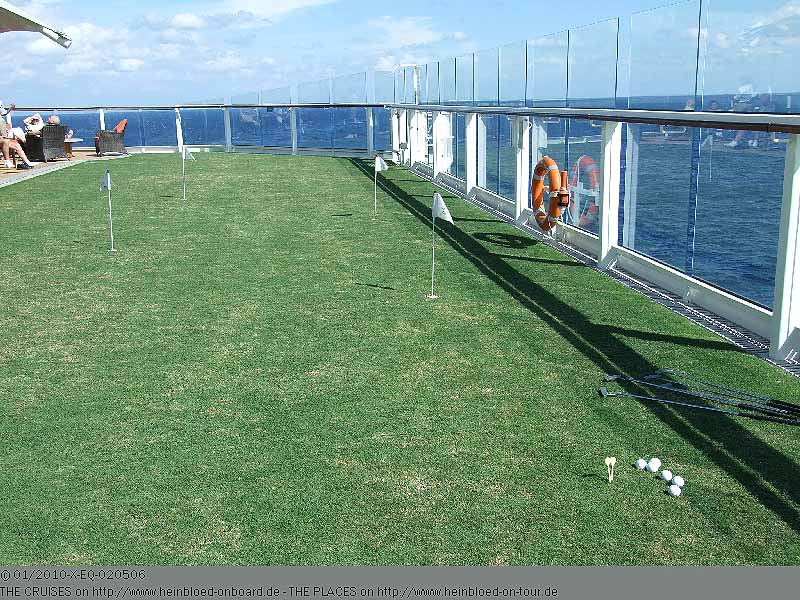 Everything was waiting for us. None must have a golf equipment with them.

Katie and Charlie tried it. But the lawn was very uneven so they stopped it.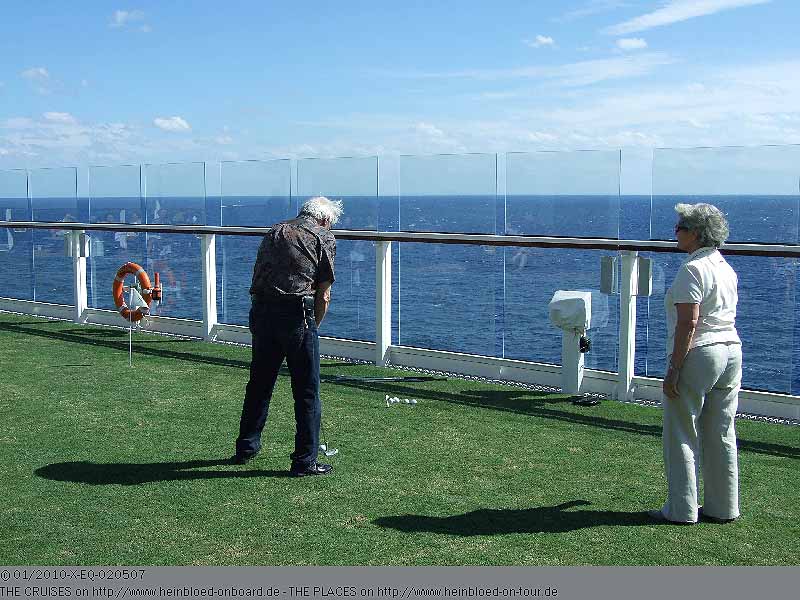 Katie und Charlie versuchen sich mal daran. Da der Rasen aber sehr uneben ist, hören sie schnell auf.
Es wird aber nicht nur Golf auf dem Rasen gespielt, z. B. Cricket oder Boule.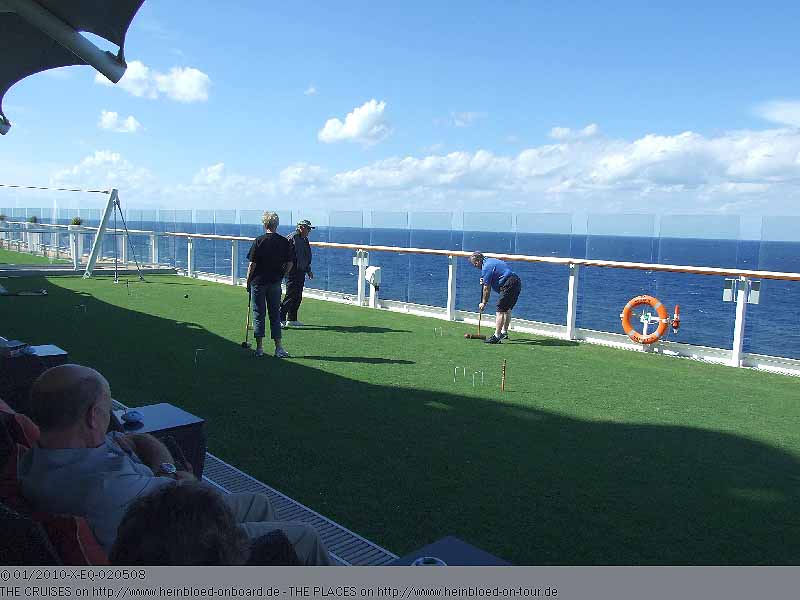 Not just golf was played but also games like cricket or boule.
Die anderen Reisen in diesem Blog/
The other voyages in this blog: