Scroll down for English explanations - alternates with German explanations.

Der 2. Coupon von Dorothy wurde bloß mit 10 USD bewertet. Das müssen wir wohl mal regeln lassen.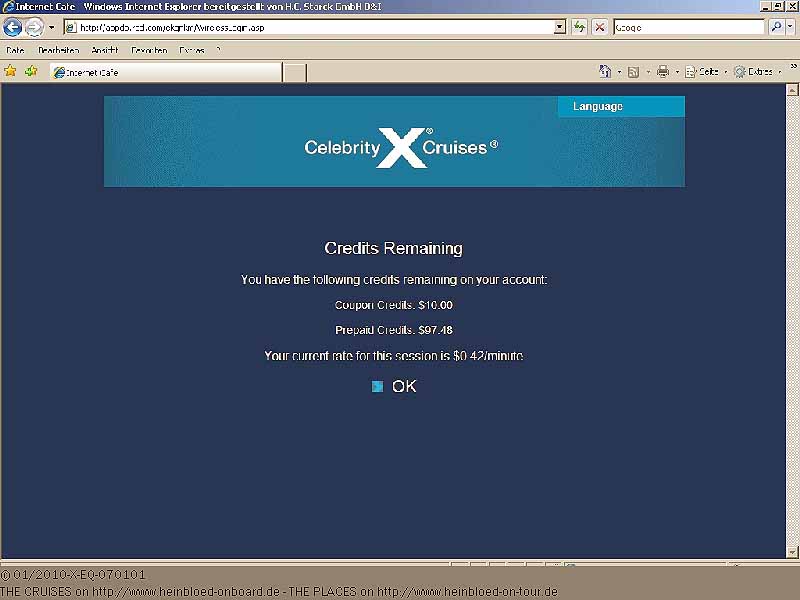 The 2nd coupon from Dorothy was only credited with 10 USD. That was something they need to fix.

85% probability of rain and upto 82F: what should you wear for the tour?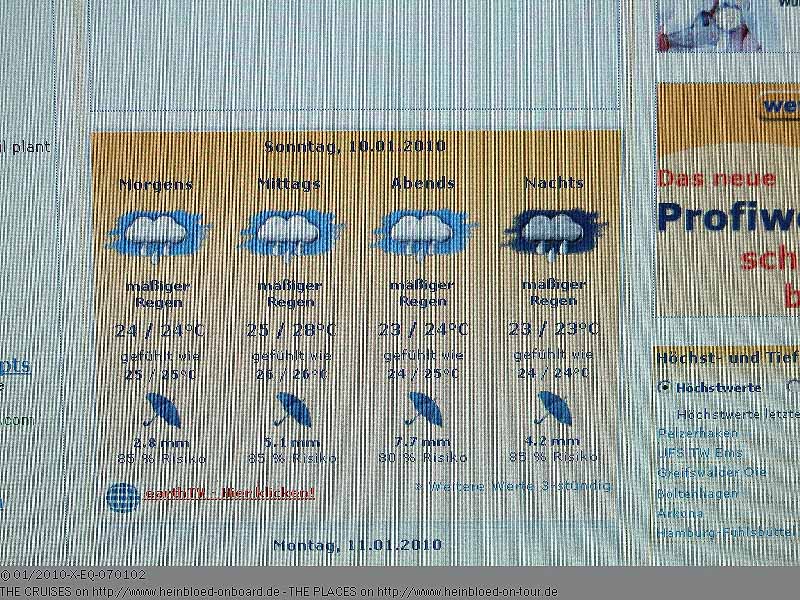 85% Regenwahrscheinlichkeit bei bis zu 28°C: wie zieht man sich für so einen Ausflug an?
Wir werden wieder an unsere Reservierung heute Abend im Silk Harvest erinnert. Haben wir eine Doppelreservierung im Tuscan Grille laufen???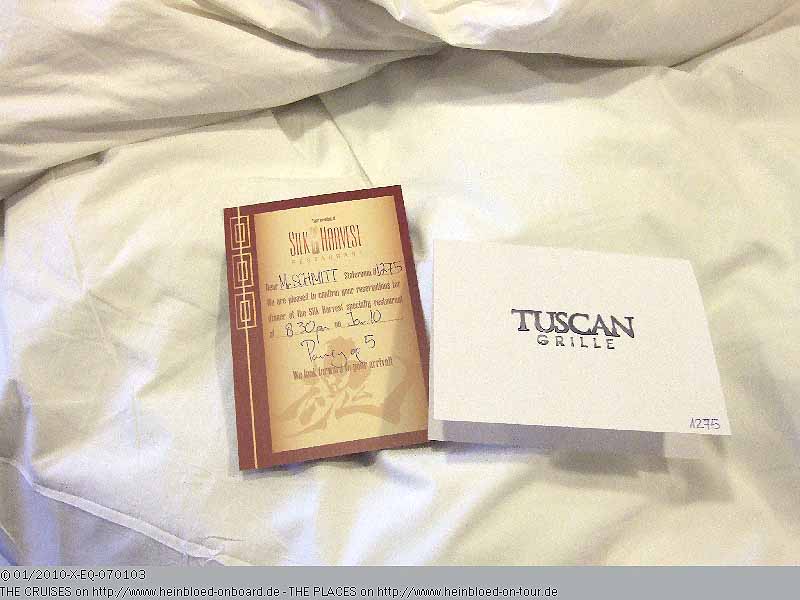 They reminded us to our reservation at Silk Harvest the night. Did we have by mistake a double reservation with the Tuscan Grille?

A personal thank you for our last night's visit at Tuscan Grille. A very nice gesture which we liked very much.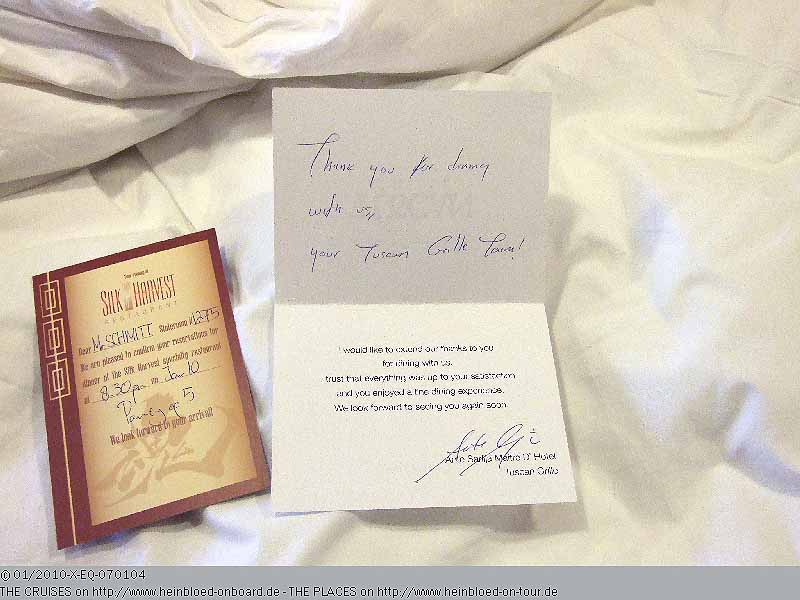 Ein persönlicher Dank für den Besuch im Tuscan Grille. Eine sehr nette Geste, worüber ich mich sehr freue.
Aha... Zustände wie im US-Laudromat... Drop - wash and fold... genauso hätte ich es gerne von NCL wiederbekommen... so kann ich mir ohne meine Finger abzubrechen, die T-Shirts direkt in die Schubladen legen.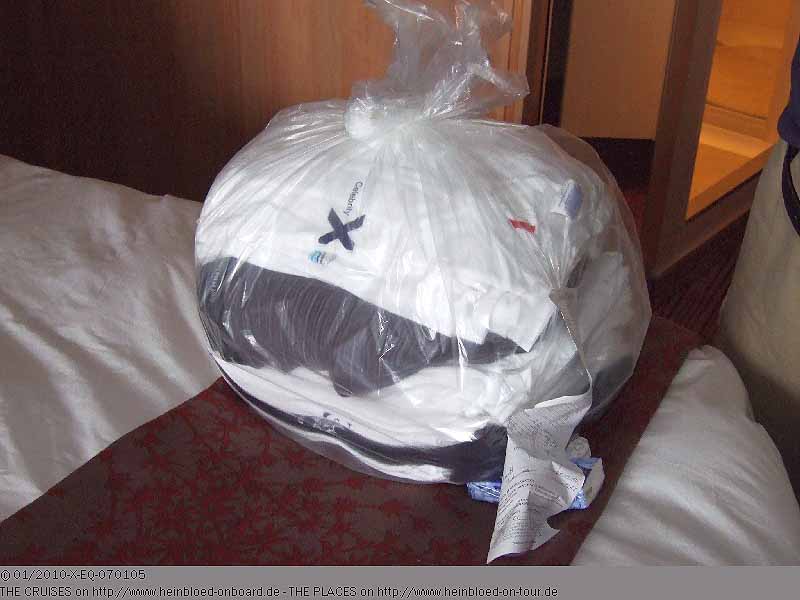 Wow... like in an US-laundromat... Drop - wash and fold... I wished NCL would have did it as well... without breaking my fingers I was able to stow my t-shirts to the drawers.

One reader might be very disappointed... again no cream cheese...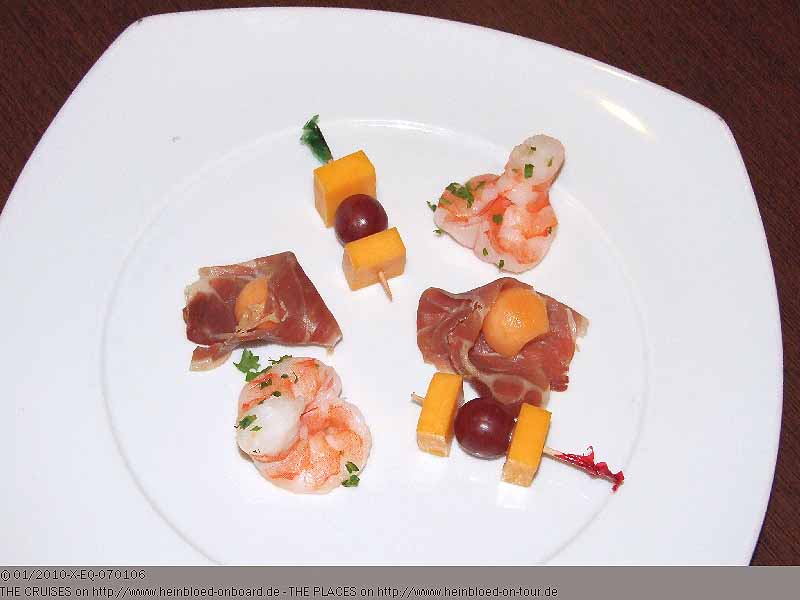 Da wird ein Mitleser enttäsucht sein... schon wieder kein Frischkäse...
Ich beschließe künftig nur noch "nackt" und voller Probleme mit Celebrity zu reisen: Wir bekommen eine weitere Flasche Wein, dabei haben die ja "nur" unsere Probleme gelöst. Um die Kosten für Reinigung, Smoking-Verleih, Gepäcktransfer in George Town, Kommunikation entsprechend zu verbuchen, werden wir gebeten den Dokumentationsbogen auszufüllen. Der Slogan von Celebrity "Starring you..." (Du bist in der Hauptrolle) hier wird es gelebt...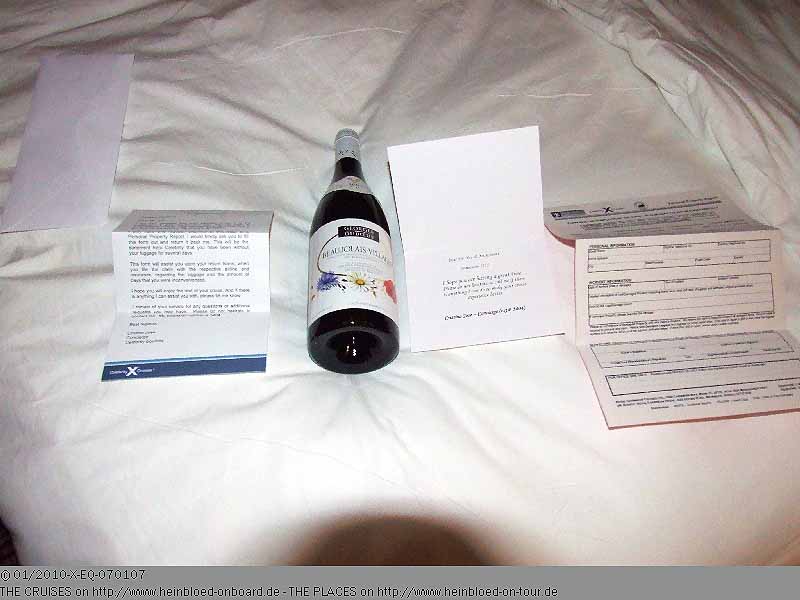 For the future I decided to travel "naked" and full of problems with Celebrity: We got another bottle of wine but they "only" solved our problems. To get a certain kind of proper booking to the right account for the laundry-service, tuxedo-rental, baggage transfer in George Town, Communication we were kindly requested to complete this documentation questionaire. They really iived their slogan "Starring you..."...

We could see Costa Rica.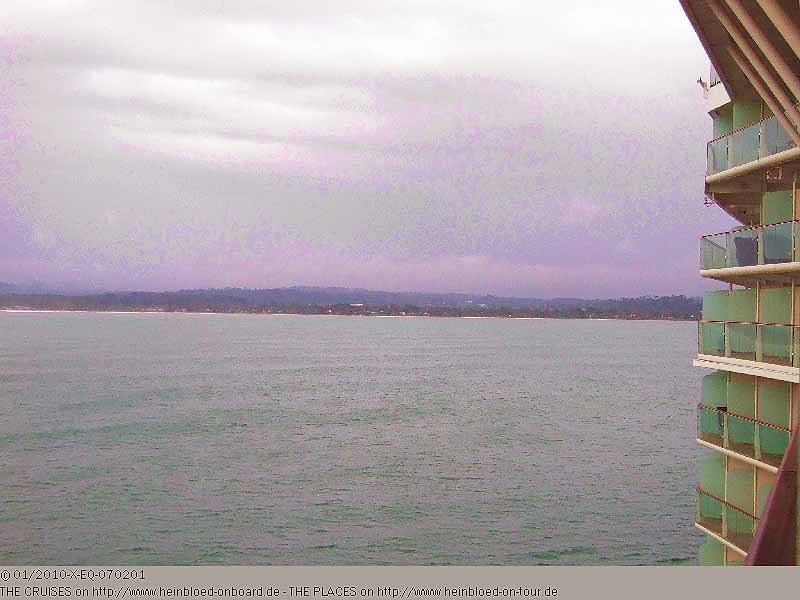 Costa Rica ist also schon in Sicht.
Das sieht aber überhaupt nicht gut aus.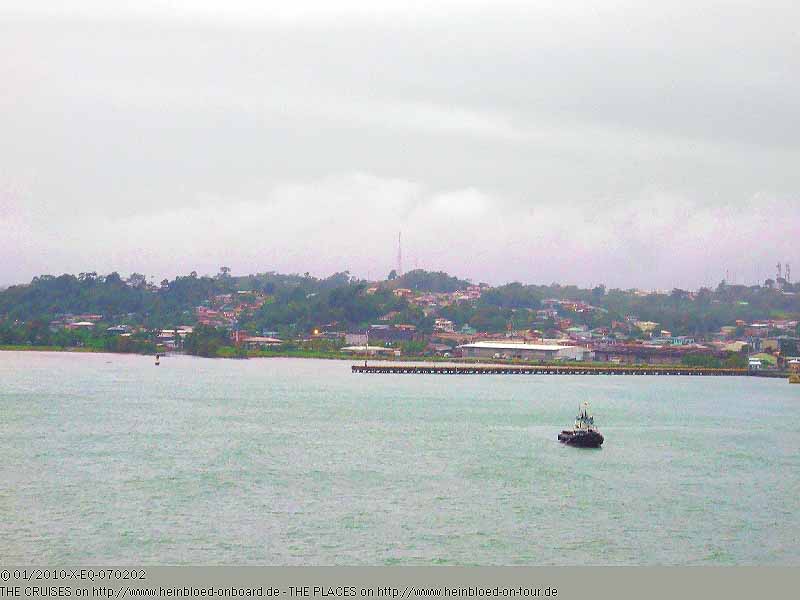 This did not look very well.

No sun to see.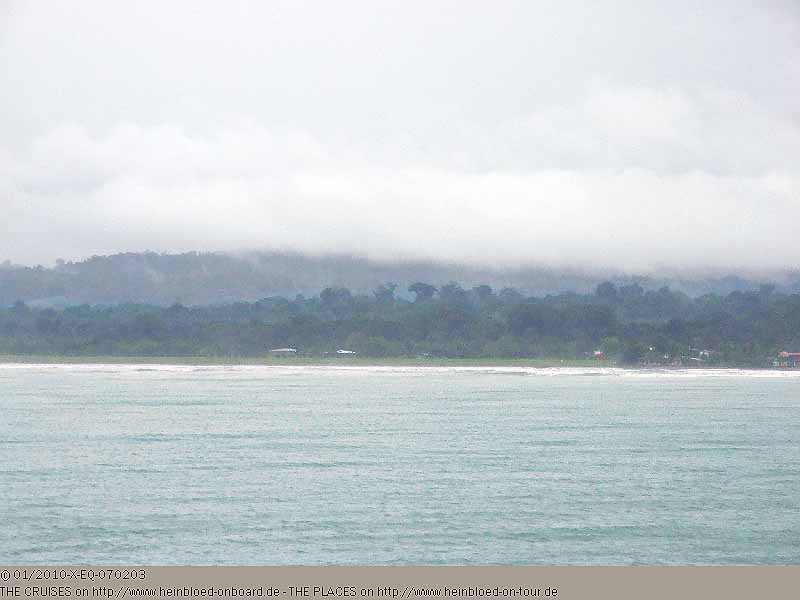 Kein bisschen Sonne zu sehen.
Und als wir im Aqua Spa Café sitzen und anlegen, platscht es bloß gegen die Glasscheiben...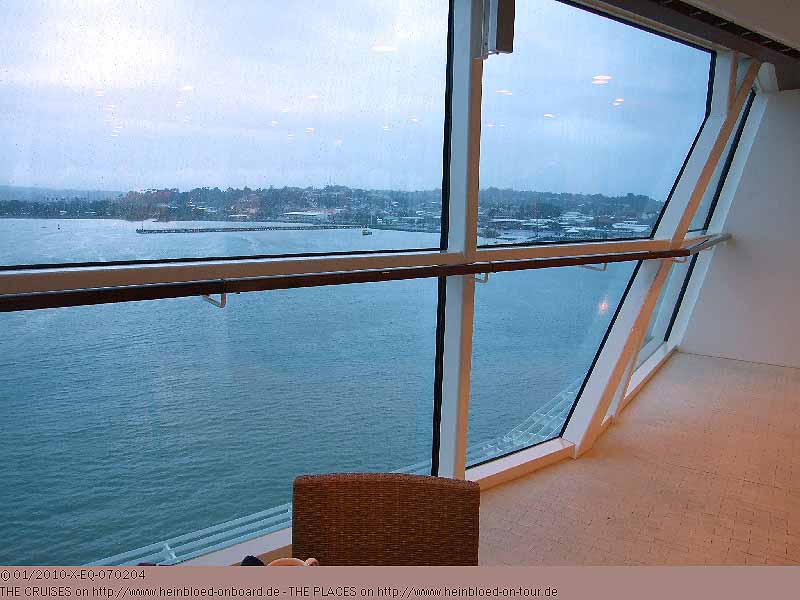 When we sat in Aqua Spa Café and berthed it splashed all the time to the glass wall.

On the open deck as well... should we cancel the tour???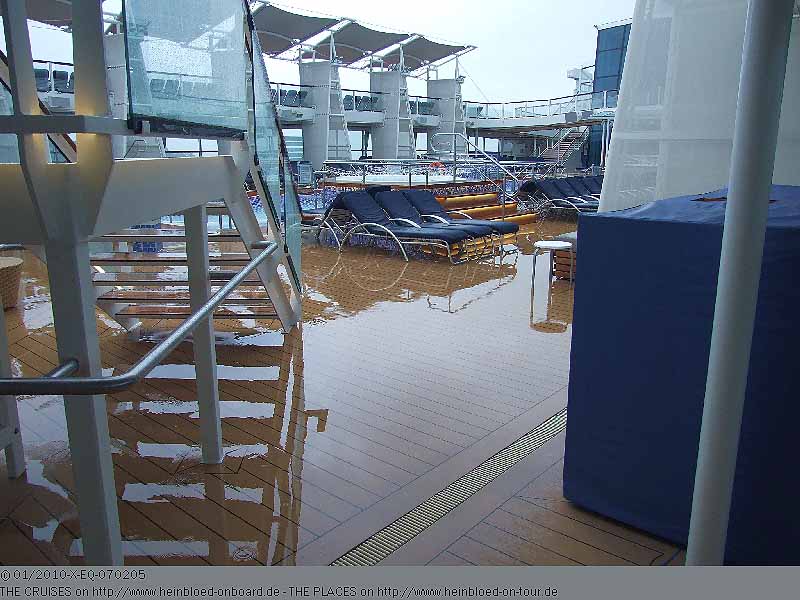 Auch auf dem offenen Deck... sollen wir den Ausflug absagen???
Interessante Milchspender im Aqua Spa Café... die brauchen wir auch für zu Hause... nur wie bekommen wir die von Bord???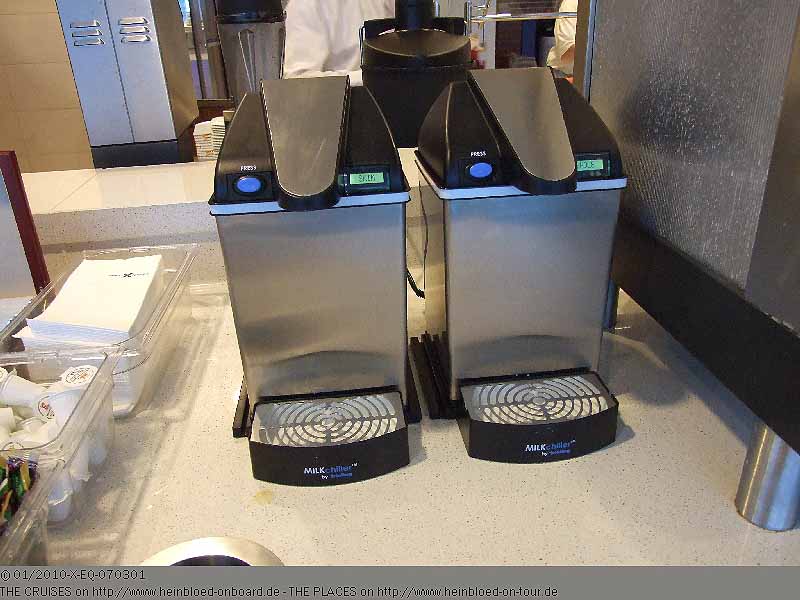 Interesting milk dispenser in Aqua Spa Café... we should have it home as well... how do we get it from the ship???

Here we got true hard boiled egg.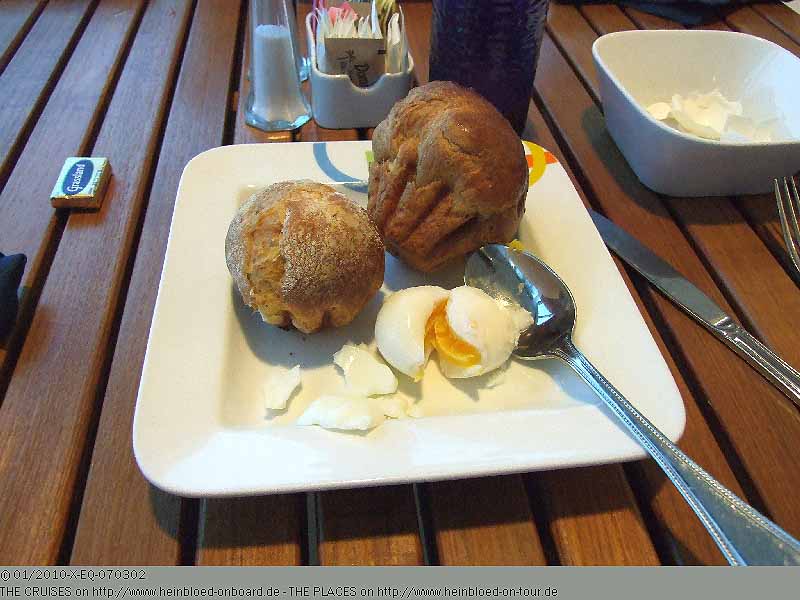 Hier bekommen wir ein echtes hartgekochtes Ei...
Vor dem Pier warten schon die Busse für die Schiffstouren.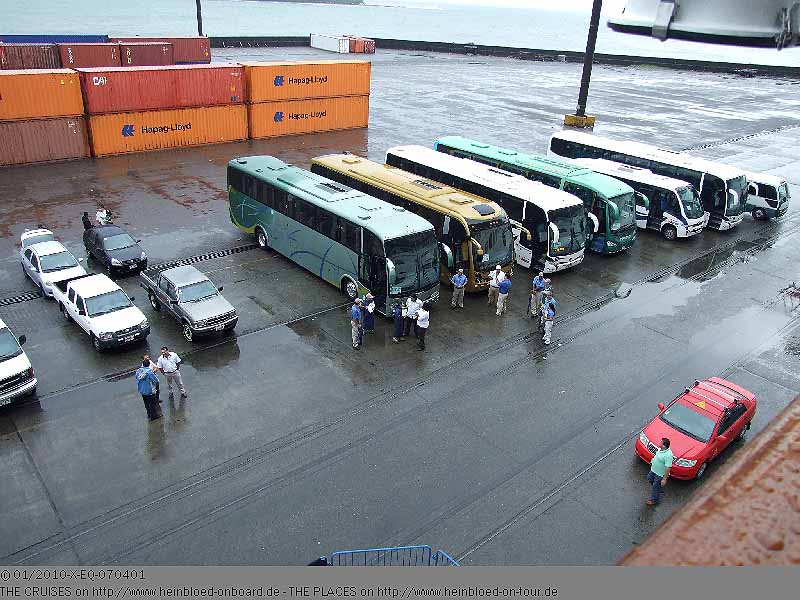 In front of the pier the buses for the ship's tour were waiting.

I hoped that our tour guide should be there and waited for us.

Da wird ja wohl auch hoffentlich unsere Fremdenführerin stehen und auf uns warten.
Ah ja: hinten scheinen ja die typsichen Kleinbusse zu stehen.

Oh yea... at the rear there should be the typical mini-buses waiting.

As we first thought that we had to walk few yards in the heavy rain and heavy wind we did not unpack the umbrellas.

Da wir zunächst glauben, dass es sich nur um wenige Meter im strömenden Regen bei heftigem Wind handelt, holen wir nicht die Schirme raus.
Hier werden wir auch schon auf Touren angesprochen, aber weit und breit keine Gaby. Wir werden aber witzigerweise von den Konkurrenten alle nach draußen vor das Cruise Terminal gelotst, als wir Gaby erwähnen und sofort in Ruhe gelassen.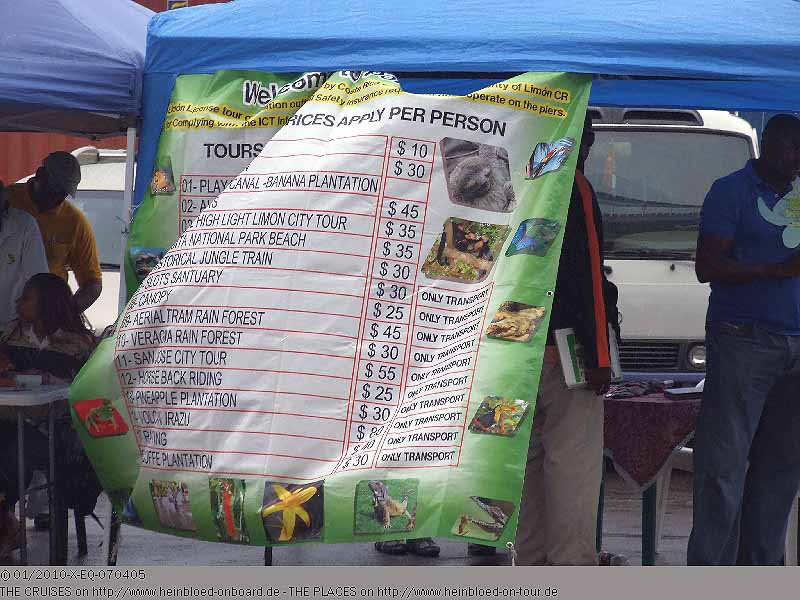 They tried to offer us tours but no Gaby so far. But when we mention her name even their competitors directed us outside to the front of the Cruise Terminal and they let us going.

Later we learned that was the regular quay normally the cruise ships docked.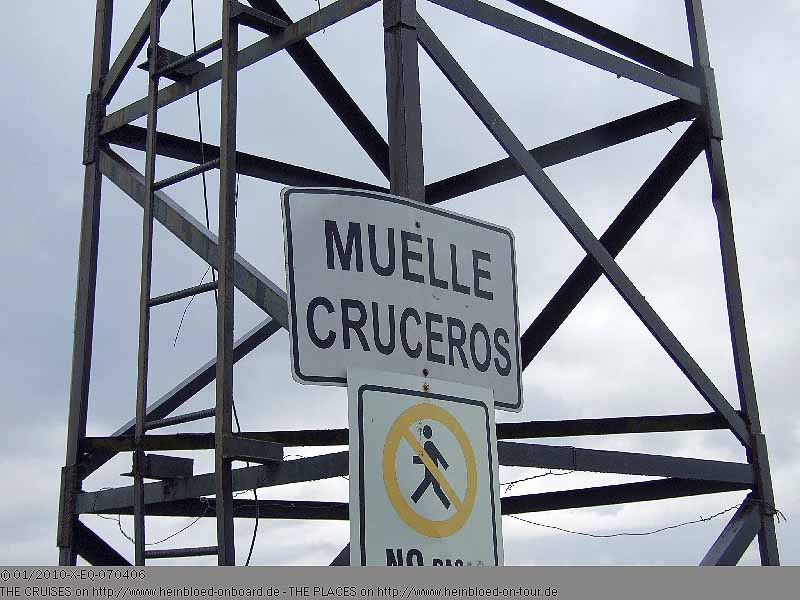 Hinterher erfahren wir es auch: das ist normalerweise der Kai, an dem wir andocken.
Und das der Weg, der zu überbrücken ist. Weil aber die CELEBRITY EQUINOX zuviel Tiefgang hat, müssen wir am Containerkai anlegen. Von dort es sind es ein paar hundert Meter mehr, die wir laufen müssen. Wir müssen also noch nach links, um die Distanz zwischen den zwei Anlegestellen zu überbrücken. Ein Shuttle wird nicht bereitgestellt.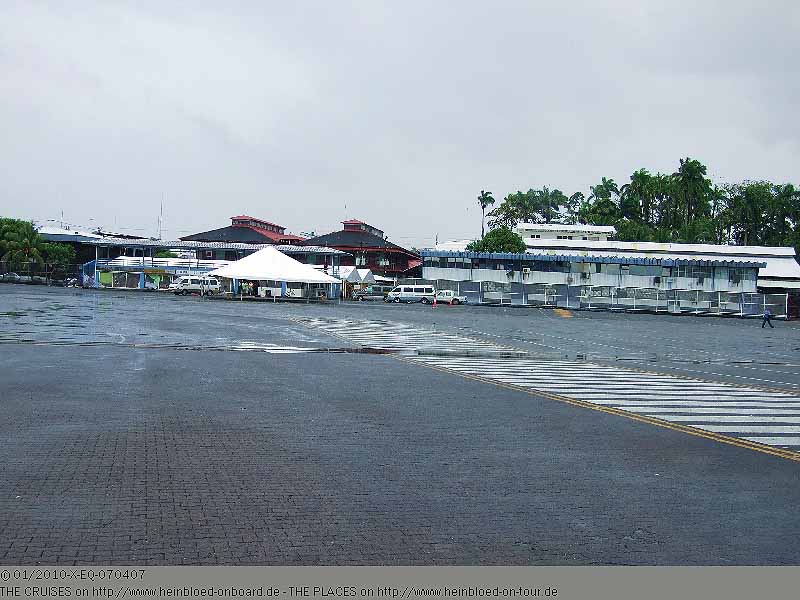 And the normal way we supposed to have. But as CELEBRITY EQUINOX had too much draft we need to berth at the container quay. But from here it was few hundereds of yards more to walk. So we need to walk to the left to bridge the distance between the two quays. No shuttle was available so far.

This was the cruise terminal.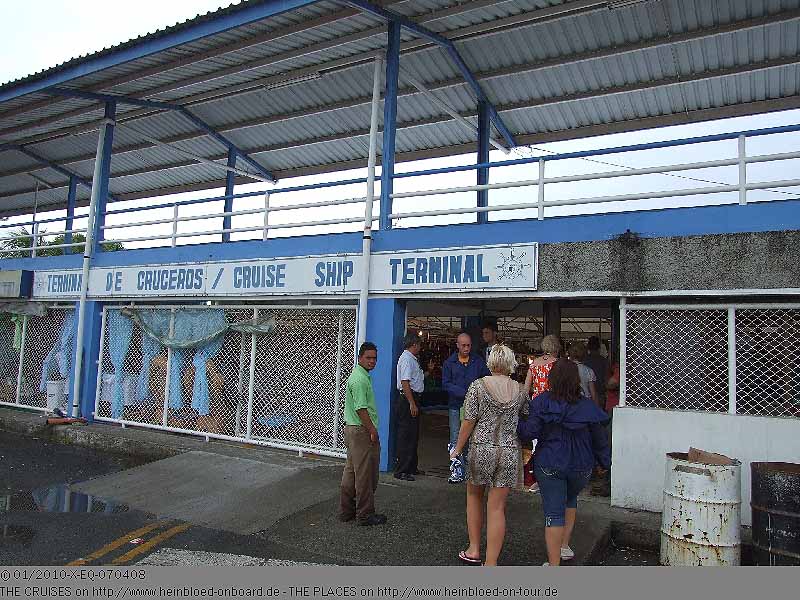 Hier ist das Cruise Terminal.
Mit der gesamten Infrastruktur, die man als Passagier und Crew braucht.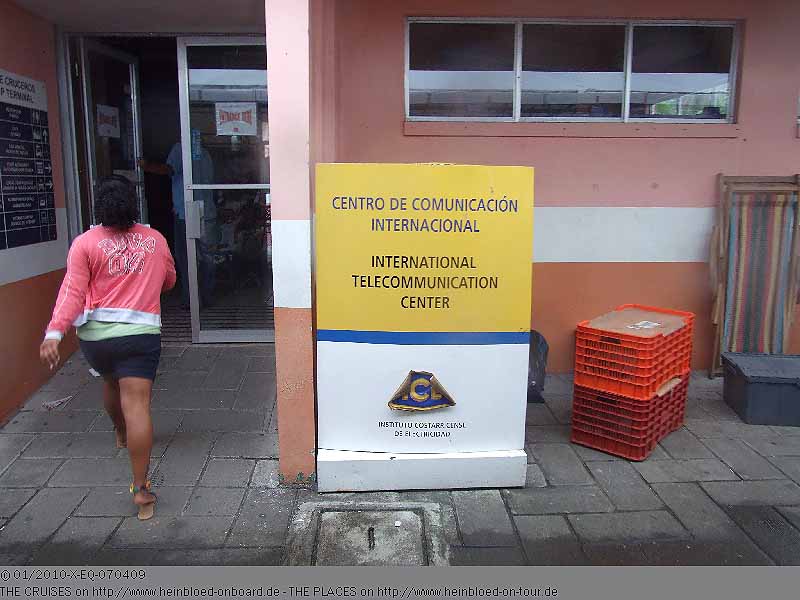 With the infrastructure you need as passenger and crew.

Just walk through. Inside you do not find too many signposts but if you mention Gaby you will be directed to the exit.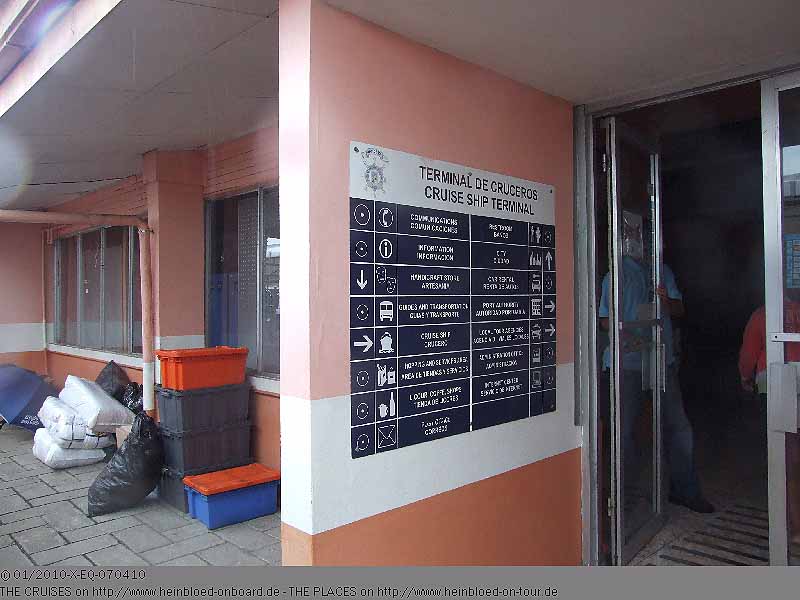 Einfach durchlaufen. Auch wenn drinnen keine Schilder mehr zu finden sind: man wird weiter zum Ausgang gelotst, wenn man Gaby erwähnt.
Schade, dass ich mir am Vortag die Fingernägel geschnitten habe und nicht genug Bargeld mithabe, weil es im Safe liegt: Links bekommt man ganz günstig Spa-Anwendungen, wie Maniküre, Pediküre und Massagen.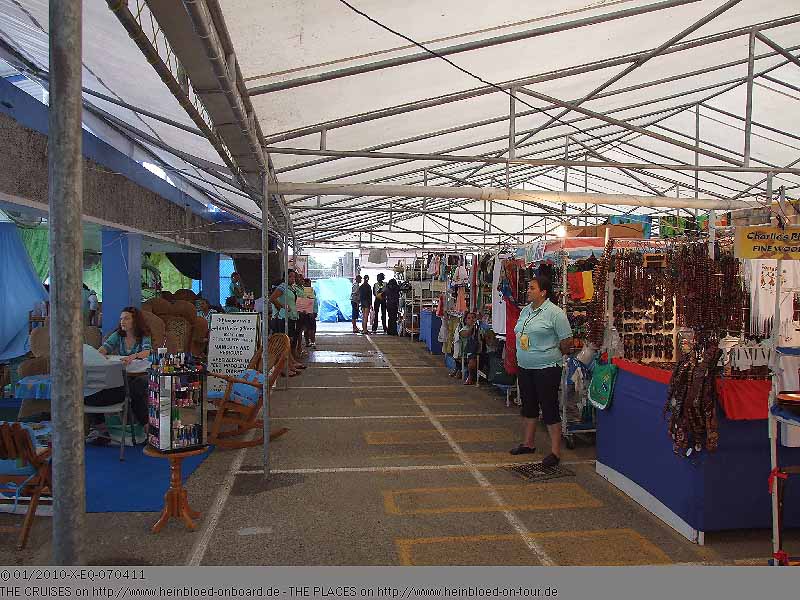 What a pity that I cut my fingernails the day before and had not enough cash with me because it was in the safe: left you get very cheap spa-treatments like manicure, pedicure and massages.

In the landside part of the terminal building it was ICECOLD. So take off your jackets after passing this building or take them on before you walk through this building.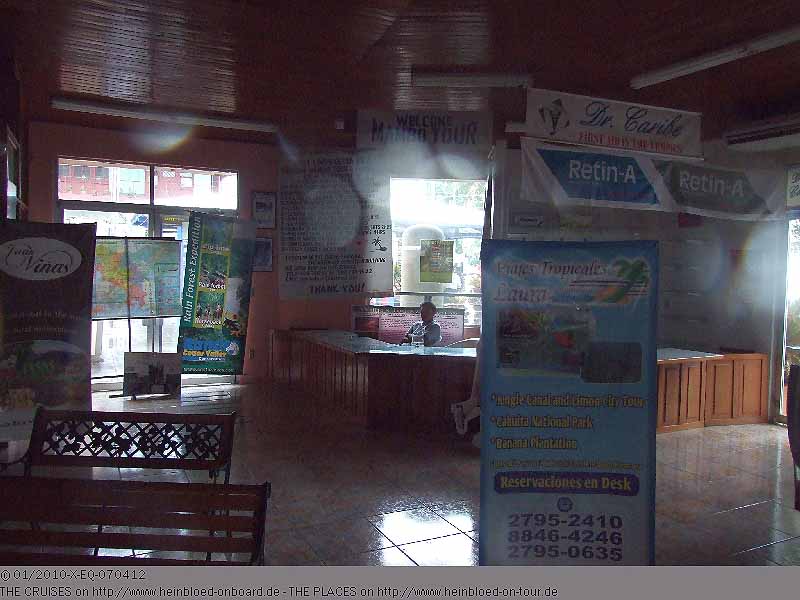 Im Empfangsgebäude zum Land hin, ist es EISKALT. Zieht eure Jacken erst nach dem Gebäude aus, bzw. zieht sie an, bevor ihr durch das Gebäude laufen müsst.
Ich probiere nicht aus, ob es hier WLAN gibt... das wäre mir hier defintiv zu kalt.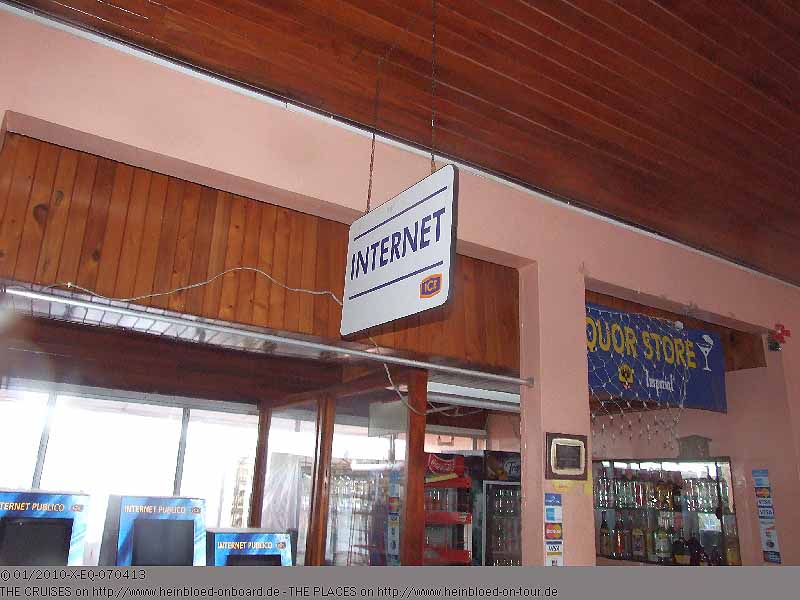 I did not try if you had WiFi there... that was too cold to stay there.

But you got everything what you need.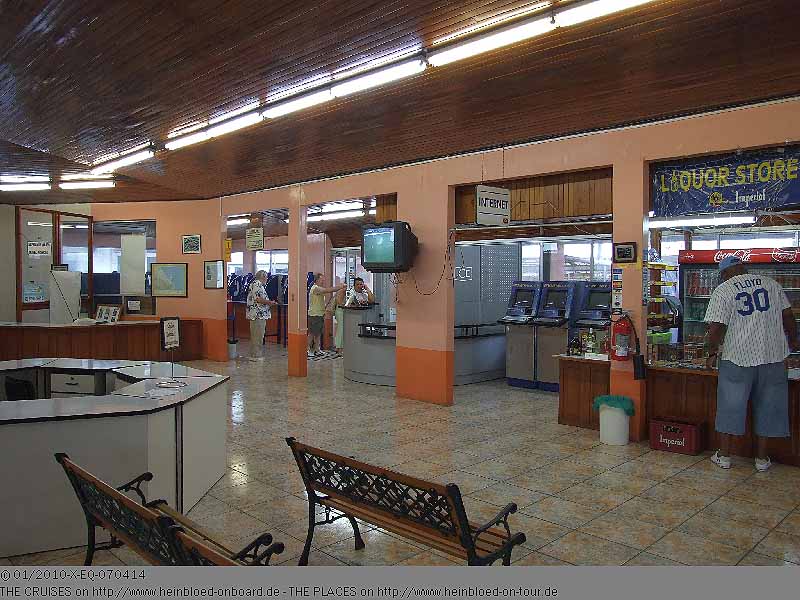 Aber alles da, was man so braucht.
Nur von außen wirkt alles nicht so einladend, wenn man von der Straße kommt...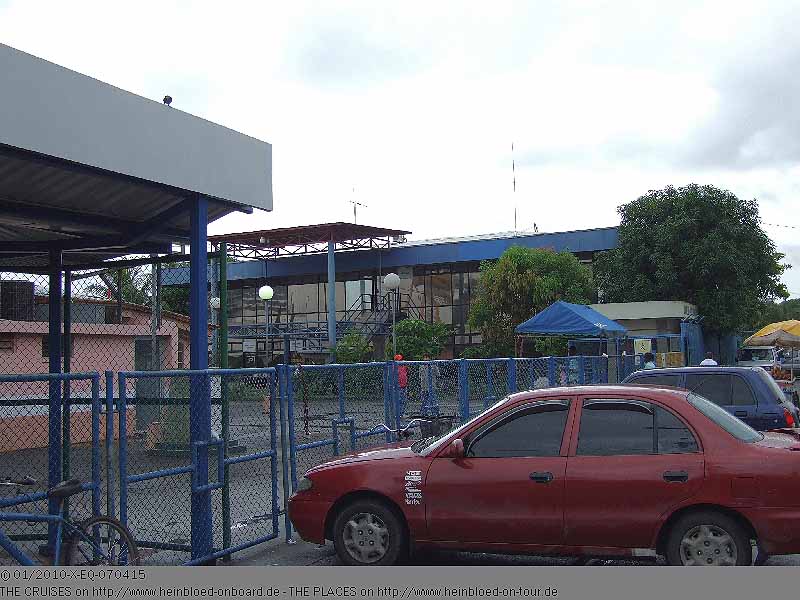 But from the street front it did not appeared very inviting when came from outside.