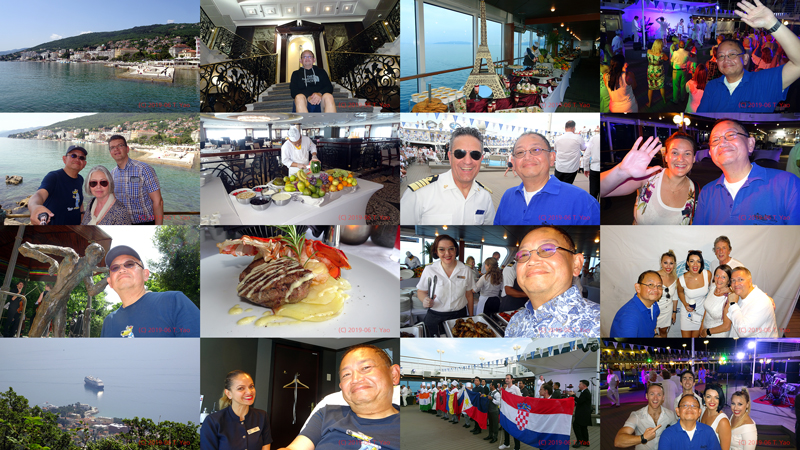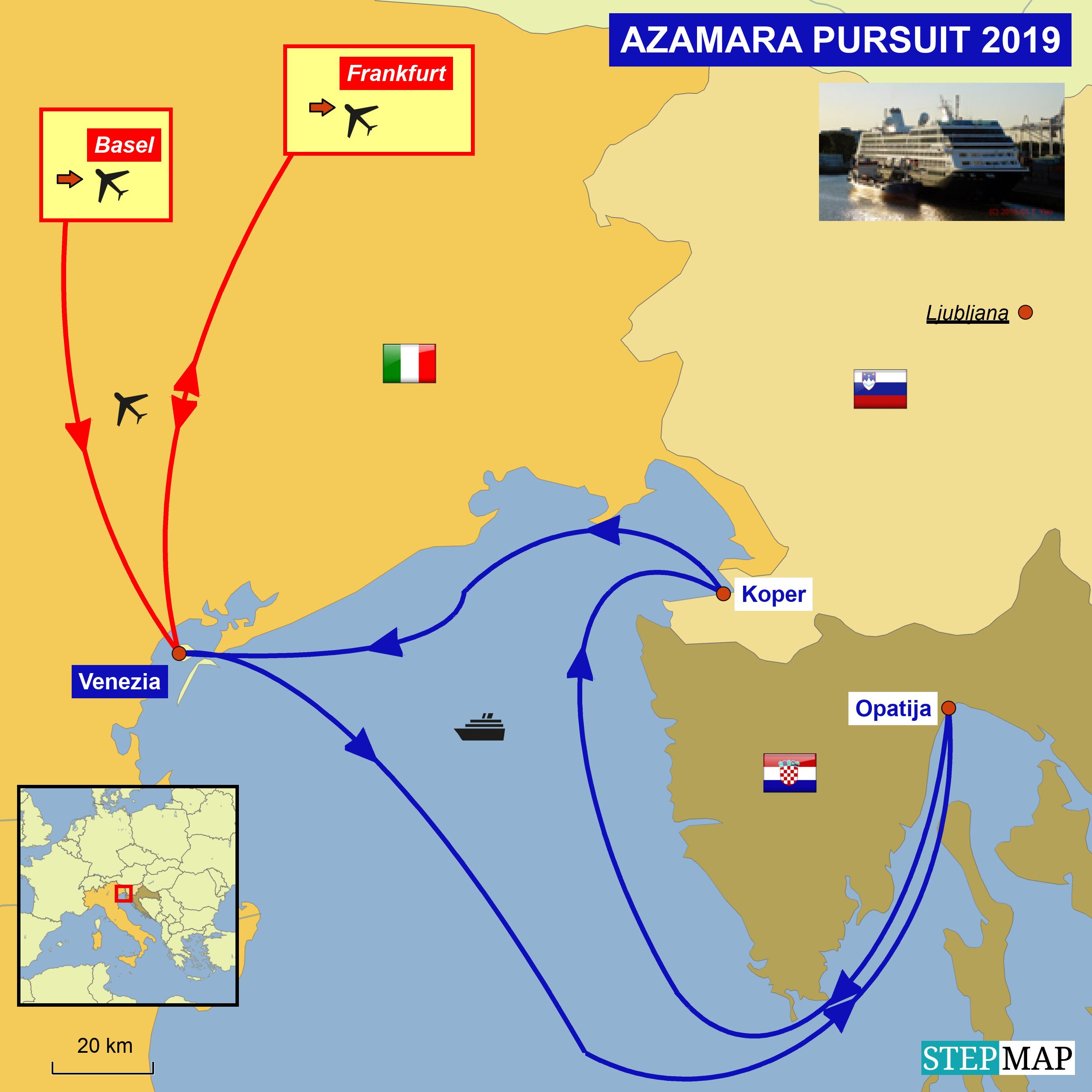 Ohne Seetag wird das ganz schön hart. Ich stehe ja doch frühmorgens auf, um meine übliche Runden zu machen. Nur in diesem Fall habe ich Glück: die AZAMARA PURSUIT ist ja zum Glück sehr klein. Und ganz ehrlich: so einen Sonnenaufgang auf dem Meer zu "verschlafen", kann ich ja immer noch nach meinem Tod. Das ist viel zu schön, um das zu verpassen. Während ich an dem Blog schreibe, lese ich ein Facebook-Posting von dem Dance Captain Abbey Cox, dass Studien gezeigt haben, dass täglich ein 5-10 Minuten langer Blick auf das Meer, die Gesundheit und das Glücksgefühl fördert. Ich sehe schon bestimmt seit 30 Minuten hier und ich merke, wie wohl ich mich fühle. Sehr gut gefallen mir die Fenster in der Glaswand, die man öffnen kann.

Without a day at sea it would be really hard. I got up early in the morning to do my usual rounds. Only in this case, I was lucky: the AZAMARA PURSUIT was fortunately very small. And honestly: to "oversleep" such a sunrise on the sea, I could still do so after I am passed. That was way too good to miss. As I wrote on the blog, I read a Facebook post by Dance Captain Abbey. She posted that studies showed that daily view of 5-10 minute of the ocean, health, and happiness would be supported. I was definitely here for 30 minutes, and I realized how well I was feeling. I really liked the windows in the glass wall that you could open.

I continued to look around on the open deck. I liked it!

Ich sehe mich weiter auf dem offenen Deck um. Hier gefällt es mir!
Wieder zurück ins Atrium.

And back to the atrium.

I liked the Prime C bar very well.

Die Prime C Bar gefällt mir sehr gut.
Ich sehe mich ein wenig im Prime C um. Das Essen im Discoveries ist jedoch so gut, dass wir das auf der kurzen Fahrt nicht nutzen.

I looked a little around in Prime C. The food in the Discoveries was so good that we did not use it on this short journey.

And in Aqualina.

Und im Aqualina.
Ich sehe mich auch noch im Windows Café um. Hier läuft das Leben sehr viel später an. Teilweise erst ab 07:30 Uhr. Die früheste Möglichkeit zum Frühstück: ab 07:00 Uhr im Mosaic Café.

I also looked around the Windows Café. Here life started much later. Partly only after 07:30 hrs. The earliest option for breakfast: from 07:00 hrs in the Mosaic Café.

We went to the Discoveries main dining room. Buffet? Not - only the fruits were freshly cut here. So not cut the night before and cold shut for hours. There was a great selection. Immediately we discovered Congee on the menu. Served with chicken and great. There was caraway rye bread. They had steaks and eggs. My world was fine. For Bruno, they had rolls, unsweetened natural yogurt, his berries, and he got two bananas for his visit to the gym. Freshly squeezed orange juice was available for free. And also an energy smoothie, which is too intense for me though. There is still jam from Wilkin & Sons. They did not even exist anymore with Cunard. Recently, there was on QUEEN MARY 2 2018 Bonne Maman.

Wir gehen ins Discoveries Hauptrestaurant. Büffet? Nein - nur das Obst wird hier frisch aufgeschnitten. Nicht also am Vorabend schon geschnitten und stundenlang kaltgestellt. Es gibt eine tolle Auswahl. Sofort entdecken wir Congee auf der Karte. Mit Hühnchen und toll serviert. Es gibt Kümmel-Roggenbrot. Es gibt Steaks und Eggs. Meine Welt ist in Ordnung. Für Bruno gibt es Brötchen, ungezuckerten Naturjoghurt, seine Beeren und er bekommt für seinen Besuch im Fitnessstudio zwei Bananen. Frisch gepressten Orangensaft gibt es kostenlos. Und auch einen Energie-Smoothie, der mir jedoch zu intensiv ist. Hier gibt es noch Marmelade von
Wilkin & Sons
. Die gibt es ja noch nicht einmal mehr bei Cunard. Zuletzt gab es auf der
QUEEN MARY 2 2018
Bonne Maman
.
Ankunft in Opatija. Bisher kenne ich das nur aus Braunschweig: In dem gleichnamigen
Restaurant Opatija Grill
haben mir die Wirte erzählt, dass es einer der schönsten Orte Kroatiens sein soll. Wir lassen uns überraschen. Am Tenderpier hat das
Fremdenverkehrsbüro Opatija
einen kleinen Stand aufgebaut und verteilt Stadtpläne.

Arrival in Opatija, Croatia. So far, I know it only from Brunswick, Germany: In the restaurant of the same name Opatija Grill. The owner told me that it should be one of the most beautiful places in Croatia. They should surprise us. At the tender pier, the tourist office Opatija set up a small booth and distributed city maps.

We were informed very early on the change of the port. Instead of Rijeka, Croatia, we went for Opatija - beeline: 7 miles. At this time we had 500.00 USD excursion credit: But our booked trips to Opatija disappeared, and for a long time the offer started in Koper, Slovenia.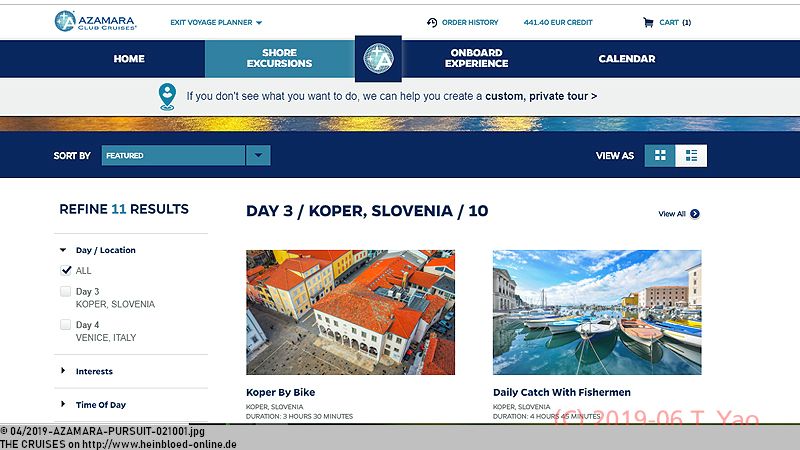 Wir werden sehr zeitig über die Änderung des Hafens informiert. Statt Rijeka laufen wir Opatija ein - Luftlinie 11 km. Zu diesem Zeitpunkt hatten wir ja 500,00 USD Ausflugsguthaben: Aber unsere gebuchten Ausflüge nach Opatija sind verschwunden und lange Zeit setzt das Angebot erst in Koper ein.
Erst kurz vor der Abfahrt, ist alles korrekt eingestellt und Opatija erscheint auf der Karte zur Reise auf der Azamara Homepage..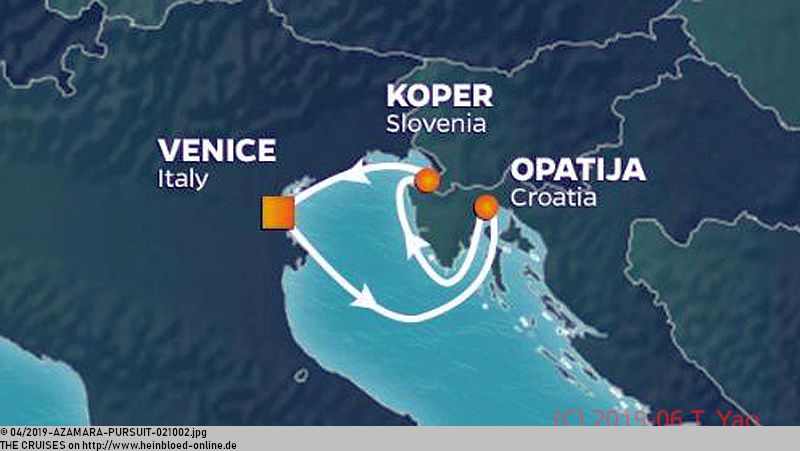 And just shortly before the sailing, everything was correctly set, and Opatija appeared on the map for this voyage on the Azamara website.

And then finally the excursion offers for Opatija showed up. Since we had now no more excursion credit: at the prices, I would make under no circumstances a trip with a ship group.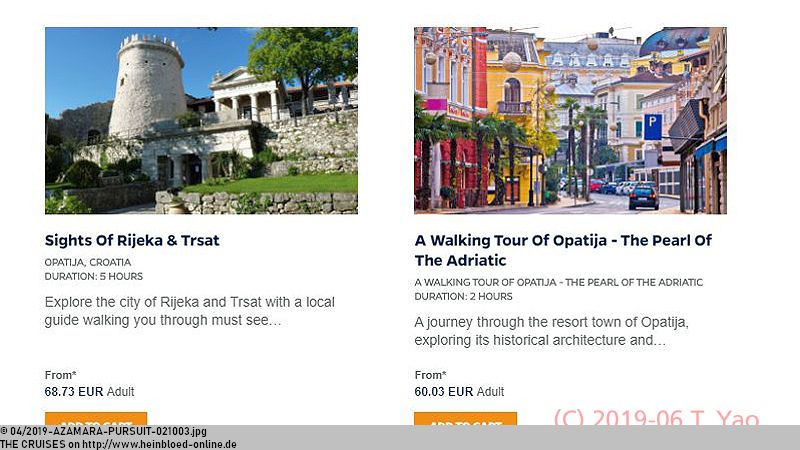 Und dann kommen auch endlich die Ausflugsangebote für Opatija rein. Da wir mittlerweile kein Ausflugsguthaben haben: zu den Preisen mache ich keinesfalls einen Ausflug in einer Schiffsgruppe.
Wir müssen tendern. Aber bei so wenigen Gästen läuft alles ohne Tendertickets. Jeder kommt sofort mit. Ich kann mich erinnern, dass es auf der
OCEAN PRINCESS 2010
nicht so entspannt lief und man erst den Gästen mit gebuchten Ausflügen den Vorrang lassen und wir ewig warten mussten. Aber hier gar nichts: wir sollten einfach direkt zum Ausgang auf Deck 3 laufen. Ein Unterschied gegenüber den anderen: man fährt nicht erst los, wenn der letzte Platz besetzt ist, sondern auch schon zwischendurch.

We had to tender. But with so few guests, everything ran without tender tickets. Everyone could join immediately. I could remember that on OCEAN PRINCESS 2010 it was not so relaxed and you had to give priority to the guests with booked excursions and we had to wait forever. But there was nothing: we should just go straight to the exit on deck 3. One difference to the others: you did not start when the last seat was occupied, but also in between.

I was lucky both on the way outward and back that I found a seat in front of the hatch in the first row. And therefore, I could take pictures of MY AZAMARA PURSUIT. Later, there were still shots of the waterfront and from above. But unfortunately, the bell tower I wanted to get on was closed. Branches and other buttocks disturbed the view from above. Too bad.

Ich habe sowohl auf der Hinfahrt als auch der Rückfahrt Glück, dass ich in der 1. Reihe einen Platz vor der Luke finde und daher schön
MEINE
AZAMARA PURSUIT fotografieren kann. Später entstehen noch Aufnahmen von der Uferpromenade und von oben. Aber leider ist der Glockenturm, auf den ich rauf will geschlossen. Zweige und andere Hinternisse stören den Blick von oben. Schade.
Da man uns an dem Stand der
Touristeninformation Opatija
nicht helfen kann, werden wir direkt durch den Park Angiolina geschickt, um in ihrem Büro nochmals unser Ansinnen vorzutragen. Hier im Park sehen wir die Berühmtheiten, die schon in Opatija zu Besuch waren. Z.B. US-Tänzerin Isadora Duncan, von der wir später noch mehr hören. Im Park findet ein kleines Streicher Konzert statt. Davor eine Statue eines Violisten: ich erinnere mich an Cristina Dinescu, Vahtang Paraluva und Lilian Iacob von der
ZAANDAM 2012
-Reise, Christoper Watkins von der
DIAMOND PRINCESS 2016
-Reise, Katarina Rossa von der
QUEEN MARY 2 2017
-Reise und Réka Fazekas und Matyas Guttman von der
NORWEGIAN SUN 2019
-Reise. Da ich mich entscheiden kann, wer hier Modell stand, würde ich sagen: es steckt von jedem meiner bekannten Violinisten etwas drin. Hier gibt es auch eine Büste des ehemaligen Generaldirektors der österreichischen Südbahn. Er hat maßgeblich zur wirtschaftlichen Entwicklung Opatijas beigetragen.

Since they could not help with the booth of tourist information Opatija, we were sent directly through the Park Angiolina. To recite our request, we should see their office. Here in the park, we could see the celebrities who visited Opatija. For example, US dancer Isadora Duncan, of whom we should hear more later. In the park a small string concert took place. In front of it, they had a statue of a violist. I remembered Cristina Dinescu, Vahtang Paraluva, and Lilian Iacob from our ZAANDAM 2012 trip, Christoper Watkins from our DIAMOND PRINCESS 2016 trip, Katarina Rossa from our QUEEN MARY 2 2017 trip, and Réka Fazekas, and Matyas Guttman from our NORWEGIAN SUN 2019 trip. Since I could decide who was modeled here, I would say that there was something in it from each of my well-known violinists. There was also a bust of the former General Manager of the Austrian Southern Railway. He has contributed significantly to the economic development of Opatija.

We walked along the waterfront. Here we also took a photo together with our tourist guide, Erika Spehar. She also gave public tours. Then in the clothes of Isadora Duncan.

Wir laufen entlang der Uferpromenade. Hier entsteht auch ein gemeinsames mit unserer Fremdenführerin
Erika Spehar
. Sie gibt auch öffentliche Führungen. Dann auch in der damaligen Kleidung von Isadora Duncan.
Ein schöner Oldtimer... Der Rariro ist aber Made in China, die heute Autos im Oldtimer-Stil produzieren.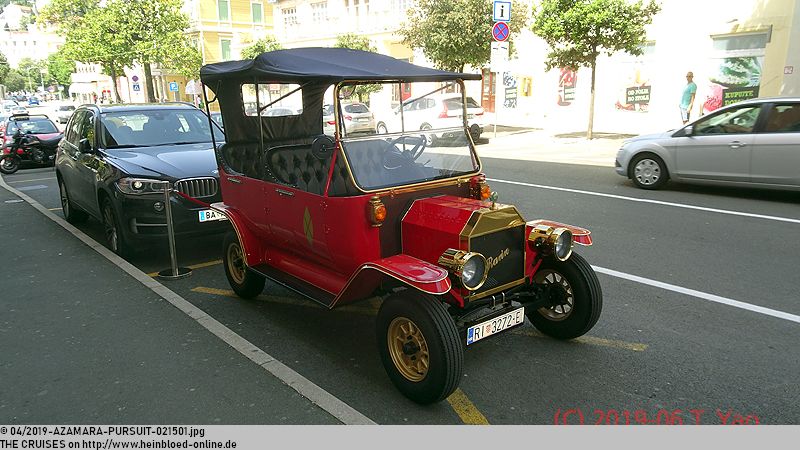 A nice oldtimer... But the Rariro was Made in China, who was producing today cars in oldtimer-style.

Here, in the tourist office Opatija, they could help us. For 12:00 hrs, they arranged a private tour through Opatija.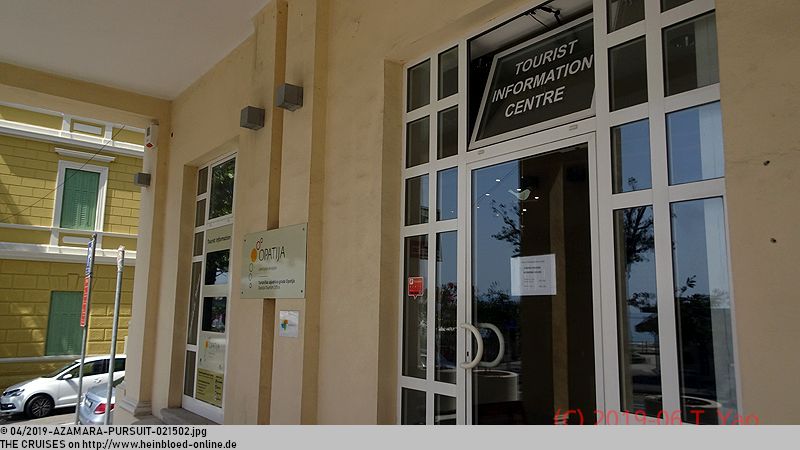 Hier im
Touristenbüro Opatija
hilft man uns weiter. Für 12:00 Uhr bekommen wir eine private Führung durch Opatija.
Und man schlägt uns vor, zwischenzeitlich zur Kirche Veprinac zu fahren, um
MEINE
AZAMARA PURSUIT von oben fotografieren zu können.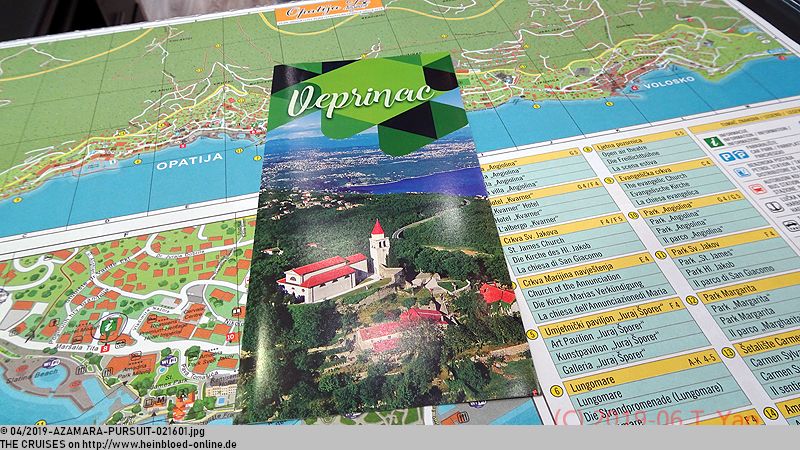 And they suggested us, meanwhile to go to the Veprinac church, to take pictures of MY AZAMARA PURSUIT from above.

We took a taxi at short-notice, which took us to the top. When we arrived up, we had to find out that we had unluck: the tower was closed because actually they were set up of an open-air-concert.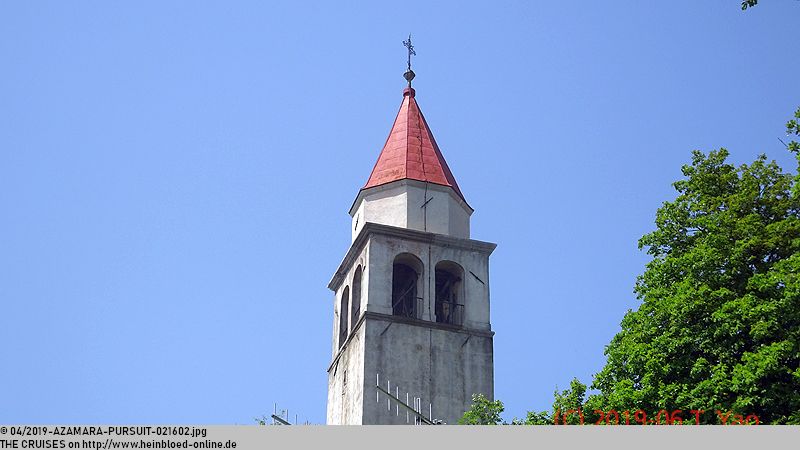 Wir nehmen kurzerhand ein Taxi, das uns hochbringt. Oben haben wir jedoch Pech: der Turm ist abgeschlossen, weil gerade alles für ein Open-Air-Konzert aufgebaut wird.
Aber auf eigene Gefahr erlauben sie mir, die Bühne zu betreten und von dort zu fotografieren.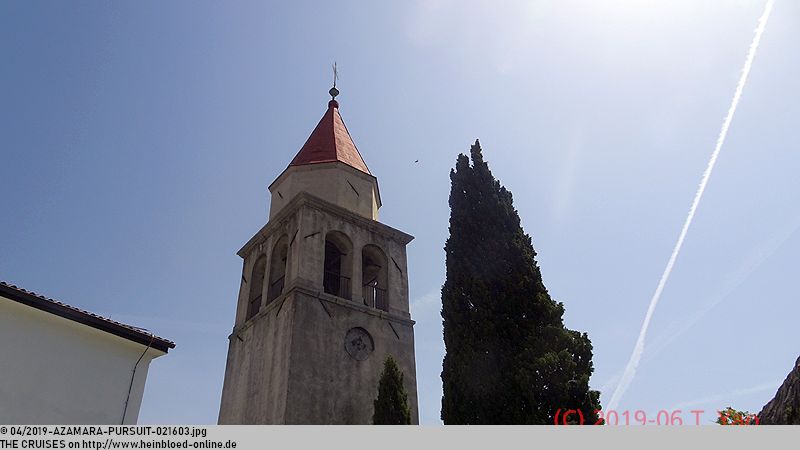 On my own risk, they allowed me to step on the stage to take some photos from here.

It was lovely here, although we could not walk into the tower.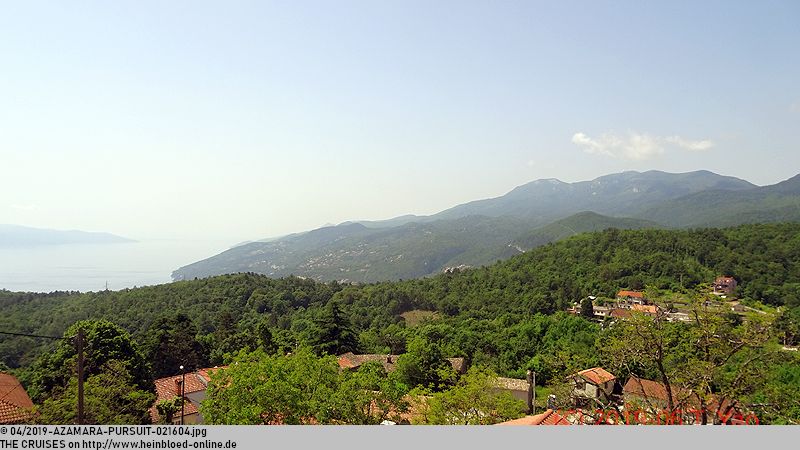 Schön ist es trotzdem hier, auch wenn wir nicht in den Turm dürfen.
Direkt darunter ist ein Friedhof. Sieht auch ganz anders aus, als bei uns in Deutschland.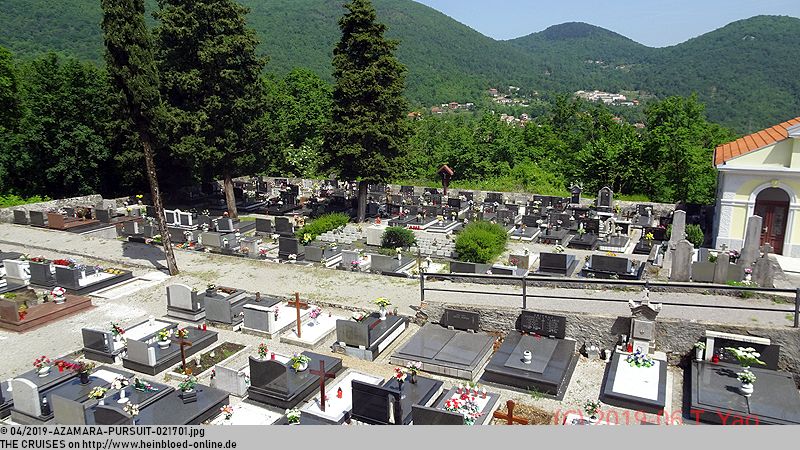 Just below, they had a cemetary. Looked different to those we knew from Germany.

In the center of the cemetery, the red star and the stone blocks attracted our attention. It was explained to me later that the red star was always due to the Yugoslavian past.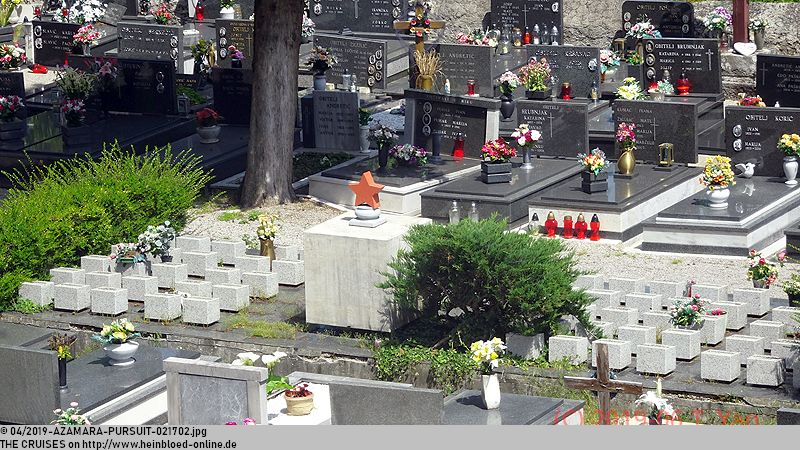 In der Mitte des Friedhofs fällt der rote Stern und die Steinklötze auf. Es wird mir später erklärt, dass der rote Stern immer auf die jugoslawischen Vergangenheit zurückzuführen ist.
Opatija steht für das kroatische Wort für Abtei: die Benediktiner-Abtei Abbazia San Giacomo al Palo (St. Jakob). Hier gehen wir kurz rein.

Opatija was formed from the Croatian word for Abbey: the Benedictine-Abbey Abbazia San Giacomo al Palo (St. James). Here we walked in for a brief moment.

We went to the Remisens Hotel Kvarner Amalia for a drink. Because Erika knew everyone here, we could see the splendor of today's ballroom from the inside. Everything was prepared for a wedding here. In the past, Opatija was a modish spa resort. In this part, the hot water applications were offered, and in the other bathhouse, the cold water applications. To sit on the terrace, it was too hot. With all connections Erika had, we could sit in the lobby and drink our coffee there. She explained that the wealth came with the opening of the Southern Railway from Austria: from Vienna via Ljubljana, Slovenia to the Croatian coast. The station was located outside of Opatija in Matulji, Croatia. The railway company not only wanted to earn money from the transports and travel desires of their guests, but also from their stay. Therefore, the hotel was built and operated by the Austrian Southern Railway.

Wir gehen im
Remisens Hotel Kvarner Amalia
etwas trinken. Weil
Erika
hier alle kennt, dürfen wir den Prunk des heutigen Ballsaales von innen sehen. Hier wird alles auf eine Hochzeit vorbereitet. Früher war Opatija ein modäner Kurort. In diesem Teil wurden die heißen Wasseranwendungen angeboten und im anderen Badehaus die kalten Wasseranwendungen. Um auf der Terrasse zu sitzen ist es zu heiß. Wegen der Kontakte, die
Erika
hat, dürfen wir in der Lobby sitzen und dort unseren Kaffee trinken. Sie erklärt uns, dass der Reichtum mit der Eröffnung der Südbahn aus Österreich kam: von Wien über Ljubljana an die kroatische Küste. Wobei der Bahnhof liegt außerhalb von Opatija in
Matulji
. Die Eisenbahngesellschaft wollte nicht nur an den Transporten und dem Reisewunsch ihrer Gäste verdienen, sondern auch an deren Aufenthalt. Deswegen wurde das Hotel von der österreichischen Südbahn gebaut und betrieben.
Später als wir wieder an Bord, blicken wir nochmals auf Opatija und Rijeka.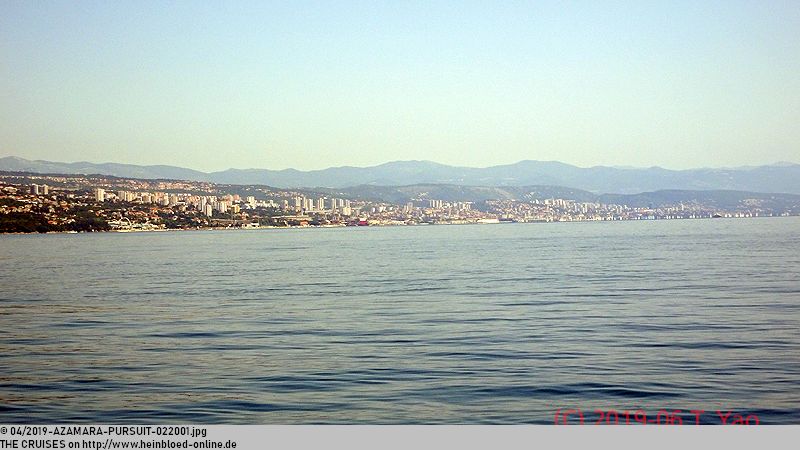 Later, when we were back onboard, we watched over to Opatija and Rijeka.

A great view out of one of the windows.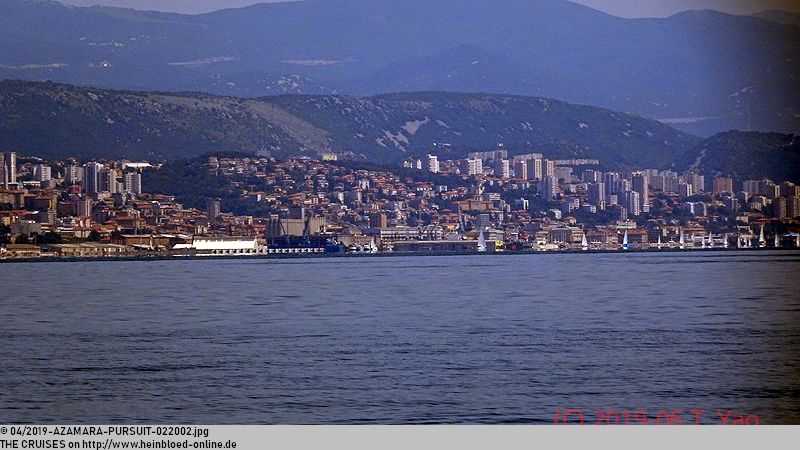 Ein toller Anblick aus einem der Fenster an Bord.
Obwohl wir gute Tipps für Restaurants in Opatija von
Erika
bekommen: wir essen an Bord. Die Spieße in The Patio sind gut und ich probiere eine Bratwurst. Eine kleine Auswahl von den Hauptgerichten aus dem Windows Café gibt es auch hier draußen. Bruno probiert den Frozen Joghurt-Automaten.

Although we got good tips for restaurants in Opatija from Erika: we ate on board. The skewers at The Patio were good, and I was trying a bratwurst. A small selection of the main dishes from the Windows Café was also offered here outside. Bruno tried the frozen yogurt machine.

I was checking the selection they offered for lunch in the Windows Café.

Ich gucke mir das Angebot mittags im Windows Café an.
Da uns versichert wird, dass uns die 200,00 USD Spa-Guthaben nicht mehr weggenommen werden können, buche ich mir eine Gesichtsbehandlung, um mich so auf evtl. Vorstellungsgespräche vorzubereiten. Mich behandelt Yasmin A. Gil. Und ich freue mich, dass es auch anders geht, als zuletzt auf der
ARTANIA 2014
: das war richtig aufdringlich und unangenehm. Hier lässt mich Yasmin während sie mich behandelt die tolle Aussicht auf Opatija genießen. Hinterher informiert sie mich, mit welchen Produkten sie arbeitet. Selbstverständlich hätte sie sie mir auch verkauft. Da aber 22% italienische Mehrwertsteuer noch anfallen, hat sich doch Verständnis, dass ich die empfohlenen
Elemis
-Produkte lieber in einem Duty-Free-Shop kaufe. Hier kommen noch 18% Service-Charges drauf, aber dabei bleibt es jedoch nicht, weil ich es echt gut finde, wie es hier läuft.

W were assured that the 200.00 USD spa credit could no longer be taken away. So I booked a facial treatment to prepare myself for any job interviews. I was treated by Yasmin A. Gil. And I was pleased that it was a different way, as last on ARTANIA 2014: that was really intrusive and unpleasant. Yasmin let me enjoy the great view of Opatija while she treated me. Afterward, she informed me about the products she worked. Of course, I could buy them with her immediately too. But since 22% of Italian VAT was still incurred, she fully understood that I preferred to buy the recommended Elemis products in a duty-free shop. There were 18% service charges on top, but that was not at all, because I really liked the way how she worked here.

Wow! Many others offered mini-cruises. And you noticed from the crew: actually everything was crap, again they had to reset the cabins. It would not worth to show something useful to them. Etc. But here it was completely different: they explained what they could do. Everyone was there. The senior officers were not only there to delegate. Each of them lent a hand so that every guest back at home could tell how great it was here on the AZAMARA PURSUIT. Even senior officers from other departments helped colleagues with food distribution. I was deeply impressed. That out of my mouth! But I was really positively surprised what they were doing to show how great they were on three days. No comparison to our mini-cruise on CENTURY 2008. At that time the restaurant staff was almost on a stroll.

Wow! Viele andere bieten Mini-Kreuzfahrten an. Und man merkt der Crew an: eigentlich ist alles Mist, schon wieder müssen sie die Kabinen neu herrichten. Es lohnt sich nicht, denen etwas Gutes zu zeigen. Usw. Hier ist es aber komplett anders: Sie zeigen, was sie können. Jeder ist dabei. Die Senioroffiziere stehen nicht nur bei, um zu delegieren, sondern jeder legt Hand an, damit jeder Gast zu Hause erzählen kann, wie toll es hier auf der AZAMARA PURSUIT ist. Auch Senioroffiziere aus anderen Abteilungen helfen den Kollegen bei der Essensausgabe. Ich bin tief beeindruckt. Das aus meinem Mund! Aber ich bin wirklich positiv überrascht, was sie alles auf die Beine stellen, um in den drei Tagen zu zeigen, wie toll sie sind. Kein Vergleich zu unserer Mini-Cruise auf der
CENTURY 2008
. Damals war das Restaurant-Personal quasi im Bummelstreik.
Wir gehen lieber ins Discoveries Hauptrestaurant. Hier wird praktisch ein Gala-Menü angeboten. Das Brot- und Auftrichsortiment ändert sich nicht. Ich bekomme wieder meinen Clamato-Saft. Und ich habe ein echtes Problem: ich weiß nicht was ich nehmen soll, weil alles klasse klingt. I
m MSC Yacht Club
ist es mir ja auf der
MSC MERAVIGLIA 2017
auch schon passiert, dass ich von der Tageskarte nichts gefunden habe, was mir zusagt. Ich frage vorsichtig nach, ob sie etwas zusätzlich einem anderen Gericht dazu haben könnte: unsere Kellnerin Kymberly Sagun Donesa meint nur entsetzt: "Sir! Sie können alles von der Karte haben! Sagen Sie mir einfach, was Sie möchten!". Ich nehme Surf und Turf und freue mich auf den Hummer. Er lässt sich problemlos aus der Schale lösen. Auf der
QUANTUM OF THE SEAS 2014
wurde mir ja erklärt: wenn der Hummer zu frisch ist, dann lässt er sich nicht aus der Schale lösen: also muss mein Hummer wohl "uralt" sein. Zu meinem Surf und Turf bekomme ich noch chinesische Teigtaschen. Zum Nachtisch nehme ich Kirscheis und Grünes Apfelsorbet. Das erinnert mich an den Grünen Apfelsaft von
MSC SEAVIEW 2018
im
MSC Yacht Club
. Den muss ich morgen früh wieder haben.

We preferred to go to the Discoveries main dining room. Here, practically a gala menu was offered. The bread and assortment of spread did not change. I got my clamato juice again. And I had a real problem: I did not know what to take because everything sounded great. At the MSC Yacht Club, it happened to me on MSC MERAVIGLIA 2017 that I did not find anything from the menu of the day that appealed to me. I asked carefully if I could have something in addition to another dish. Our waitress Kymberly Sagun Donesa said in horror, "Sir, you can have everything on the menu, just tell me what you want!". I took surf and turf and was looking forward to the lobster. It was easily removable from the shell. On QUANTUM OF THE SEAS 2014, I was told: if the lobster was too fresh, then it could not be solved from the shell: so my lobster must be "ancient". For my surf and turf, I still got Chinese dumplings (Potstickers). For dessert, I took cherry ice cream and green apple sorbet. That reminded me of the green apple juice on MSC SEAVIEW 2018 in the MSC Yacht Club. I have to have it back tomorrow morning. I had to have it again for the next morning.

We went to the Mosaic Café, to have another drink.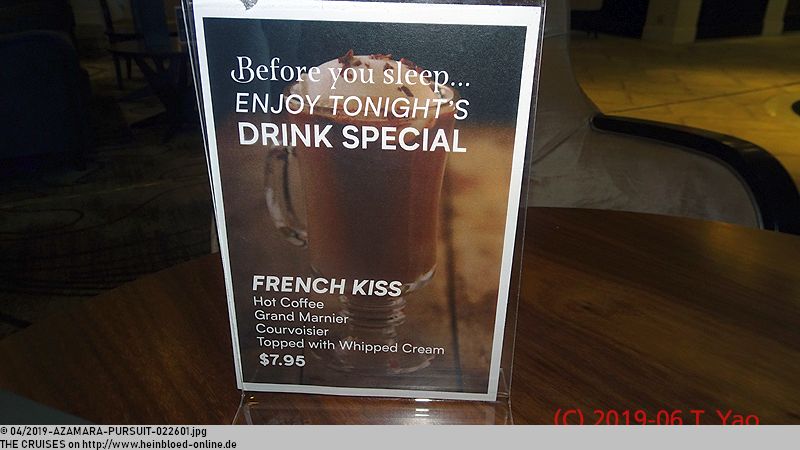 Wir gehen ins Mosaic Café, um dort noch etwas zu trinken.
Hier sitzt man echt schön.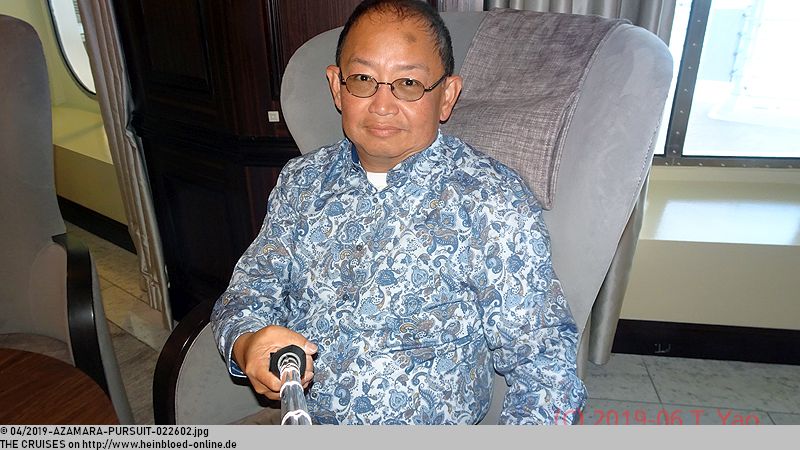 Here, you were sitting really nice.

We waited for our coffee.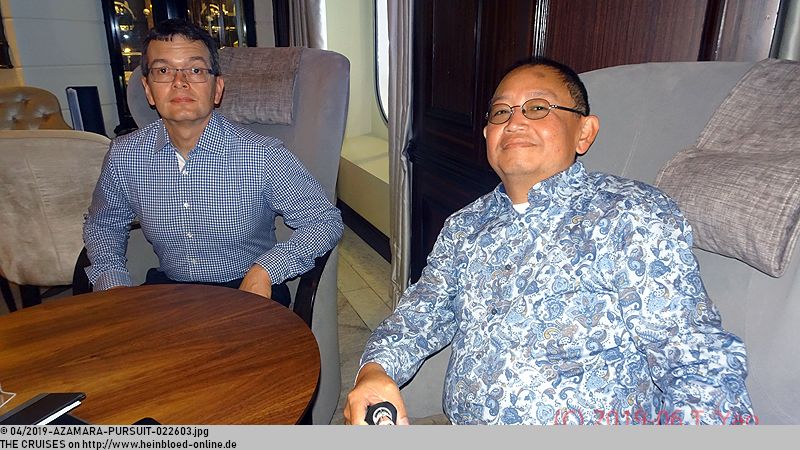 Wir warten auf unseren Kaffee.
Und da ist er.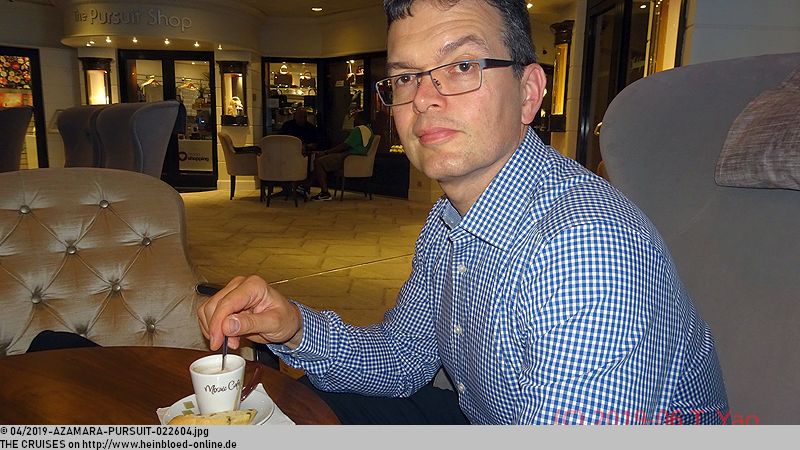 And here, it was.

Mine was prepared in a "lighter" way.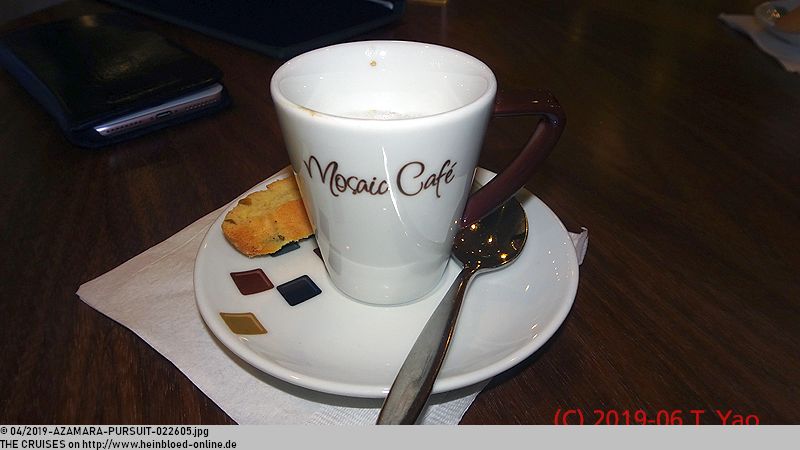 Meiner wird schon "leichter" für mich gemacht.
Bevor die Party losgeht: die Crew-Parade. Zuvor habe ich jedoch Gelegenheit, ein Selfie mit
Kapitän Antonio
zu machen. Und mich bei ihm und
Hoteldirektor Elisabeth
für die tolle Leistung zu bedanken.

Before the party started: the crew parade. But before that, I had a chance to take a selfie with Captain Antonio. And to thank him and Hotel Director Elisabeth for the great performance.

Hotel Director Elisabeth and F&B Manager Mustafa prepared Crêpes Suzette in front of the guests.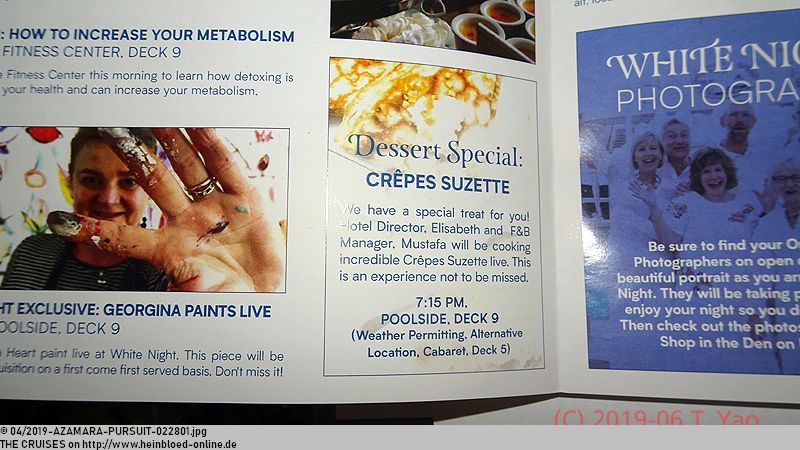 Hoteldirektor Elisabeth
und F&B Manager Mustafa bereiten vor den Augen der Gäste Crêpes Suzette zu.
Das kenne ich sonst bloß von der
DIAMOND PRINCESS 2016
und
QUEEN MARY 2 2017
.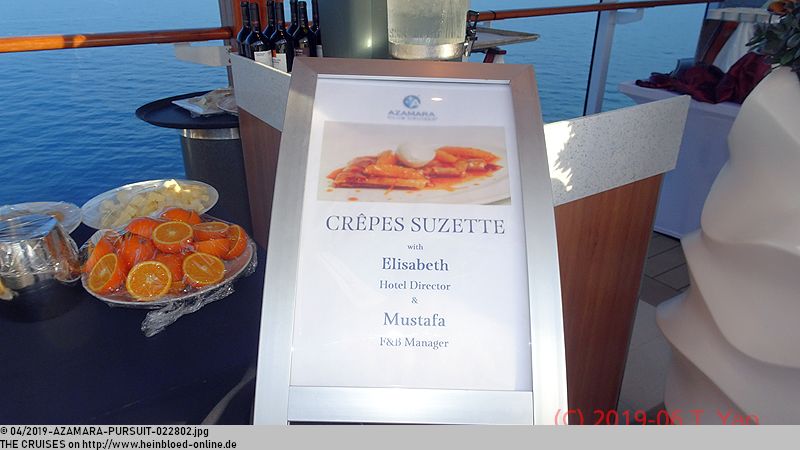 Something I only knew from DIAMOND PRINCESS 2016, and QUEEN MARY 2 2017.

The weather was playing with us in the right condition, that we could fully enjoy everything.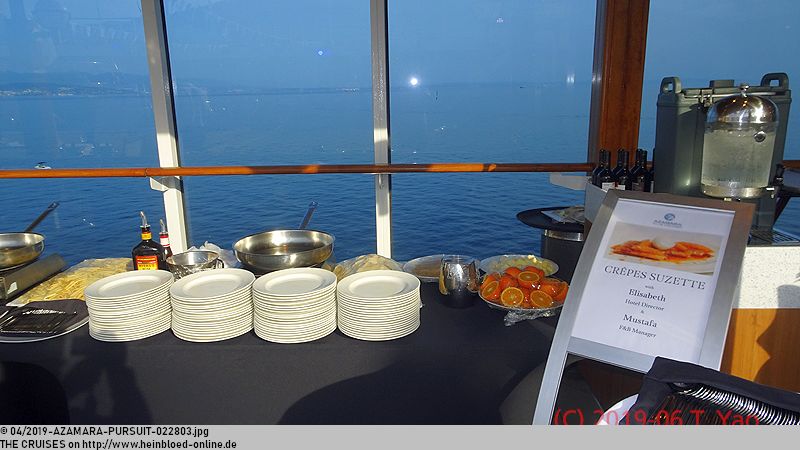 Das Wetter spielt aber auch mit, um das in vollen Zügen alles zu genießen.
Bei der Crew Parade machen
Kapitän Antonio
und
Hoteldirektor Elisabeth
voll mit.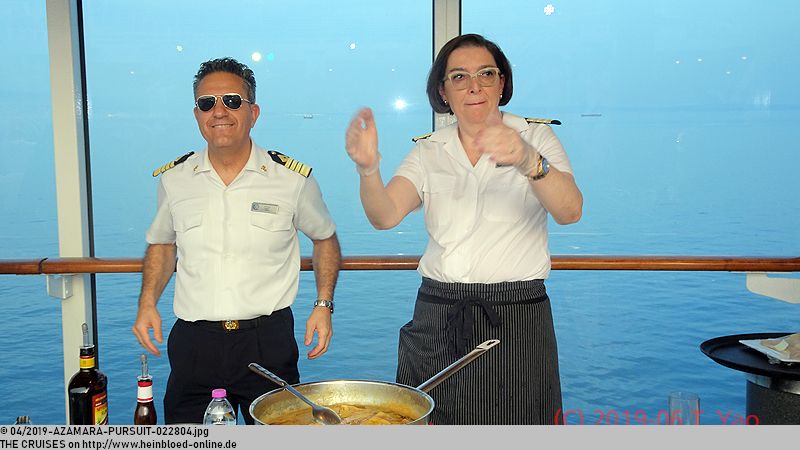 Captain Antonio and Hotel Director Elisabeth were participating fully in the crew parade.

I did not expect that it would become so gorgeous. So I did not have enough Swiss Basler Läckerli-bars with me. I should have 300 with me. Everyone would deserve one. An outstanding crew.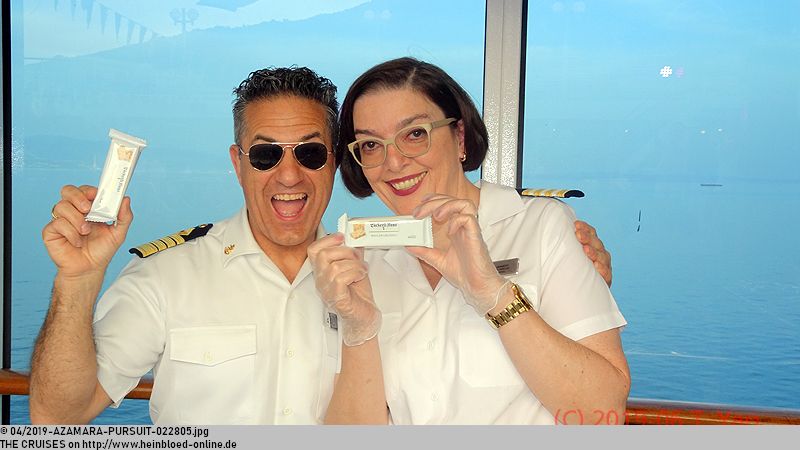 Ich habe nicht erwartet, wie toll das wird. So habe ich nicht genügend
Basler Läckerli
mit. Ich hätte wohl 300 mitbringen müssen. Jeder hätte eines verdient. Klasse Crew.
Die
White Night Party
wird ja sehr gut auf der
Homepage
beschrieben. Hier auch der Hinweis, dass man sich etwas weißes zum Anziehen mitnehmen soll. Ich hake sie allerdings ab, weil ausdrücklich steht, dass es sie auf den meisten Kreuzfahrten gibt, die länger als eine Woche dauern.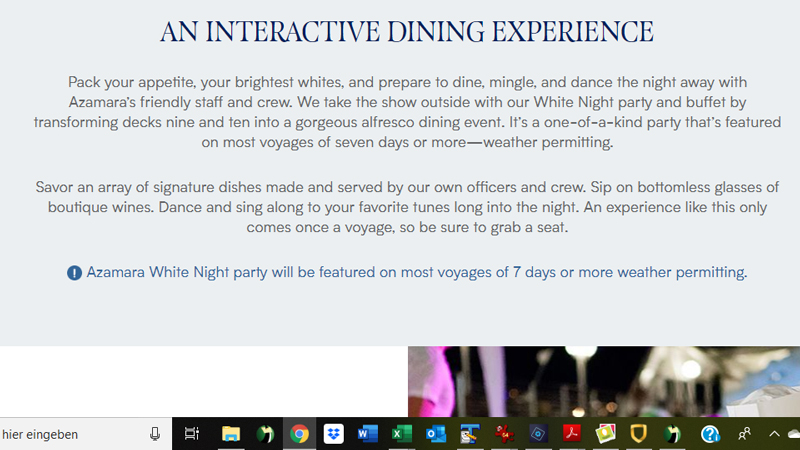 The White Night Party was very well described on the homepage. Here was the note that you should take something white to wear. I checked them off, however, because it was explicit that they would be on most cruises that last more than a week.

So I was shocked that it was announced on the screens.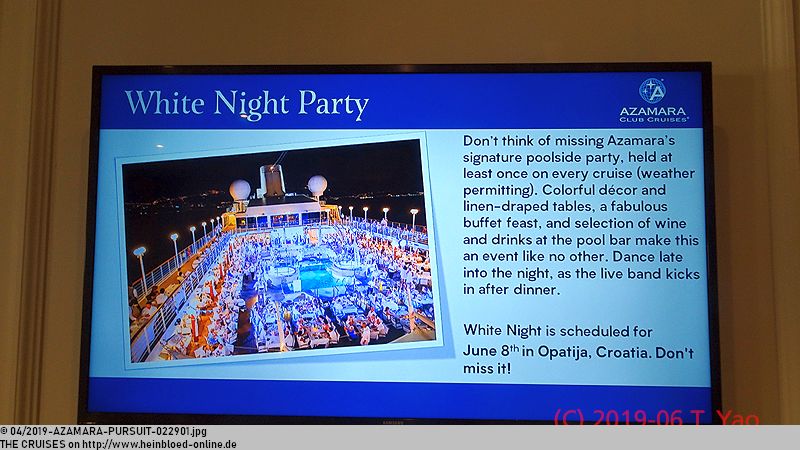 Deswegen bin ich sehr überrascht, dass sie auf den Bildschirmen angekündigt ist.
Im Tagesprogamm gibt es auch keinen Hinweis, dass man sich in weiß kleiden soll. Ich bin das erste Mal mit Azamara unterwegs und weiß nicht, was mich erwartet.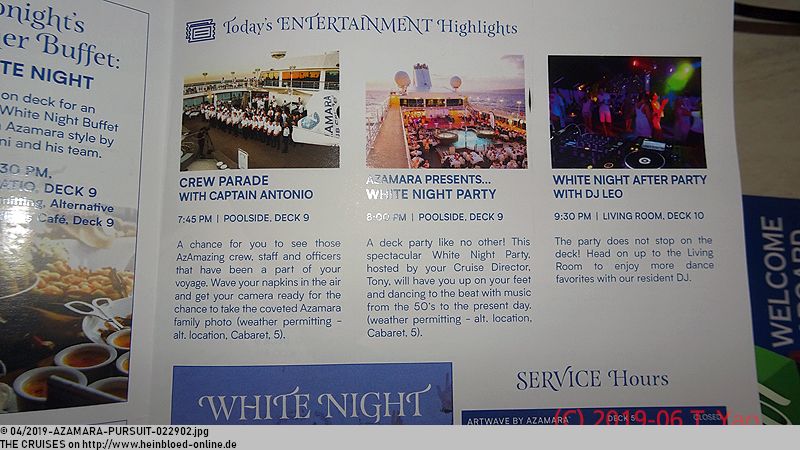 No advise in the daily program, that you should wear something white. I was the first time on Azamara and did not what to expect.

I could go to the party with my NCL Mediterranean T-shirt from NORWEGIAN SKY 2015. But that was not back yet. And honestly, Azamara did not deserve me promoting others. I could appear in a bathrobe, but it was too hot outside.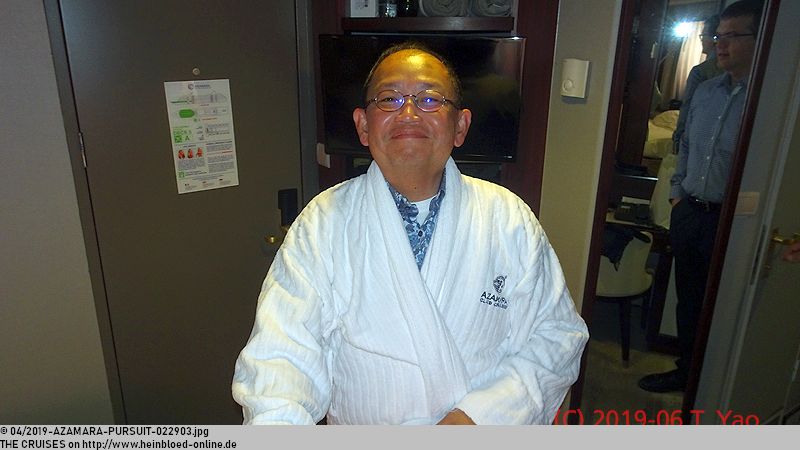 Ich könnte ja mit meinem NCL-Mittelmeer-T-Shirt von der
NORWEGIAN SKY 2015
zur Party gehen. Aber das ist noch nicht zurück. Und ganz ehrlich: Azamara hat es auch nicht verdient, dass ich Werbung für andere mache. Ich könnte ja im Bademantel erscheinen, aber es ist draußen viel zu heiß.
Das passendste für eine Party ist mein "Paisley-Vorhang", wie Bruno mein Hemd beschreibt.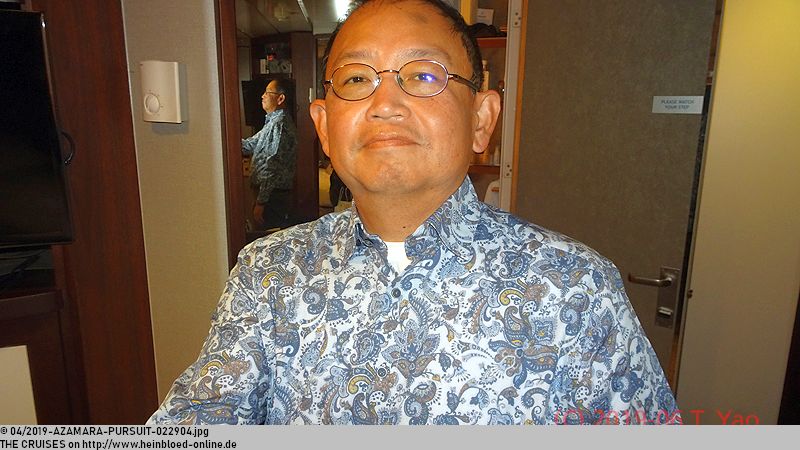 The most suitable for a party was my "Paisley-Curtain", like Bruno called my shirt.

They decorated the decks 9 and 10 grand. With this weather, this was the absolute dream. I went and changed my clothes: a polo shirt and shorts: it was just too warm to walk around long-sleeved. The moon was slowly rising. The mood on board was fantastic. Bruno was too loud on the lower deck and watched the hustle and bustle from Deck 10. I was often asked by fellow travelers to come to the dance floor, but my meniscus did not allow it yet. Suhas and his colleagues came by consistently and offered something. No need to pay anything and show the card: the drinks that were offered were all free. I got photographed by photographer Rebecca because I liked to have a picture of me at the event. This was the first time. I enjoyed the party. I wanted a selfie afterward with the four artists Abbey, Kelsey, Nate, and Luke. Cruisecritic.com fellow traveler Audrey also wanted to join the picture. I saw already cruise directors who came in similar ways. The best of them would be Gary Glading, whom we last experienced on NORWEGIAN JADE 2011 (1) and also sang and made music himself. Today he was Head of Cruise Director with MSC. But this was topped by Tony: he had his secret weapon: his wife, Christine. Together they were unbeatable on stage. They played only music which I liked. I did not have to move to the music that was too young for me, but I could move to the music that I already moved to as I was teen, twen, etc. I could sing almost all the pieces, and it was nice when everyone on the stage, on the dance floor and I could move to the music. Like in the movie "Mamma Mia": Everyone was dancing and singing on ABBA's "Dancing Queen", as Meryl Streep did with Christine Baranski, and Julie Walters. Abbey, and especially Nate, also came down off the stage and walked into the middle of the pool deck to fuel the mood among the sitters. I had seldom stayed for more than ten minutes at a comparable party. Also, my premiere: I remained from the first to the last minute and felt 20 years younger when the party was over.

"You can dance
You can jive
Having the time of your life
Ooh, see that girl
Watch that scene
Dig in the Dancing Queen..."

Sie haben die Decks 9 und 10 toll dekoriert. Bei dem Wetter ist das der absolute Traum. Ich gehe und ziehe mich um: Polo-Shirt und kurze Hosen: es ist einfach zu warm, um weiter langärmlig herumzulaufen. Der Mond geht langsam auf. Die Stimmung an Bord ist fantastisch. Bruno ist es unten zu laut und guckt dem Treiben von Deck 10 zu. Ich werde öfters von Mitreisenden aufgefordert, mit auf die Tanzfläche zu kommen, aber mein Meniskus lässt es noch nicht zu. Suhas und seine Kollegen kommen ständig vorbei und bieten etwas an: man muss auch nichts bezahlen und die Karte vorzeigen: die Getränke, die angeboten werden, sind alle kostenlos. Ich lasse mich von Fotografin Rebecca fotografieren, weil ich gerne Bilder von mir bei dem Ereignis will. Auch das ist das erste Mal. Ich genieße die Party. Ich will hinterher ein Selfie mit den vier Künstlern Abbey, Kelsey, Nate und Luke. Auch
cruisecritic.com
-Mitreisende Audrey möchte auch mit auf das Bild. Ich habe schon Kreuzfahrtdirektoren erlebt, die sich in vergleichbarer Weise sich eingebracht haben. Der beste davon wäre Gary Glading, den wir zuletzt auf der
NORWEGIAN JADE 2011 (1)
erlebt haben und selbst auch gesungen und musiziert haben. Heute ist er Chef-Kreuzfahrtdirektor bei MSC. Aber das wird hier doch noch durch
Tony
getoppt: er bringt seine Geheimwaffe mit: seine Frau Christine. Zusammen sind sie auf der Bühne unschlagbar. Es wird nur Musik gespielt, die ich mag. Ich muss mich nicht zur Musik bewegen, die mir zu jung ist, sondern ich kann mich zur Musik bewegen, zu der ich mich schon als Teen, Twen usw. bewegt habe. Fast alle Stücke kann ich mitsingen und es ist schön, wenn alle auf der Bühne, auf der Tanzfläche und ich uns so zur Musik bewegen können, wie im Film "
Mamma Mia
": Alle tanzen und singen genauso auf
ABBAs "Dancing Queen"
, wie
Meryl Streep, Christine Baranski und Julie Walters
. Abbey, und vor allem Nate kommen auch von der Bühne runter und laufen in die Mitte des Pooldecks, um die Stimmung unter den Sitzenden auch einzuheizen. Ich bin bislang selten länger als zehn Minuten auf einer vergleichbaren Party geblieben. Auch jetzt meine Premiere: ich bleibe von der ersten bis zur letzten Minute und fühle mich 20 Jahre jünger, als die Party vorbei ist.
"You can dance
You can jive
Having the time of your life
Ooh, see that girl
Watch that scene
Dig in the Dancing Queen..."
Auf der Bühne spielen der musikalische Leiter Sasha und seine Pursuit-Band sich die Seele vom Leib. Die vier Musiker Abbey, Kelsey, Nate und Luke, wechseln sich auf der Bühne mit
Tony
, Christine und auch Lee ab. Lee tritt zwischendurch als Elvis auf und heizt damit nochmals zusätzlich das Publikum ein.

On stage, the musical director Sasha and his Pursuit band played their soul off. The four musicians Abbey, Kelsey, Nate, and Luke, take turned on stage with Tony, Christine, and Lee. Lee appeared in between as Elvis and heated on the audience again besides.

The mood in the audience was cooking. At some point, there was O'Jays' "Love Train" and the Polonaise. Although other companies also organized such parties, no one has ever managed to keep me from the 1st to the last minute at such events. The mix was just right. That was only because of the audience. It did not matter who danced with whom! A man with a woman, a woman with a man, a man with a man or a woman with a woman. Young with old. Tall with short. Fat with slim. Here was just the joy of the party and the fun together. Here there was simply a high degree of common interests and pleasures. More elevated than with others.

Die Stimmung in Publikum kocht. Irgendwann gibt es zu
O'Jays' "Love Train"
auch die Polonaise. Auch wenn andere Gesellschaften auch solche Parties veranstalten, aber niemand hat es je geschafft mich von der ersten bis zur letzten Minute bei solchen Veranstaltungen zu halten. Der Mix stimmt einfach. Das liegt aber eben auch an dem Publikum. Es spielt gar keine Rolle, wer mit wem tanzt: Mann mit Frau, Frau mit Mann, Mann mit Mann oder Frau mit Frau. Jung mit alt. Groß mit klein. Dick mit dünn. Hier zählt nur die Freude an der Party und der gemeinsame Spaß. Hier gibt es einfach eine hohe Übereinstimmung an gemeinsamen Interessen und Freuden. Höher als bei anderen.
Auch nach Ende der Party: eine tolle Stimmung herrscht an Bord.

Even after the party: a great atmosphere was reigning the ship.

We set sail at 22:00 hrs in Opatija. A very lovely night.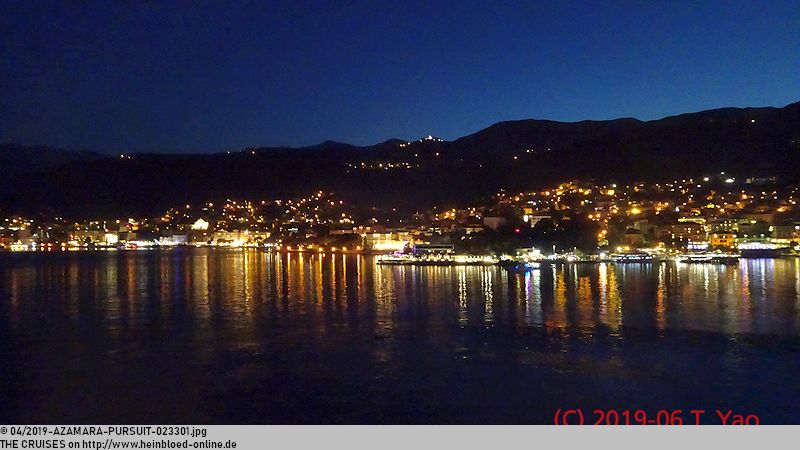 Wir legen in Opatija gegen 22:00 Uhr ab. Sehr schöner Abschied.
An den Bars gibt es keine Papieruntersetzer sondern Stoffservietten stattdessen.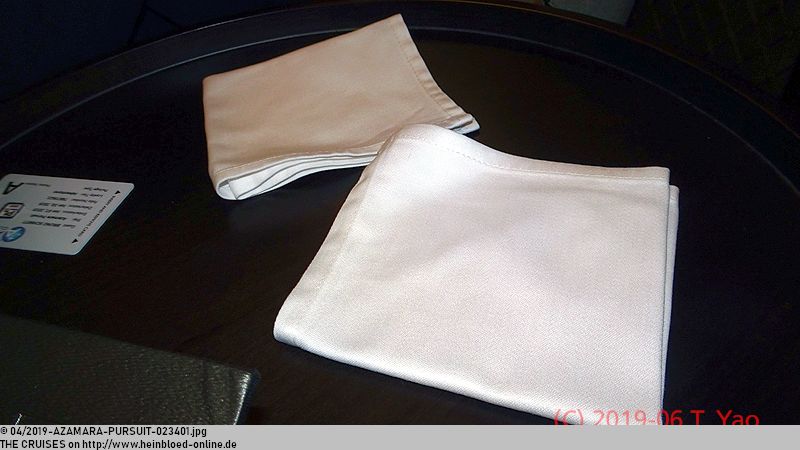 At the bars, you did not get any paper coasters but fiber napkins.

They had paper straws for the cocktails. But they had a strange taste, and it was not easy to soak. They were much broader.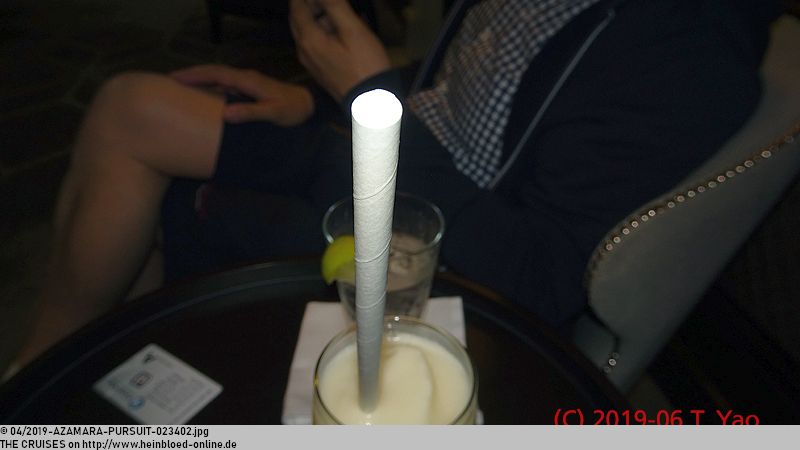 Es gibt Papierstrohhalme zu den Cocktails. Aber die schmecken komisch, lassen sich nur schwierig daran saugen und sind sehr viel breiter.
Zu den Cocktails gibt es Erdnüsse. Für die müssen wir nichts extra zahlen, wie zuletzt auf der
VENTURA 2018
oder
MARCO POLO 2019
.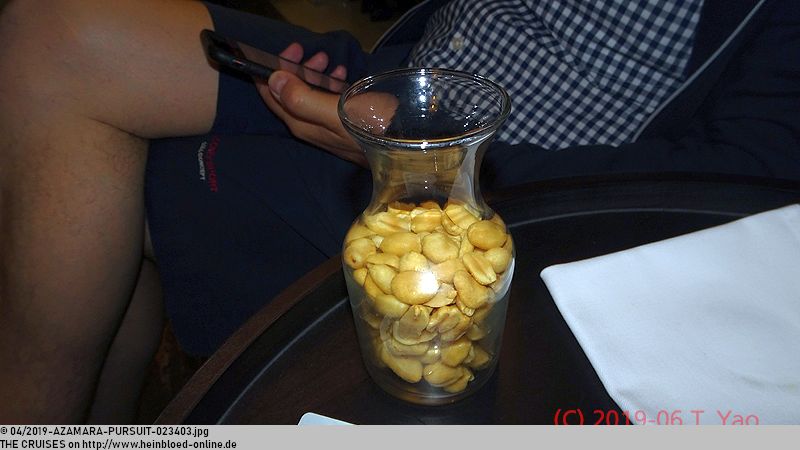 They served peanuts to the cocktails. For those, you did not need to pay extra like on VENTURA 2018 or MARCO POLO 2019.

After the party, our laundry was back. No T-shirt from Azamara in exchange with the NCL T-shirt. Actually, I would need just to stick the tape for the air conditioning over NCL. The rest of the shirt was true: "Keep calm and cruise the Mediterranean". Perfect for this ride.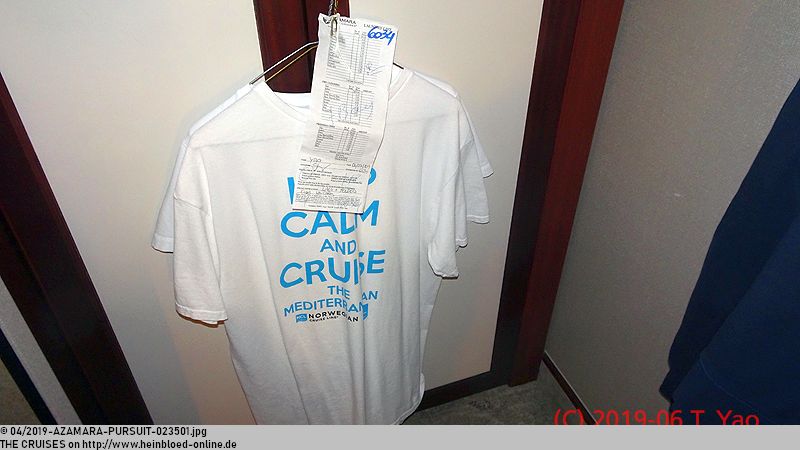 Nach der Party ist auch unsere Wäsche zurück. Kein T-Shirt von Azamara im Austausch mit dem NCL-T-Shirt. Eigentlich hätte ich ja nur das Klebeband für die Klimaanlage und NCL überkleben müssen. Der Rest auf dem Shirt stimmt ja: "Sei ruhig und mache eine Kreuzfahrt im Mittelmeer". Perfekt für diese Fahrt.
Unser Gute Nacht-Gutzeli.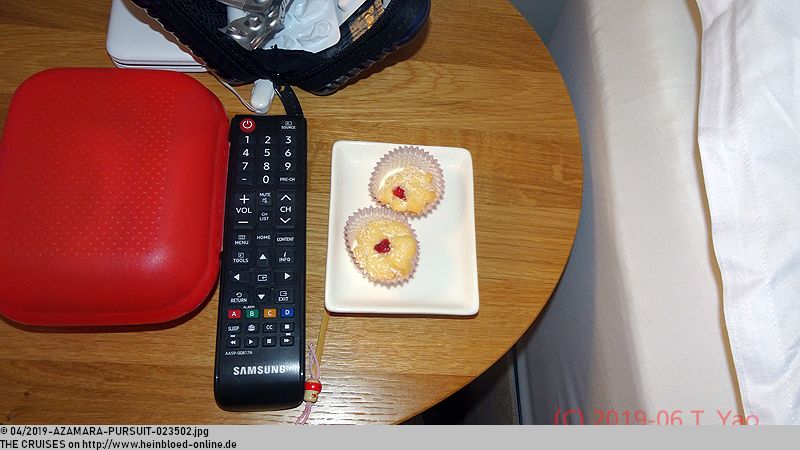 Our good night goodies.

The program for tomorrow was there.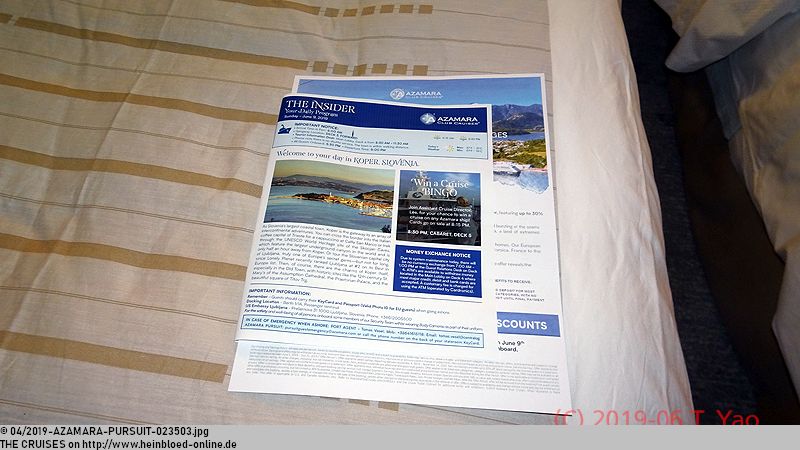 Das Programm für morgen ist da.
Und es kommt eine Mail von Oceania rein. Erwartungsgemäß fällt unsere Kuba-Kreuzfahrt Januar 2020 ins Wasser. Wir hätten drei kubanische Häfen anlaufen sollen: Cienfuegos, Havanna und Santiago de Cuba.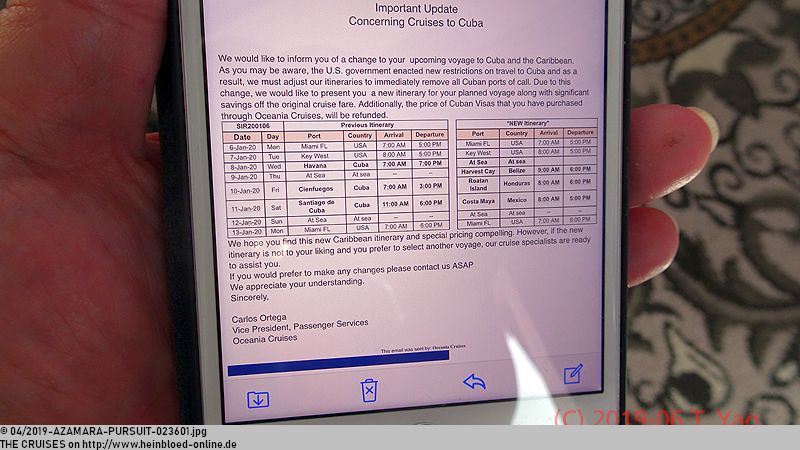 And an email from Oceania came in. As expected, our Cuba cruise January 2020 needed to be altered. We should go for three Cuban ports: Cienfuegos, Havana, and Santiago de Cuba.

Instead of that, we should see the ports of Harvest Cay, Belize, Roatan, Honduras, and Costa Maya, Mexico now. Three boring ports.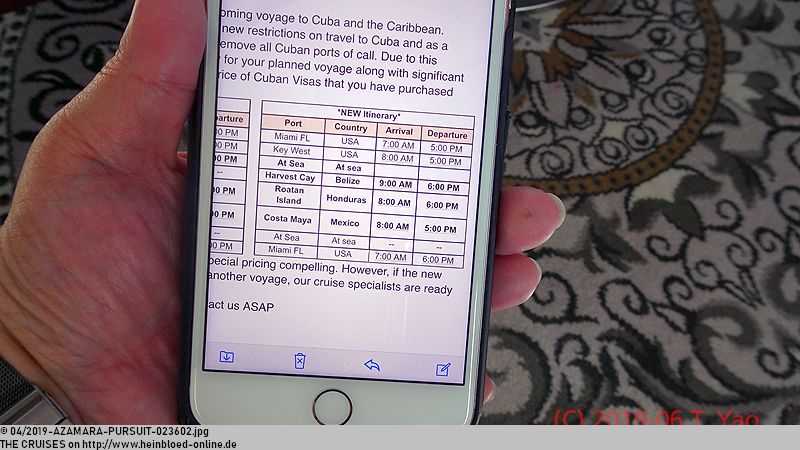 Stattdessen sollen jetzt die Häfen Harvest Cay, Roatan und Costa Maya. Drei stinklangweilige Häfen.
Sie würden uns auch weiterhin einen großzügigen Rabatt von 6.198,00 USD (INNEN!) auf 1.499,00 USD für diese stinklangweilige Reise. 6.198,00 USD halte ich für einen Fantasiepreis: da fahre ich auf jeden Fall wieder Hapag-Lloyd wie damals
EUROPA 2014
und hätte wieder einen Balkon und ein Marmorbad. Die größte Unverschämtheit: das Kuba-Visum steht nach wie vor auf der Rechnung, obwohl wir ja gar nicht mehr nach Kuba fahren. Kein Bordguthaben, wenn wir das Angebot akzeptieren und kein Nachlass für eine andere Kreuzfahrt, falls wir eine andere Kreuzfahrt mit Oceania auswählen. Ich wäre sehr gerne auf die SIRENA gegangen, weil wir eben schon auf der
OCEAN PRINCESS 2010
und
OCEAN PRINCESS 2015
unterwegs waren. Ich hätte sehr gerne gesehen, was sie aus ihr gemacht haben. Ich hätte sehr gerne persönlich festgestellt, ob nun Azamara oder Oceania besser ist. 27 mal war ich mit NCL unterwegs und bin trotzdem der Ansicht, dass ich eine neue Heimat brauche, weil ich zu alt für NCL geworden bin oder sie für mich zu jung und vor allem zu groß. So wäre ich weitere gerne 27 mal mit der NCL-Gruppe gefahren, um zumindest bei der gleichen Gruppe zu bleiben. Aber die Frage stellt sich nicht mehr: 1. Unsere NCL-Fahrten zählen für den Status bei Oceania nichts und 2. Es gibt kein vernüftiges Alternativangebot.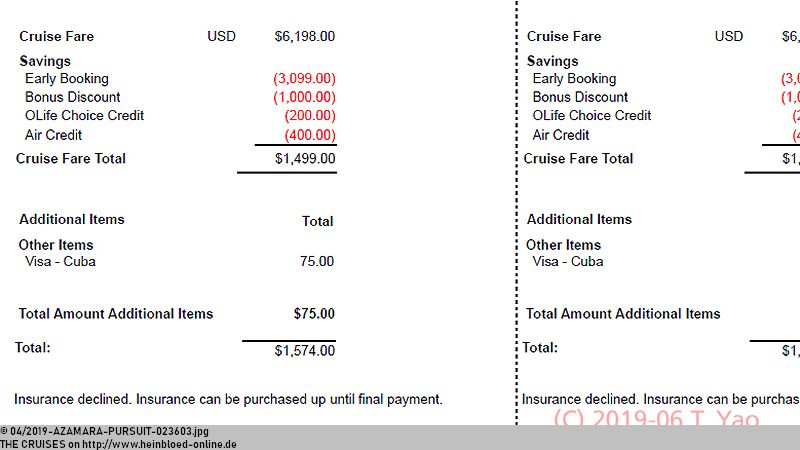 They would continue to give us a generous discount of 6,198.00 USD (inside!) to 1,499.00 USD for this boring journey. 6,198.00 USD was for me a fantasy price: I would definitely go back Hapag-Lloyd as then EUROPA 2014 and have a balcony and marble bathroom. The biggest insolence: the Cuba visa was still on the bill, although we would not even go to Cuba, No onboard credit if we would accept the offer and no discount for another cruise if we would choose another cruise with Oceania. I would have loved to return to SIRENA because we went on OCEAN PRINCESS 2010, and OCEAN PRINCESS 2015. I would love to see what they made of her. I would like to know personally whether Azamara or Oceania would be better. 27 times I was traveling with NCL, but I still was thinking that I would need a new home because I have become too old for NCL or they became too young for me. And, above all, too tall. So I would like to have another 27 times cruising with the NCL group. At least I would stay with the same group. But the question did not exist any longer: 1. Our NCL voyages did not count for the status at Oceania and 2. there was no reasonable alternative offer.

By coincidence, the booking program on board was included in the daily schedule. In the course of my imminent unemployment, it suited me very much that Oceania would refund the deposit of 750.00 USD. And I slept one night over what I could do with the money tomorrow. The team started here on AZAMARA PURSUIT: they did a great job, and I trusted that another trip with them would be just as good.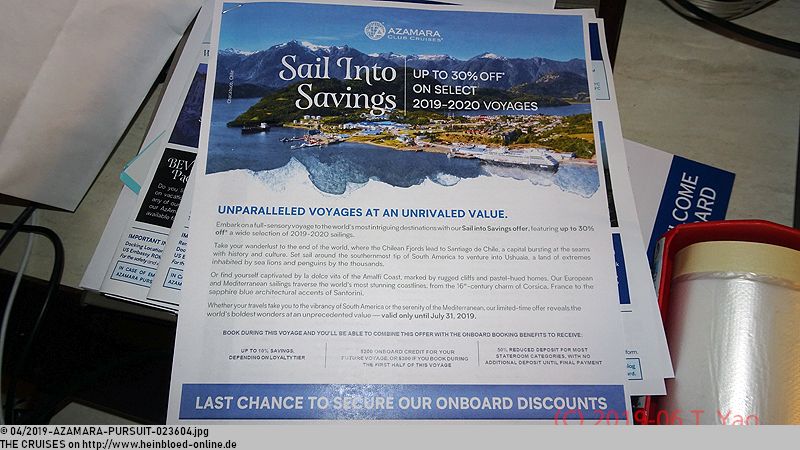 Zufällig liegt im Tagesprogramm der Hinweis auf das Buchungsprogramm an Bord. Im Zuge meiner bevorstehenden Arbeitslosigkeit kommt es mir sehr entgegen, dass Oceania die Anzahlung über 750,00 USD zurückzahlt. Und ich schlafe eine Nacht darüber, was ich mit dem Geld morgen alles anfangen kann. Den Anfang hat ja das Team hier auf der AZAMARA PURSUIT gemacht: sie haben eine tolle Leistung geliefert und so habe ich Vertrauen, dass eine weitere Reise mit denen genauso gut wird.
Die anderen Reisen in diesem Blog/
The other voyages in this blog: