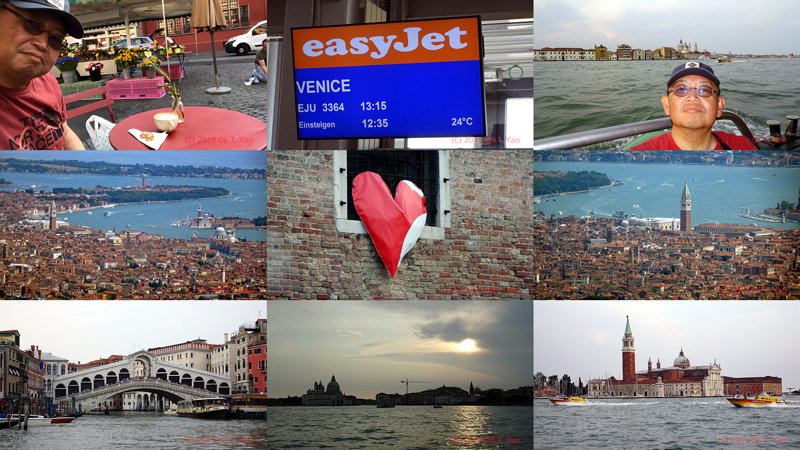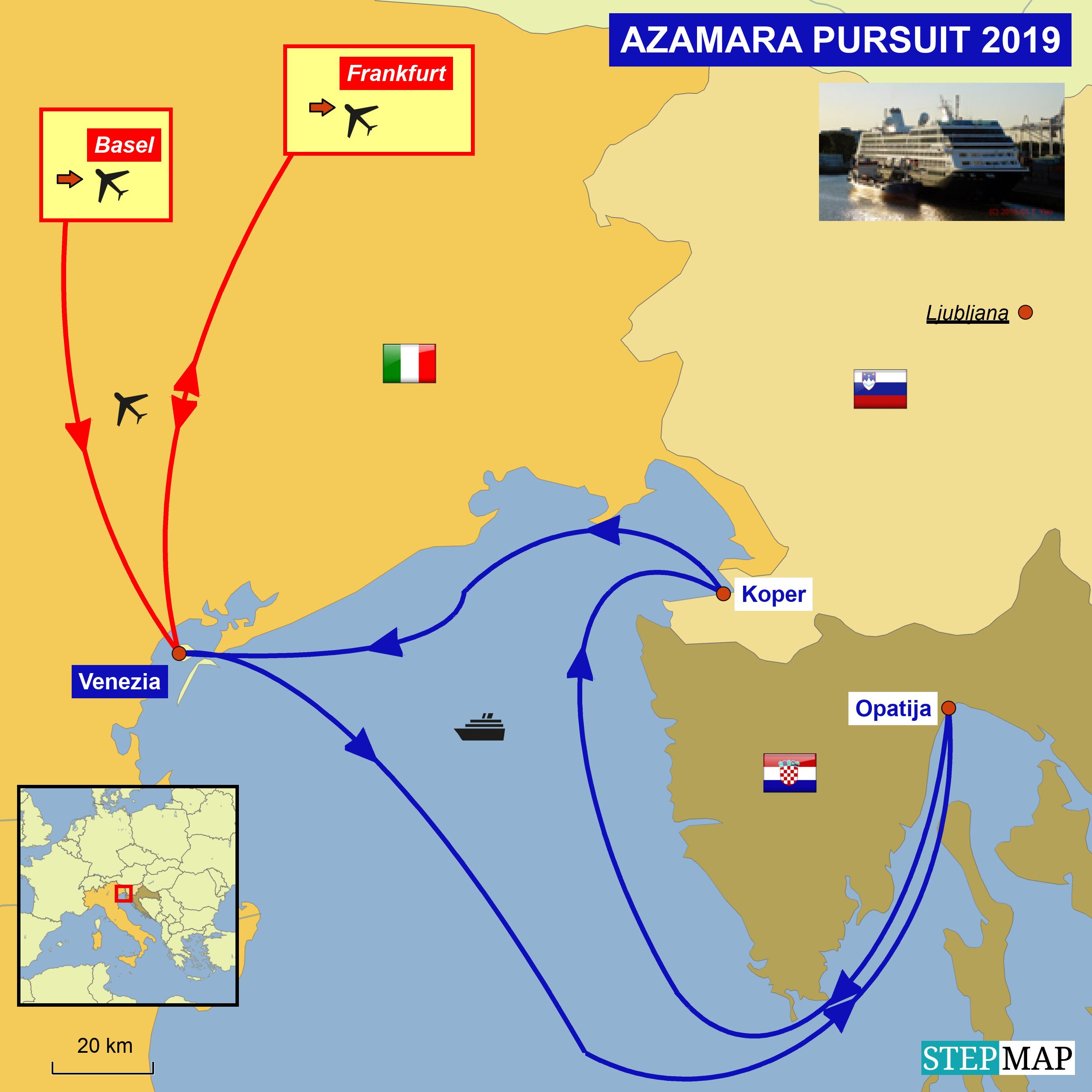 Meine Zeit in Basel geht zu Ende. Nichts desto trotz muss ich ein paar Termine noch in Basel wahrnehmen. Zwischen den Terminen nehme ich noch einen Kaffee am Baseler Marktplatz vor dem Rathaus.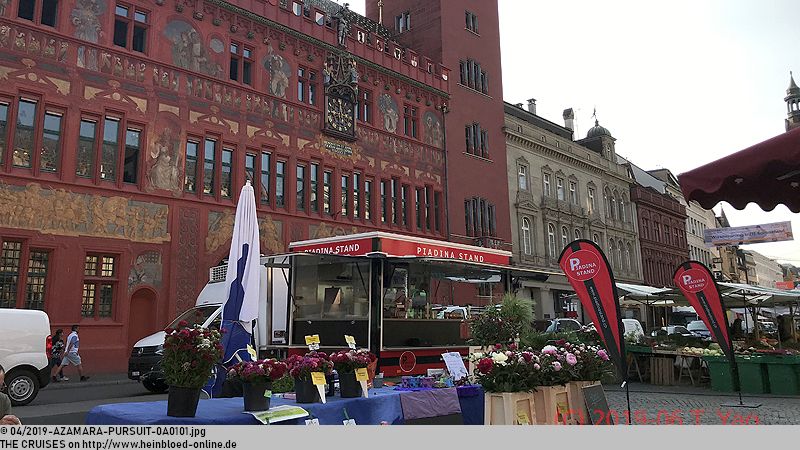 My time in Basle, Switzerland was coming to an end. Nevertheless, I still had a few commitments in Basel. Between the appointments, I took another coffee on the Basel Market Square in front of the Town Hall.

The best way to prepare for a visit to Venice, Italy.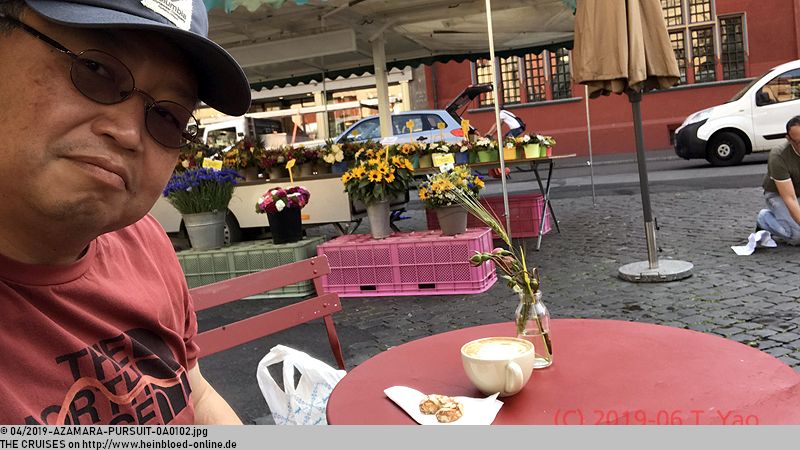 Die beste Art sich auf Venedig vorzubereiten.
Nur die Barista hat ihren ersten Arbeitstag: ich bin jedoch im Urlaubsmodus und mich stört es nicht.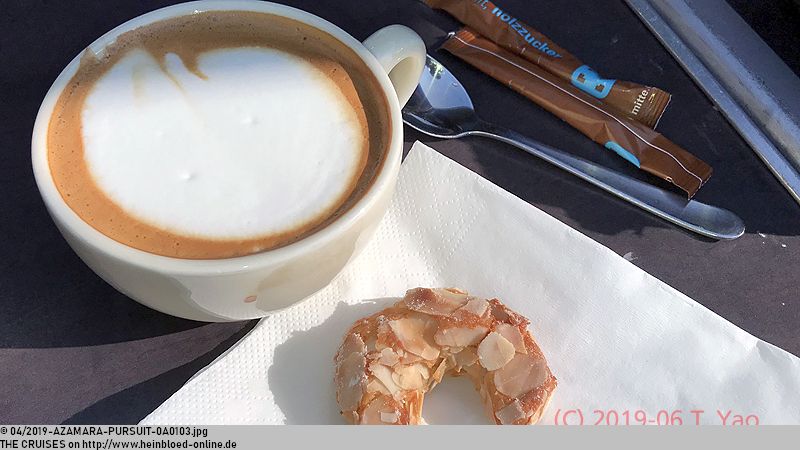 Only the Barista had her first working day: I was already in the vacation mode, and it did not bother me.

Before I got to the airport: I individualized our luggage with this ribbon. It suited us, cruisers. And my new eating habits since my gastric bypass surgery 2014 were again confirmed as good.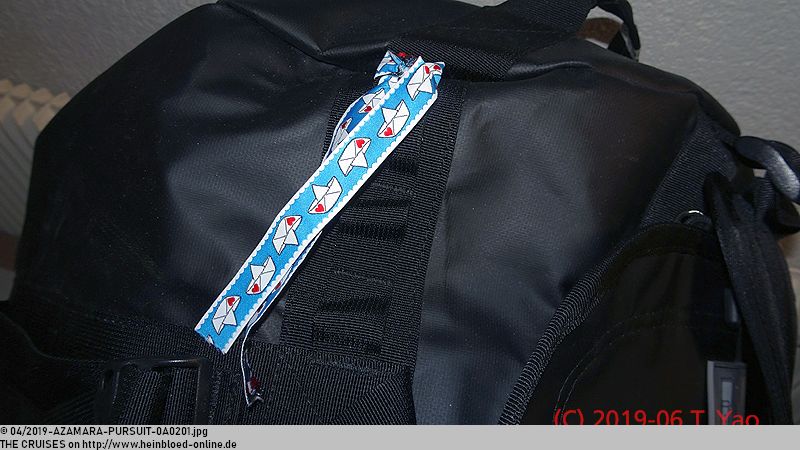 Bevor ich zum Flughafen komme: ich individualisiere unser Gepäck mit diesem Bändchen. Es passt zu uns Kreuzfahrern. Und meine neuen Ernährungsgewohnheiten seit meiner Magen-Bypass-OP 2014 werden nochmals als gut bestätigt.
Ich soll möglichst früh zum Flughafen.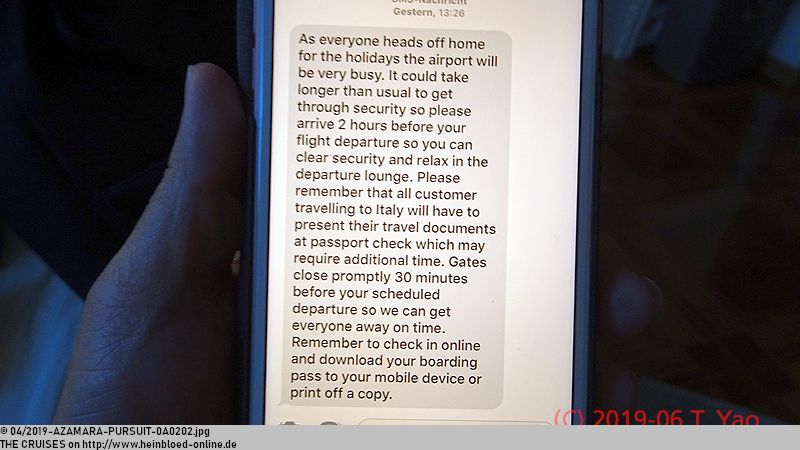 I should show up as early as possible at the airport.

But anyhow, the aircraft did not arrive yet. It was coming from Venice and looked like that the flight was on time.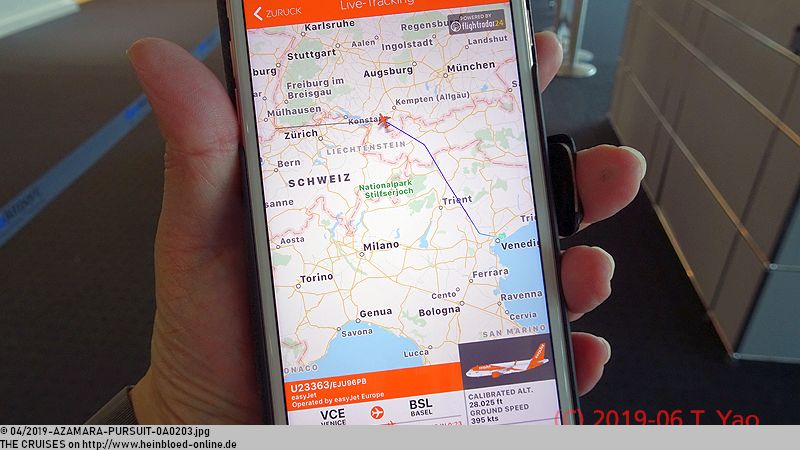 Dabei ist die Maschine noch gar nicht da. Sie kommt aus Venedig und scheint pünktlich zu sein.
Um 11:55 Uhr bin ich bereits am Gate. Also vergebliche Panikmache per SMS durch
easyJet
.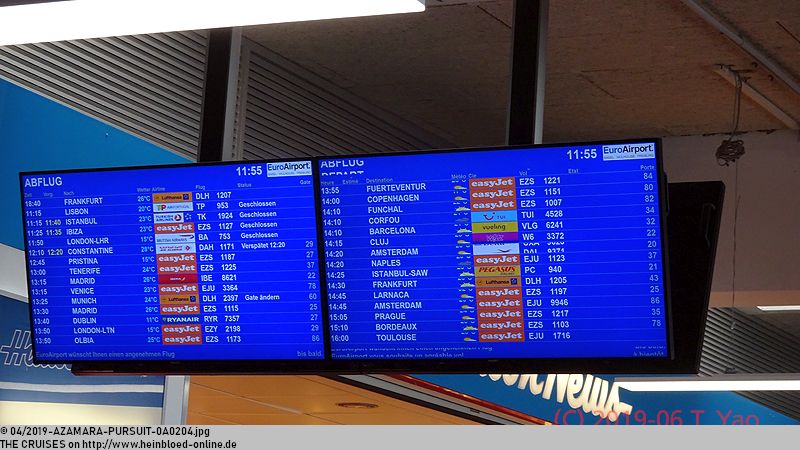 At 11:55 hrs, I was already at the gate. So making panic for nothing by text messaging of easyJet

As usual, I did not book the cheapest fare, so I could use speedy boarding and also liked to pay for the 1st row with extra leg room. Our route takes us above Überlingen, Germany. Was not there an accident in the air some time ago? Why did we have to use this route? I hope that there would not be again a Swiss inattentive air traffic controller. But it was fine. Unfortunately, there were neither tapas nor mezze anymore available. Everything was sold out. So I had Kabuto rice noodles that were not soft enough. Interesting that there was a variety of gin on board.

Wie üblich habe ich nicht den preiswertesten Tarif gebucht, so dass ich speedy Boarding nutzen kann und bezahle auch gerne für die 1. Reihe mit extra viel Beinfreiheit. Unsere Route führt uns über Überlingen. Passierte damals nicht ein Unglück in der Luft? Warum müssen wir ausgerechnet diese Route benutzen? Nicht dass wieder der schweizerische Fluglotse wieder unaufmerksam ist. Aber es geht gut. Es gibt leider weder Tapas noch Mezze. Alles ausverkauft. So gibt es
Kabuto Reisnudeln
, die nicht weich genug werden. Interessant, dass es mehrere Gin-Sorten an Bord gibt.
Ein schöner Abflug über Basel und ein schöner Überflug über die Alpen.

A very nice departure above Basle and a lovely overflight above the Alps.

I had real luck: even, I had a fantastic approach to Venice.

Ich habe richtig Glück: auch habe ich einen richtig schönen Anflug auf Venedig.
Eigentlich sollte einen Shipspotter-Freien Tag haben, ABER wegen des Unfalls der MSC OPERA mit der RIVER COUNTESS liegt die MSC OPERA noch im Hafen. Das lasse ich mir natürlich nicht entgehen. Schon alleine, weil die ersten Bilder im Landeanflug gelingen.

Actually, I should have a Shipspotter-free day, BUT because of the accident of MSC OPERA, with the RIVER COUNTESS, the MSC OPERA was still in port. Of course, I would not miss that. Just because the first pictures were taken while landing.

My luggage was super fast on the luggage claim at Venice Marco Polo Airport. Here in the luggage hall, you could already buy tickets for public transport in Venice and informed yourself about the riding options by bus or by Vaporetto (water bus) from the airport. You could also do it after the baggage hall if you need personal advice. At 14:37 hrs I was already running out of the luggage hall.

Mein Gepäck ist super schnell am Gepäckband im
Marco Polo Flughafen
von Venedig. Hier in der Gepäckhalle kann man schon Tickets für den öffentlichen Verkehr in Venedig kaufen und sich über die Fahrmöglichkeiten vom Flughafen mit dem
Bus
oder
Vaporetto (Wasserbus)
informieren. Man kann es auch nach der Gepäckhalle machen, wenn man persönliche Beratung benötigt. Um 14:37 Uhr laufe ich bereits aus der Gepäckhalle.
Mein Hotel
Crowne Plaza Quarto d'Altino
bietet einen kostenlosen Shuttle Service auf Vorbestellung an. Den vorigen Shuttle habe ich um zwei Minuten verpasst.

My hotel Crowne Plaza Quarto d'Altino offered a complimentary shuttle service on request. I just missed the previous shuttle by two minutes.

I had enough points in the IHG Rewards Club, and so I booked a room here. The additional expression Venice East was very irritating. It took 15 minutes by shuttle from the airport to the hotel.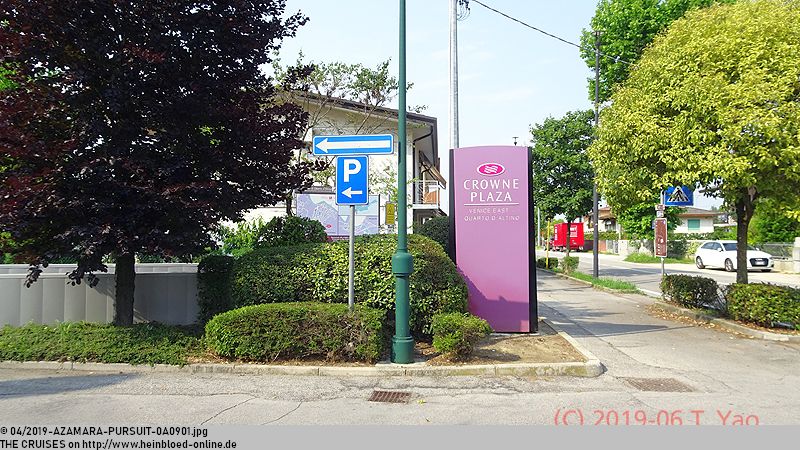 Ich habe genügend Punkte im
IHG Rewards Club
und so buche ich hier ein Zimmer. Der Zusatzausdruck Venedig Ost ist doch sehr irritierend. Man braucht 15 Minuten mit dem Shuttle vom Flughafen zum Hotel.
Leider ist es ein Hotel in denen viele Airline-Crews unterkommen. Die haben leider immer die Angewohnheit, normale Hotelgäste gerne zur Seite zu schieben, weil sie sich für wichtiger halten. Ich kann ja die Hotels auch verstehen, weil sie sichere Einnahmequellen sind.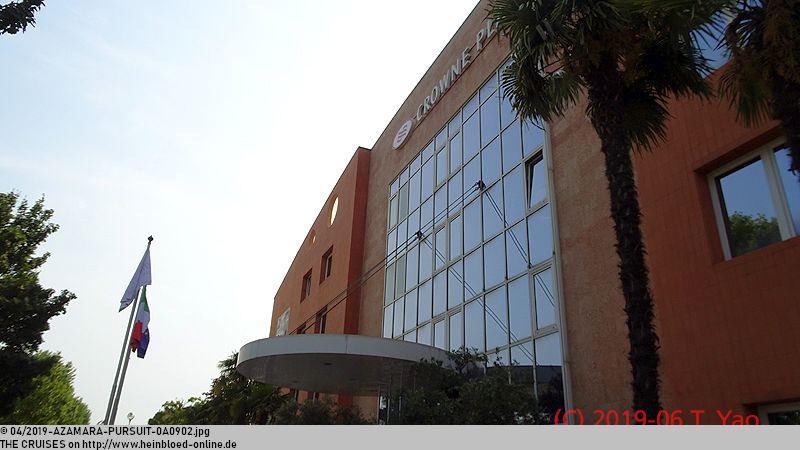 Unfortunately, it was a hotel where many airline crews stayed. Unfortunately, they always had the habit of pushing normal hotel guests aside because they thought they were more important. I could understand the hotels because they were safe sources of income.

I got a Club Room or Family Room.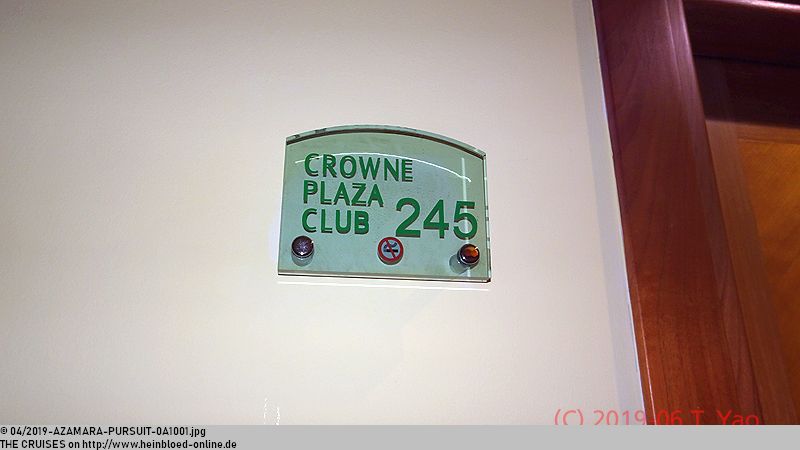 Ich bekomme ein
Clubzimmer bzw. Familienzimmer
.
Ist eigentlich sehr schön.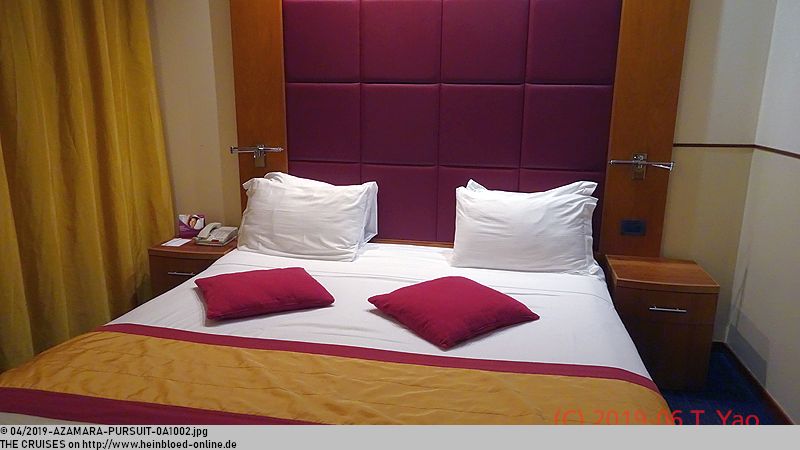 Actually, it was very nice.

I would be large enough to accommodate Bruno and two kids additionally.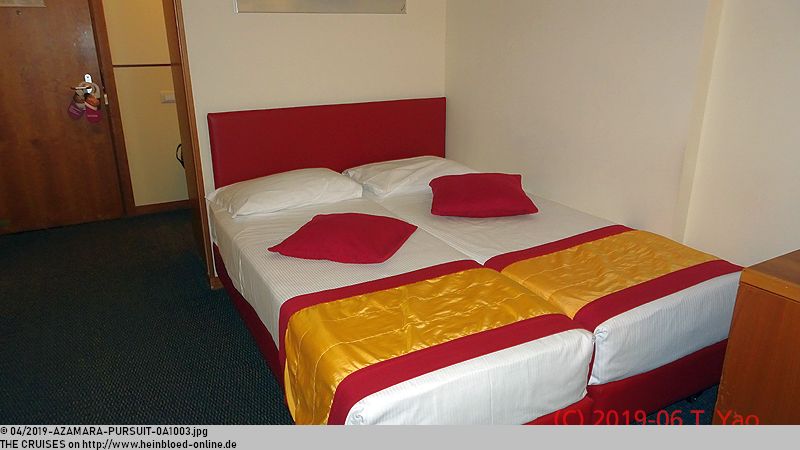 Es hätte sogar noch für Bruno und zwei Kinder gereicht.
Der Zustand des Zimmers ist jedoch auf den zweiten Blick nicht mehr so schön. Eine Renovierung dürfte mal wieder fällig sein. Bis man einen nicht-italienischen Sender findet, muss man bis zu den 900-er Kanälen zappen. Man bietet Zimmerservice rund um die Uhr an, aber irgendwie widersprechen sich Speisekarte auf dem Zimmer, Rezeption, Restaurant und Bar. Stolze 11,00 EUR verlangt man als Zimmerzuschlag.

The condition of the room was at the second glance not so nice. A renovation should be due again. Until you found a non-Italian TV-station, you have to zap up to the 900 channels. Room service was available around the clock, but somehow contradict itself by the menu in the room, reception, restaurant, and bar. A high amount of 11.00 EUR, they asked for a room delivery surcharge.

As long as you did not use the bathroom, it looked pretty well.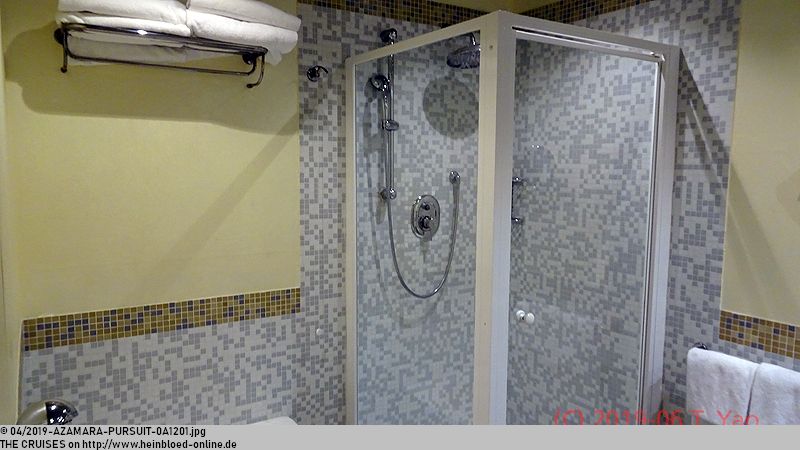 Solange man das Bad nicht benutzt, sieht es sehr gut aus.
Sehr schön: mit einem Bidet.

Very lovely: with a bidet.

It was difficult to control the water.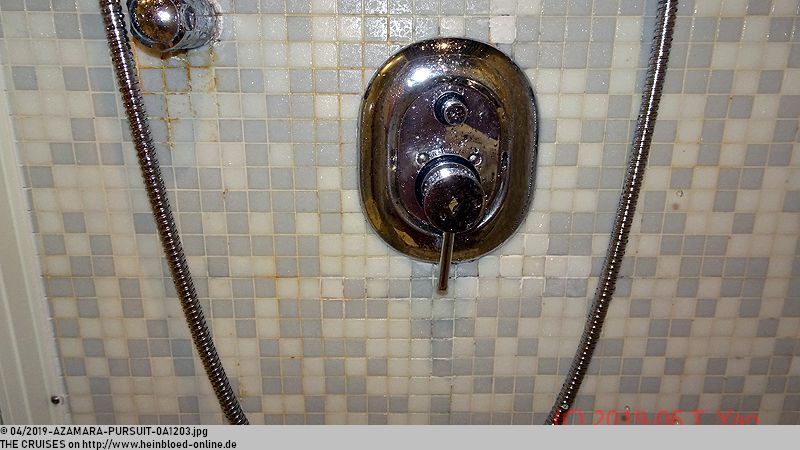 Das Wasser ist leider sehr schwer regulierbar.
Und wenn es nass ist, sieht es nicht mehr ganz so gut aus. Das Problem: das Wasser kam überall aus der Wand quasi raus.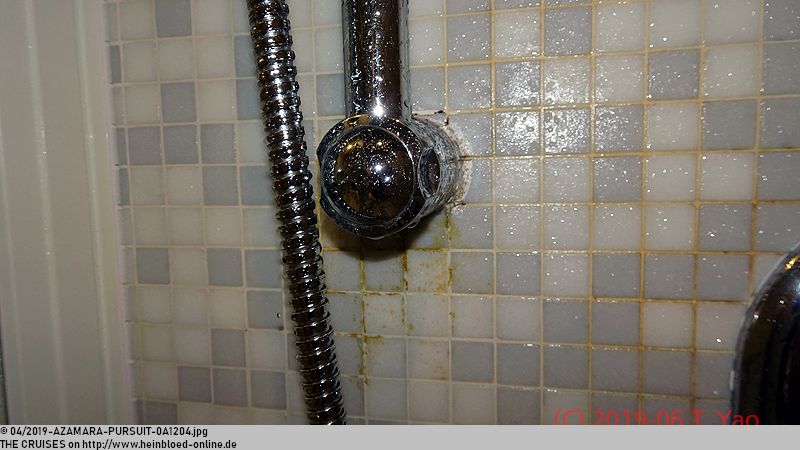 And if it was wet, it did not look so well anymore. The problem: the water appeared more or less from the entire wall.

And the wrong toilet-seat did not make a seating very pleasant.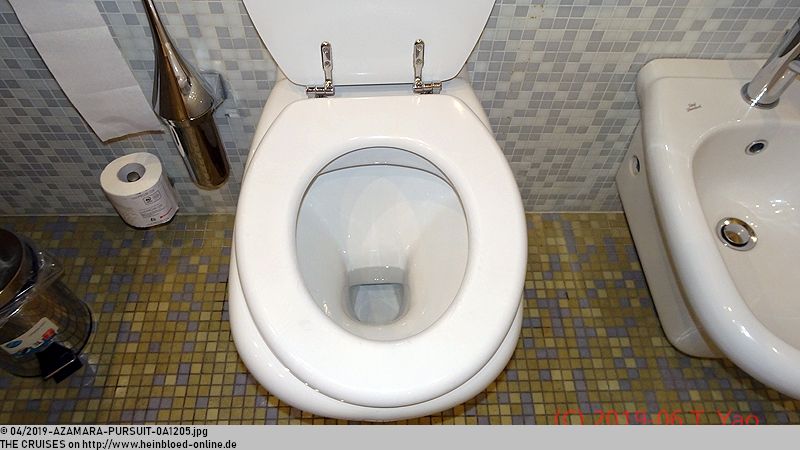 Und der falsche WC-Sitz macht eine Sitzung nicht besonders angenehm.
Das Hotel hat jedoch einen unschlagbaren Vorteil: in zwei Minuten ist man am Bahnhof Quarto d'Altino.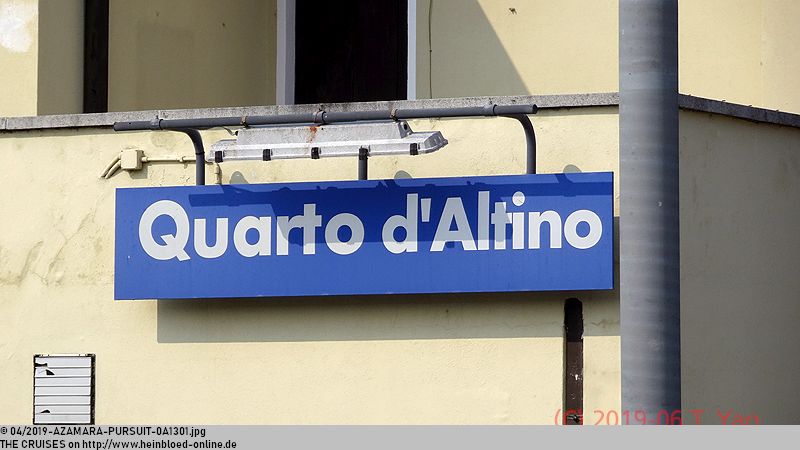 The hotel offered a total unbeatable advantage: you are in two minutes at the Quarto d'Altino train station.

You need to walk alongside the hotel building until you reached the end of the parking.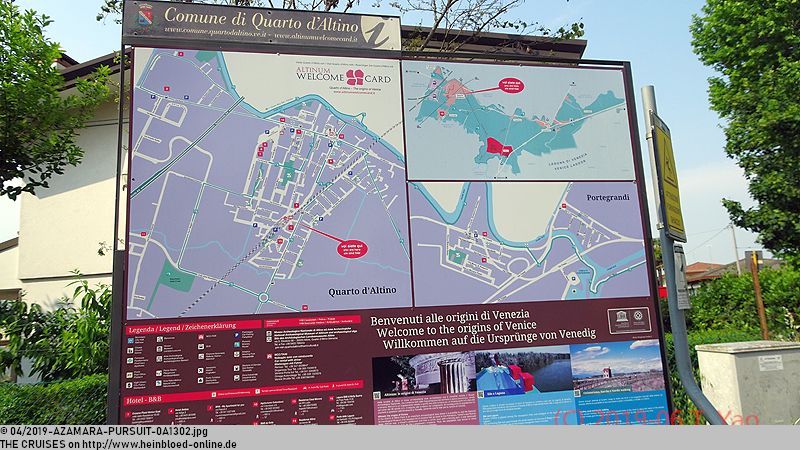 Man muss nur entlang des Hotelgebäude bis zum Parkplatz laufen.
Und dann die Rampe runter und schon ist man am Bahnhof. Zum Bahnsteig gibt es auch einen Fahrstuhl. Zu einer Kreuzfahrt kann man dann am Bahnhof
Venedig-Mestre
aussteigen und mit einem
Taxi
von hier direkt vor ein Schiff an den
Terminals am Stazione Marittima
bzw. am
Terminal San Basilio
aussteigen.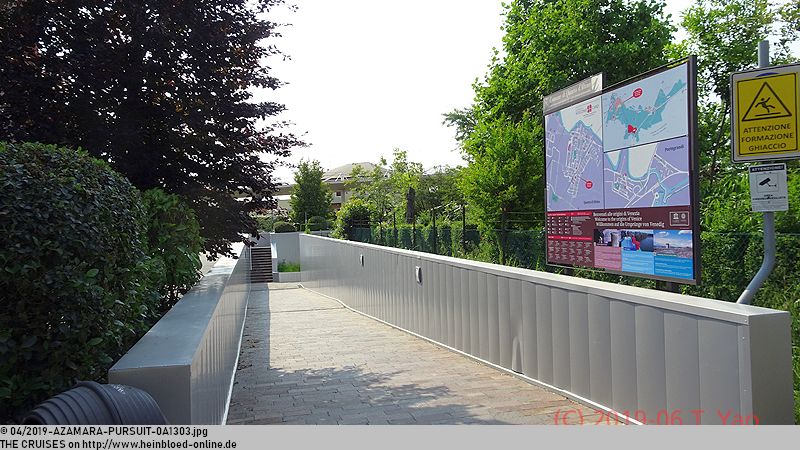 And then you take the ramp down and you arrived at the train station. They also had an elevator to access the platform. For a cruise, you can get off at Venice-Mestre station on the mainland and take a taxi right in front of the ship at Stazione Marittima Terminals or San Basilio Terminal.

The train station was located at the line between Trieste and Venice.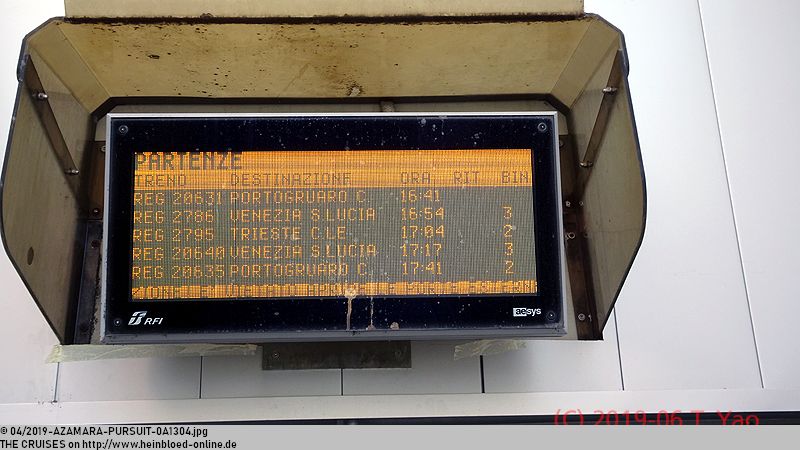 Der Bahnhof liegt auf der Strecke zwischen Triest und Venedig.
Und der Bahnsteig liegt in Sichtweite zum Hotel.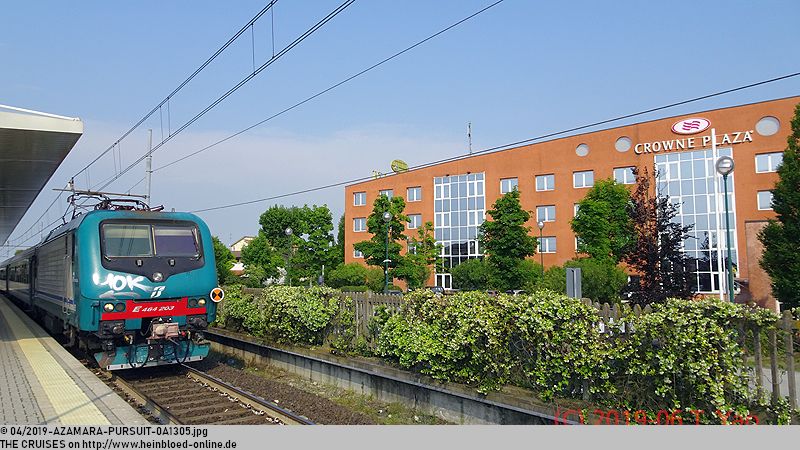 And the platform was in visibility to the hotel.

Since I had the Trenitalia-App, I could simply buy my tickets on my iPhone. 5.35 EUR (2019) in 1st class to Venice-Santa Lucia Station or 2.70 EUR (2019) in 2nd class to Venice-Mestre Station.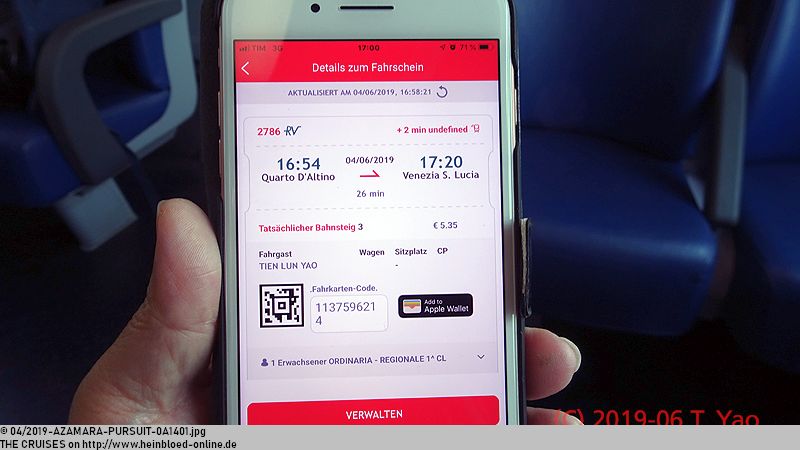 Da ich die
Trenitalia
-
App
habe, kann ich mein Ticket direkt auf meinem iPhone kaufen. 5,35 EUR (2019) in der 1. Klasse bis zum Bahnhof
Venedig-Santa Lucia
oder 2,70 EUR (2019) in der 2. Klasse bis zum
Venedig-Mestre
.
Ich wundere mich über den kleinen Barcode: aber einfach draufdrücken und schon kommt er so raus, wie der Schaffner ihn braucht.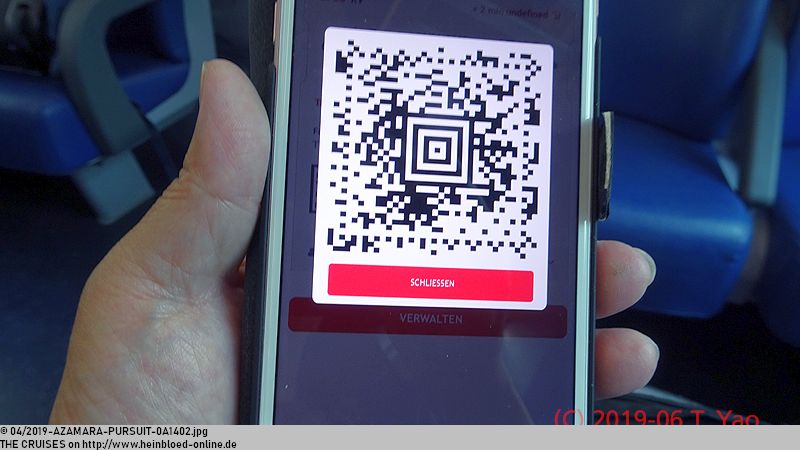 I was surprised to have the little barcode: but you only needed to push on it, and it appeared the way, the conductor would need it for his inspection.

Somehow they ran out of the 1st-class-coaches. A painted sign indicated that this should be the 1st class.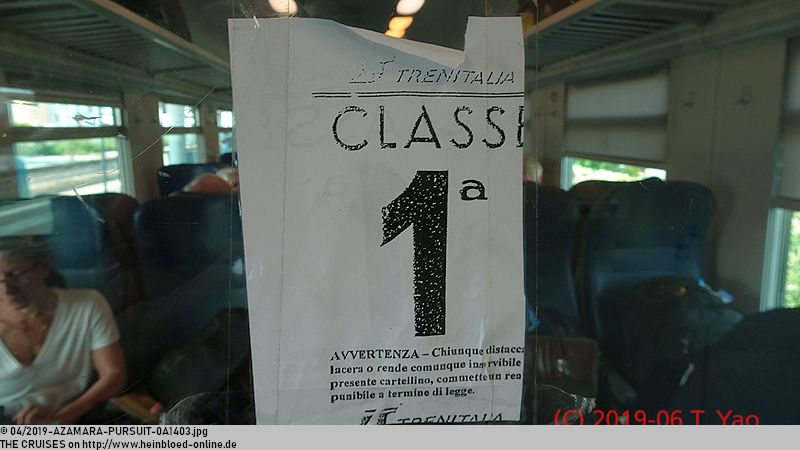 Irgendwie sind ihnen die 1. Klasse-Wagen ausgegangen. Ein gemaltes Schild zeigt die 1. Klasse an.
Man sitzt ruhiger - in einem Wagen der 2. Klasse, der als 1. Klasse markiert ist.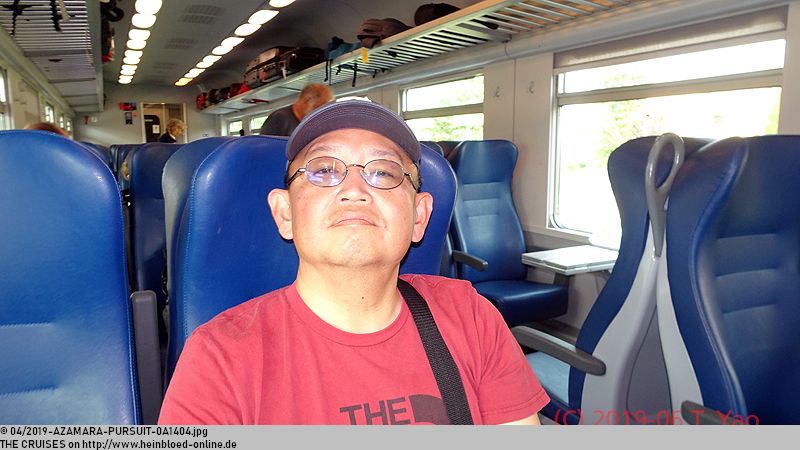 It was more calm - in a 2nd-class-coach which was marked as 1st class.

I also had the ACTV app on my iPhone. There, I bought a 72-hour-ticket (40.00 EUR/2019) for Vaporetto and buses/trams in Mestre, which needed to be validated = activate before the first use. So I did this already before I reached my destination, while I was still onboard of my train. Nevertheless, you had to insert the barcode again and again. However, there were high slots where you could leave the smartphone in the case, and sometimes there were only thin slots. Then, unfortunately, you had to remove your smartphone out every time. And there were also Vaporetto jetties without barcode readers, but only with RFID readers. This occasionally caused a roar with the mooring "conductor", who told you that you have to find a stop with barcode readers.

Ich habe auch die
ACTV
-
App
auf meinem iPhone. Dort habe ich mir eine
72-Stunden-Karte
(40,00 EUR/2019) für
Vaporetto
und Busse/Straßenbahn in Mestre gekauft, die man vor der 1. Benutzung entwerten = aktivieren muss. Das tue ich noch bevor ich meinen Zielbahnhof erreiche und noch im Zug sitze. Dennoch muss man den Barcode immer wieder einführen. Es gibt jedoch hohe Schlitze, bei denen man das Smartphone in der Hülle lassen kann und manchmal gibt es nur dünne Schlitze. Dann muss man leider jedes Mal das Smartphone wieder rausholen. Und es gibt auch
Vaporetto
-Anlegestellen ohne Barcode-Leser, sondern nur mit RFID-Leser. Das führt gelegentlich zum Gebrüll mit dem Festmacher-"Schaffner", der einen erklärt, dass man sich dann eine Haltestelle mit Barcode-Lesern suchen müsste.
Von der Bahn aus kann ich zu
Fincantieri
Marghera auf den Neubau CARNIVAL PANORAMA sehen.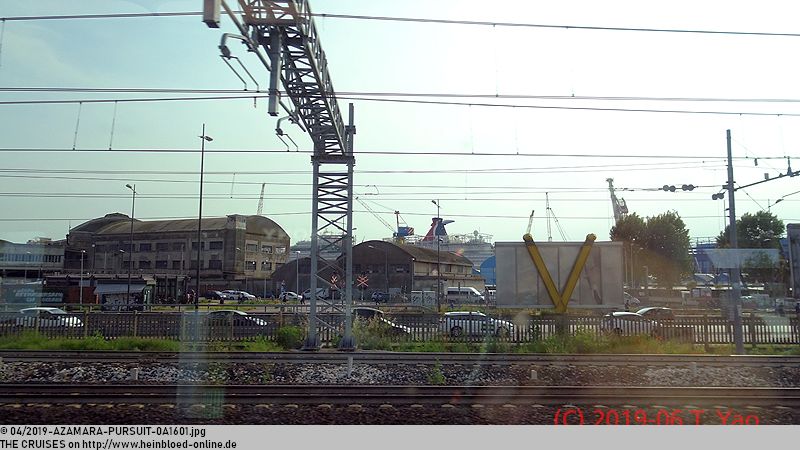 From the train I could see the newbuild CARNIVAL PANORAMA in the Fincantieri Marghera shipyard.

I saw her later again from the roof of the Tronchetto parking garage.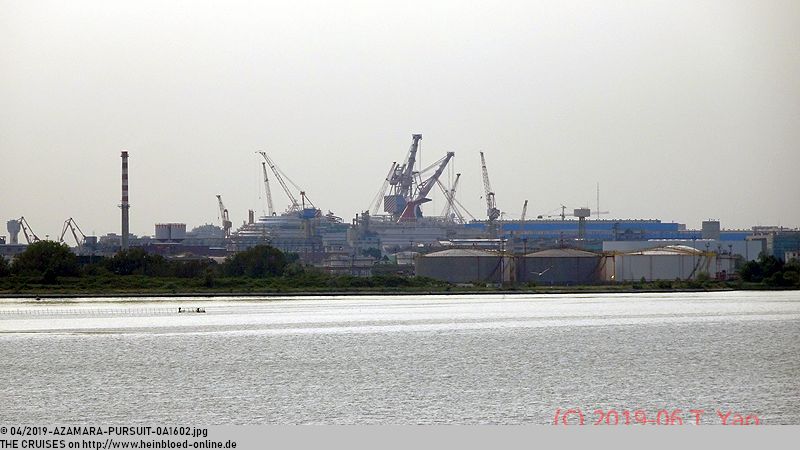 Ich sehe sie später nochmals vom Dach des
Tronchetto Parkhauses
.
Ich komme am Gleis 1 am Bahnhof
Venedig-Santa Lucia
an. Die Welt der Gepäckträger, Gepäckdienste usw. hat sich verändert. Neu ist im
Bahnhof Santa Lucia
der Gepäckdienst von
kiPoint
. Sie bieten allerdings nur den Gepäcktransfer zu den Schiffen von Costa und MSC an. Sehr praktisch: sie haben allerdings bereits um 06:00 Uhr morgens geöffnet, um Gepäck aufzubewahren. Ich suche eigentlich den Schalter von
Trasbagagli
, aber den gibt es nicht mehr. Lt. Homepage, soll doch jemand vor dem Bahnhof stehen und die bisherigen Dienste (inkl. Gepäcktransfer zu den Schiffen und in die Hotels) anbieten. Den Stand finde ich jedoch nicht. Stattdessen ein paar Freiberufler, die einem das Gepäck zum Hotel schieben. Allerdings sitzt dort jemand von Portabagagli, der auch im Hafen sitzt (mit der orangen Weste). Direkt daneben gibt es auch günstigere Gepäckaufbewahrungen, nur haben sie nicht so lange geöffnet, wie der
kiPoint
.

I arrived at platform 1 at the train station Venice-Santa Lucia. The world of porters, luggage services, etc. have changed. New at Santa Lucia Station was the kiPoint luggage service. However, they offered only the luggage transfer to the ships of Costa and MSC. Very convenient: they had already opened at 06:00 hrs in the morning to store luggage. I was actually looking for the Trasbagagli counter, but it did not exist anymore. According to their homepage, someone should stand in front of the station. They still should offer the previous services (including luggage transfer to the ships and hotels). I could not find a booth. Instead, a few freelancers who carried the luggage to the hotel. However, there was someone from Portabagagli, who was also based in the port (with the orange vest). Right next to it there was also cheaper luggage storage, only they had not opened as long as the kiPoint.

But they had much more to discover at Santa Lucia train station.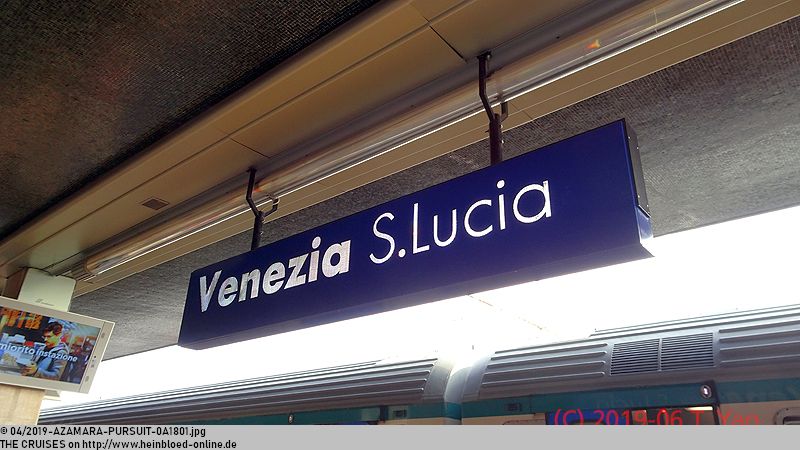 Aber es gibt ja noch mehr im
Bahnhof Santa Lucia
zu entdecken.
Ich gehe noch in das Büro von
Venezia Unica
, die die ganzen Pässe für die Stadt verkaufen.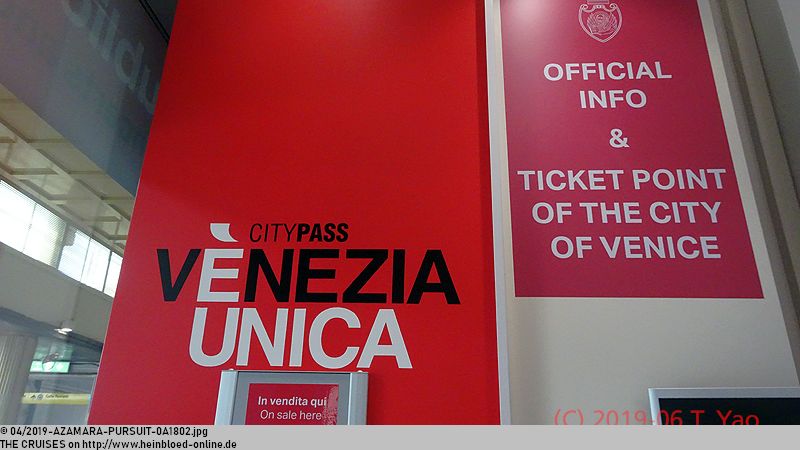 I went to Venezia Unica office, who was selling the passes for the town.

I could also buy here a combined City Pass for public transport and attractions, but I wanted to stay flexible.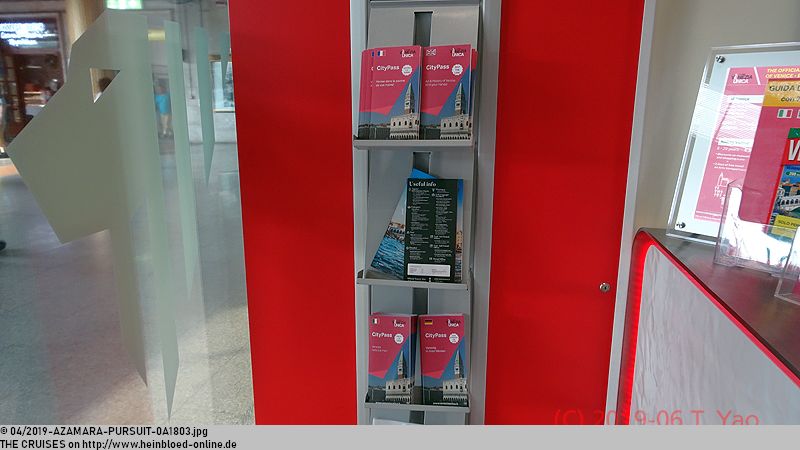 Ich hätte auch hier einen kombinierten
City Pass
öffentlicher Verkehr und Attraktionen buchen können, aber ich wollte irgendwie flexibel sein.
Mit diesen Pässen darf man dann die Kassenschlange überspringen.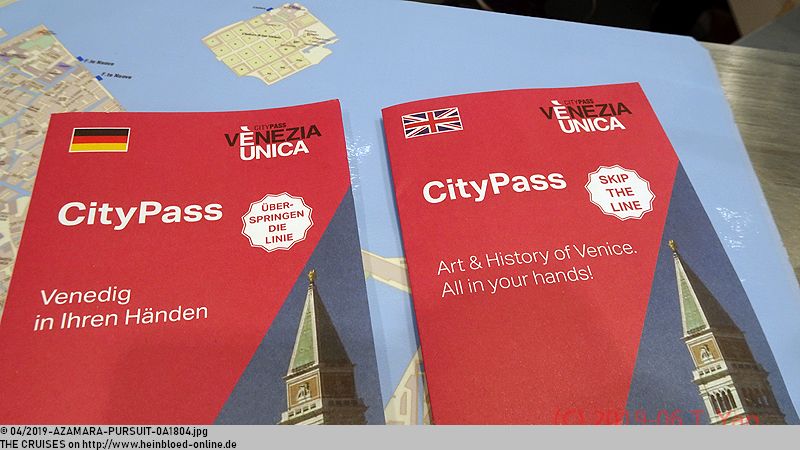 With those passes you could skip the line for the tickets.

I needed to go for shipspotting. Only route 2 took you towards San Marco via Tronchetto alongside the cruise terminal. Caution: line 2 was running like the numbers 6 or 9. At San Marco San Zaccaria you had three stops with three different directions: Lido (Express service), San Marco via Canale Grande - Piazzale Roma - Giudecca Canal and Lido via Giudecca Canal - Piazzale Roma - Canale Grande - San Zaccaria. So route 2 would be the best line to do sightseeing on public service with my ACTV-day pass.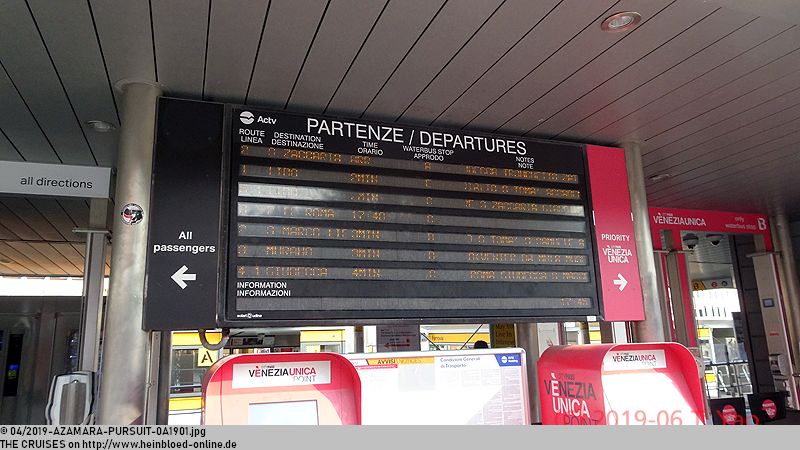 Ich muss zum Shipspotting. Nur die
Linie 2
Richtung San Marco über
Tronchetto
führt am Kreuzfahrtterminal vorbei. Achtung:
Linie 2
wird wie die Ziffer 6 oder 9 geführt. Am Anleger San Marco San Zaccaria gibt es daher drei Anleger für drei unterschiedliche Richtungen: Lido (Expressdienst), San Marco über Canale Grande - Piazzale Roma - Guidecca Kanal und Lido über Giudecca Canal - Piazzale Roma - Canale Grande - San Zaccharia. So wäre die
Linie 2
die beste Linie, um Stadtrundfahrten mit den öffentlichen Linien mit der
ACTV-Tageskarte
.
Also muss ich am Anleger A zusteigen.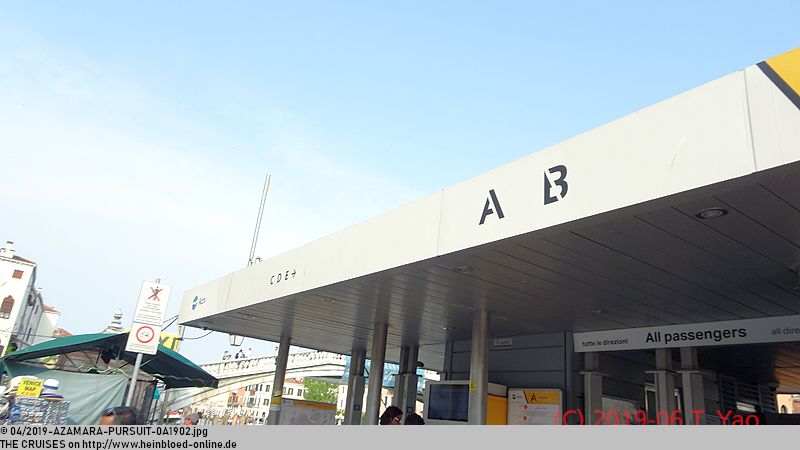 I had to board at jetty A.

Here, I was right.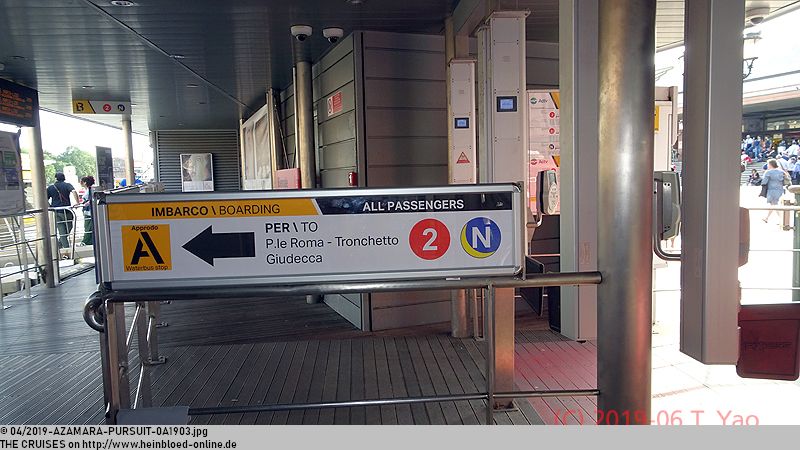 Hier bin ich also richtig.
Ich will ja auch am
Tronchetto
noch fotografieren.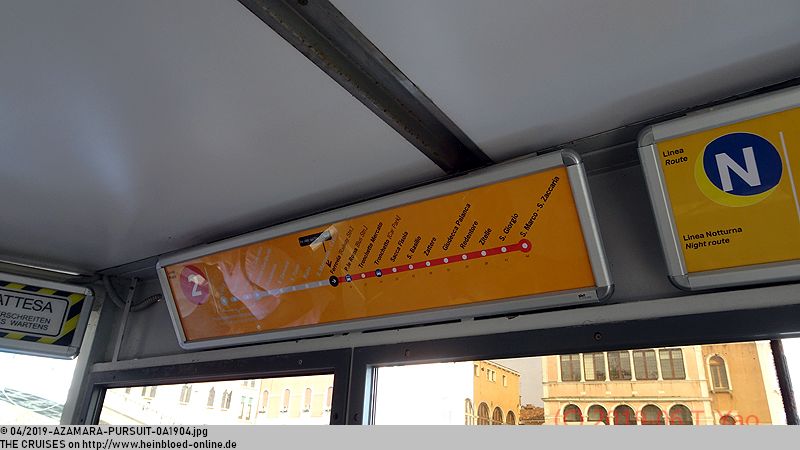 I wanted to take pictures at Tronchetto.

It was beautiful again to ride on Vaporetto.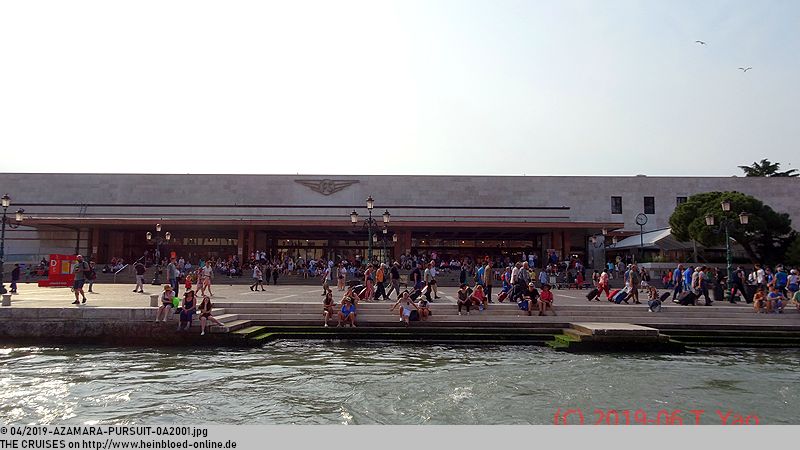 Es ist doch immer wieder schön
Vaporetto
zu fahren.
Auch wenn man schon zig Mal mitgefahren ist.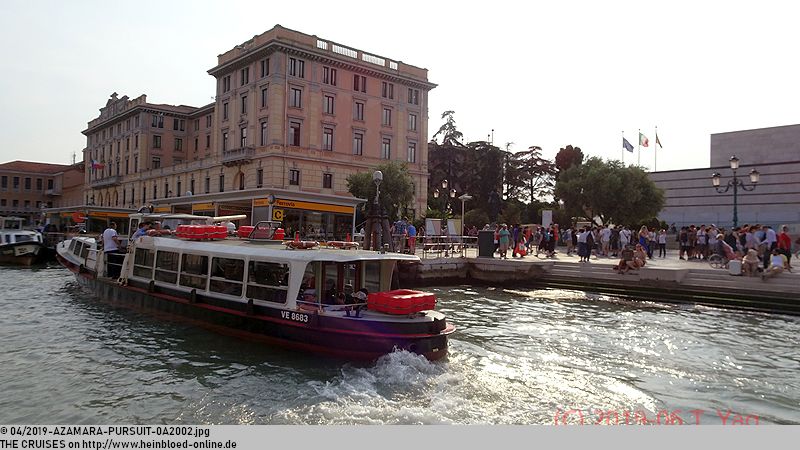 Even when I went so many times before.

It decelerated somehow. You could not get so many appointments made on one day. You needed more time.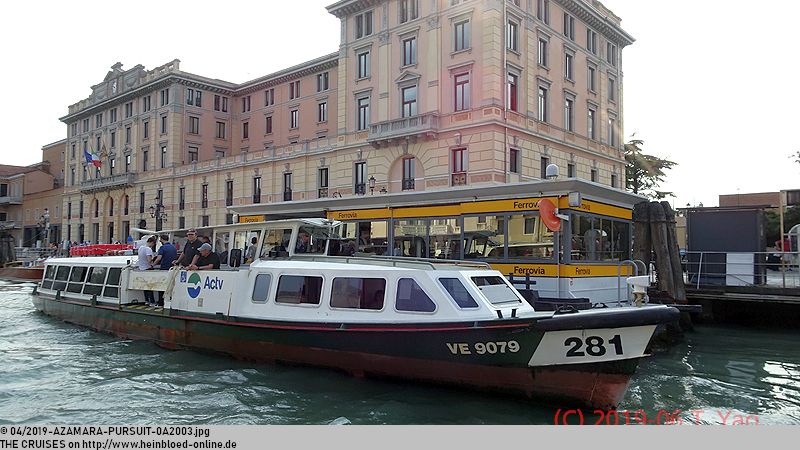 Es entschleunigt irgendwie. Man bekommt man ja weniger Termine an einem Tag unter. Es dauert ja nun mal länger.
Und
Wasser-Taxis
in Venedig sind unbezahlbar für mich alleine. Leider gibt es kein Wasser-Uber in Venedig.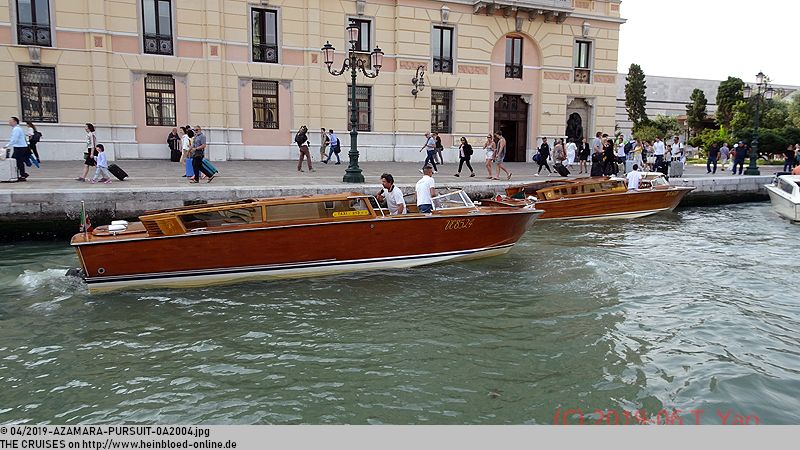 And water-taxis were unaffordable for me alone. Unfortunately, they had no Water-Uber in Venice.

At Piazzale Roma was the central bus station and more recently the tram terminal to Mestre. I found the office of Trasbagagli quickly, but the employee said that they would not send anything to the hotels and to the ships. On their homepage, however, it was presented differently. It was fun to watch Italian policemen controlling the traffic. It looked so artistic when they guided the traffic.

Am Piazzale Roma befindet sich der zentrale Busbahnhof und neuerdings auch die Endhaltestelle der Straßenbahn nach Mestre. Das Büro der
Trasbagagli
finde ich schnell, aber der Mitarbeiter meint, dass sie nichts zu den Hotels und zu den Schiffen versenden würden. Auf der Homepage steht es jedoch anders. Es macht Spaß italienischen Polizisten beim Regeln des Straßenverkehrs zuzusehen. Es wirkt so künstlerisch, wie sie den Verkehr leiten.
Ich gehe erst mal zur
Garage San Marco
und fahre ganz nach oben zum Fotografieren. Ich war zwar erst vor zwei Jahren hier, aber das muss einfach sein. Es ist immer wieder schön. Allerdings finde ich es ganz schön teuer, hier zu parken. Aber es ist gut bewacht. Sie würden mir ein Wassertaxi für mindestens 85,00 EUR arrangieren. Allerdings ist es viel billiger es direkt über
Motoscafi Venezias Webseite
zu buchen.

First I went to the Garage San Marco and drove all the way up to take pictures. I was here only two years ago, but that it had to be again. It was always lovely. However, I found it quite expensive to park here. But it is well guarded. They would arrange a water-taxi for at least 85,00 EUR. But it is cheaper to book them directly on Motoscafi Venezia's website.

The use of the People Mover was not included in the day pass, and you had to buy a single ticket for 1.50 EUR (2019). Either here at the vending machine or on the app. BUT you could not activate the tickets on the App immediately, but had to wait a few minutes for the barcode to appear. We had the problem later when we bought two tickets for two by the app, but only got a barcode. Then, we simply used the extra-wide disabled access.

Die Nutzung des
People Mover
ist in den Tageskarten nicht eingeschlossen und man muss für 1,50 EUR (2019) eine Einzelkarte kaufen. Entweder hier am Automaten oder auf der
App
. ABER man kann die Tickets auf dem
App
nicht sofort aktivieren, sondern muss einige Minuten warten, bis dass der Barcode erscheint. Wir haben später das Problem, als wir zu zweit zwei Tickets mit der
App
holen, aber nur ein Barcode bekommen. Wir nutzen dann einfach den extrabreiten Behindertenzugang.
Ich will eh vom
Tronchetto
fotografieren. Für andere Kreuzfahrer aus dem kreuzfahrten-treff.de suche ich nach der Kasse, die ich im Bereich E0 finde und frage nach: tatsächlich gibt es
50% Rabatt für Kreuzfahrer
(2019), allerdings nur für die Tage der Kreuzfahrt. Die übrigen Tage werden normal abgerechnet und man muss nach Einfahrt sich mit dem Kreuzfahrtticket als Nachweis an der Kasse melden und im Voraus zahlen. Übrigens, wenn man im
Hilton Hotel Molino Stucky
übernachtet, bekommt man auch einen
20% Rabatt
(2019).

I wanted to take a picture of Tronchetto anyway. For other cruisers from the German forum kreuzfahrten-treff.de, I was looking for the cashier office. I found it in the area E0 and checked out something. Actually, there was a 50% discount for cruisers (2019), but only for the days of the cruise. The remaining days would be settled normally, and you had to show up with the cruise ticket as proof at the cash desk and pay in advance. By the way, when staying at Hilton Hotel Molino Stucky, you can get a 20% discount (2019) too.

Here at the E-section, you had outside the access to the Vaporetto-jetty.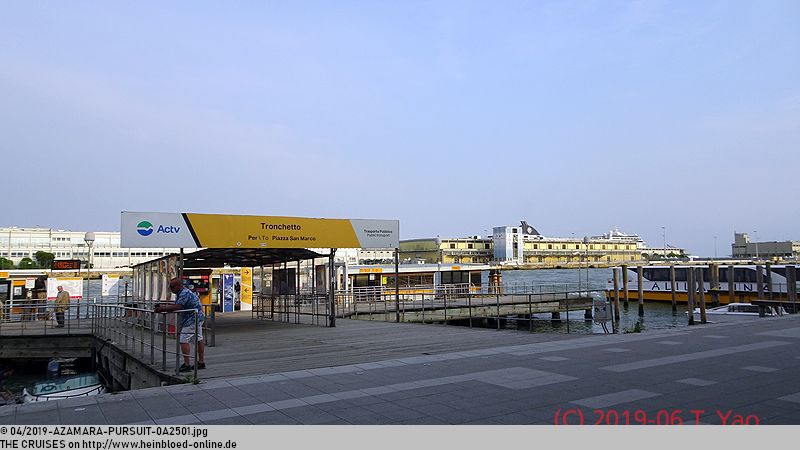 Hier auf Höhe E ist auch draußen der Zugang zur Anlegestelle des
Vaporettos
.
Prima: in vier Minuten fährt eine
Vaporetto
. 2/ sind Direktfahrten.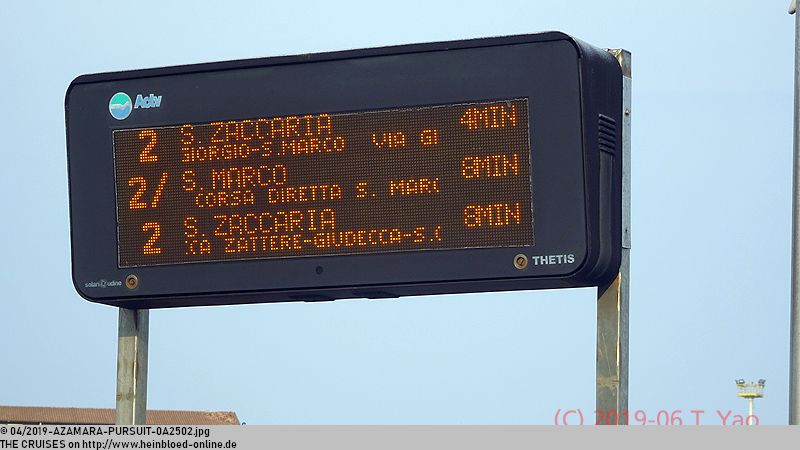 Great: in four minutes the next Vaporetto would leave. 2/ were direct journeys.

I was looking for the barcode reader.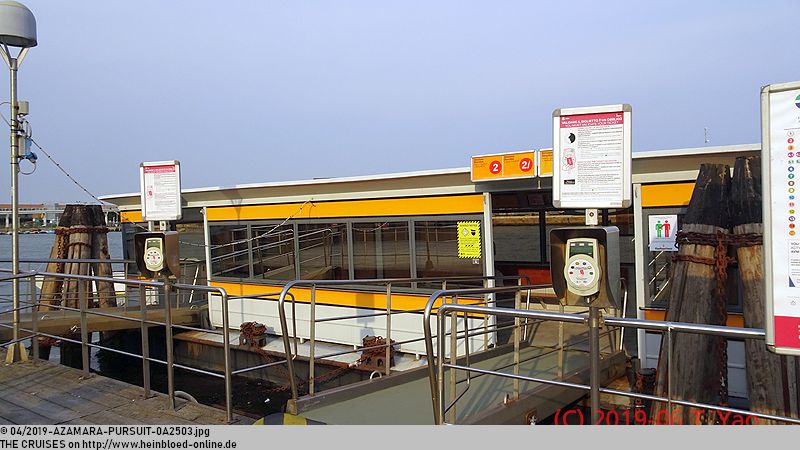 Ich suche den Barcode-Leser.
Hier gibt es gar keinen.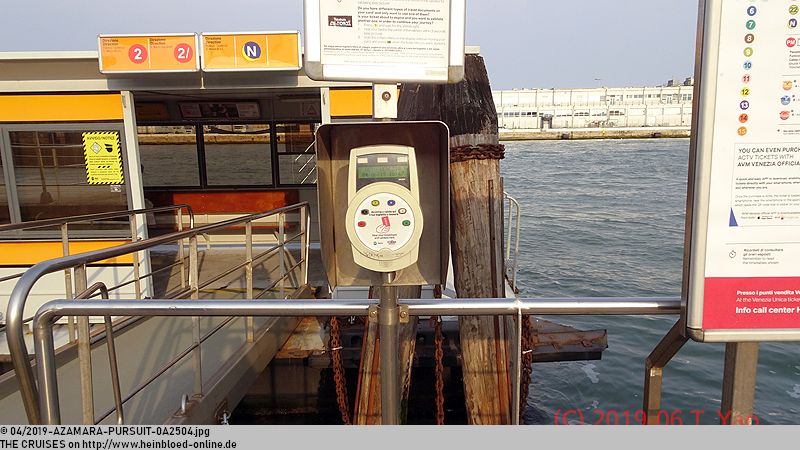 But here they had none.

The ticket vendor said that I should validate at the gate for the opposite direction.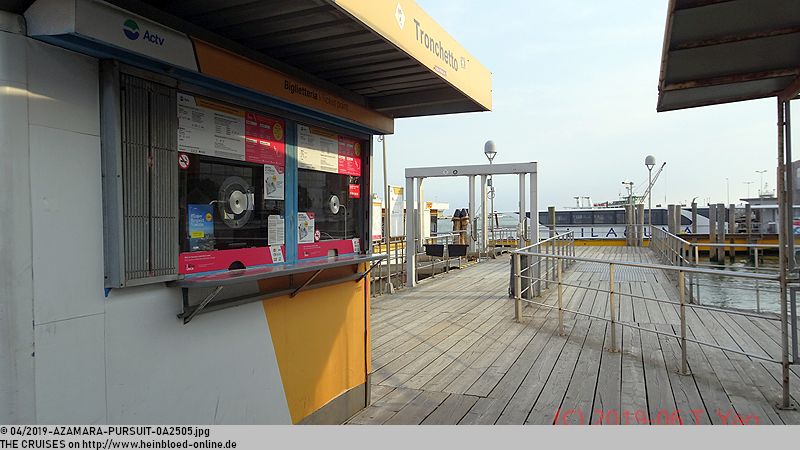 Der Fahrkartenverkäufer meint, dass ich in Gegenrichtung entwerten soll.
Aha: jetzt gibt es auch eine
HoHo-Linie
in Venedig.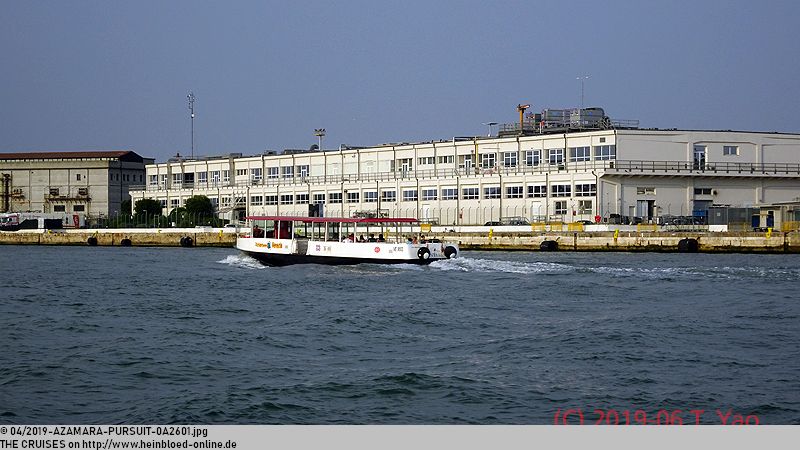 Well, they had also now a HoHo-Route here in Venice.

It might be not uninteresting. They came across very frequently. But no Canale Grande and Rialto-Bridge.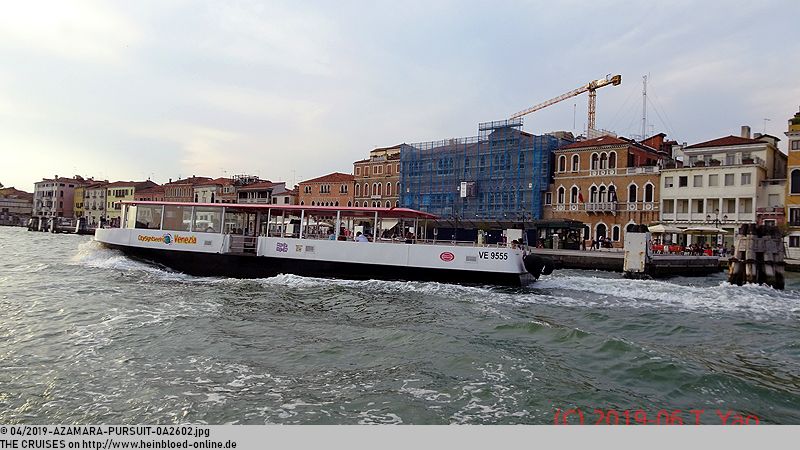 Ist vielleicht gar nicht uninteressant. Sie kommen mir sehr häufig entgegen. Aber
kein Canale Grande und Rialto-Brücke
.
Ich sehe mich am
Kreuzfahrtterminal San Basilio
um. Eigentlich sollten wir hier ablegen, aber wir wurden bereits informiert, dass wir hier nicht ablegen. Man sieht Schäden noch am Pier, die durch den
Unfall
verursacht wurden. Aber für unser Schiff sollte der Platz zum Anlegen noch reichen. Es liegt sehr praktisch. Vom
Vaporetto
Anleger San Basilio kann man direkt über eine kleine Brücke zum Kreuzfahrtterminal. Es liegt direkt gegenüber vom
Hilton Hotel Molino Stucky
. Hier hatten wir vor der
NORWEGIAN JADE 2014 (2)
gewohnt. Von hier ist es schon unpraktischer hierher zu kommen:
Wassertaxi
(70,00 EUR = 2019) oder Umweg über San Marco mit dem Shuttle oder zu Fuß (10 Minuten) bis Sacca Fisola oder Giudecca Palanca und dann mit
Linie 2
rüber. Da es hier noch landseitigen Zugang gibt: ein normales
Taxi
zum
Flughafen
wäre möglich.

I looked around at San Basilio Cruise Terminal. Actually, we should embark here, but we had already been informed that we would not embark here. You could still see damage at the pier occurred by the accident. But it should be enough space for our ship to dock. It was located very conveniently. From Vaporetto Pier San Basilio you could directly cross over a small bridge to the cruise terminal. It was just across the canal from the Hilton Hotel Molino Stucky. Here we stayed before we joined NORWEGIAN JADE 2014 (2). From here it was already more impractical to get here: water taxi (70,00 EUR = 2019) or detour via San Marco by shuttle or by walk (10 minutes) to Sacca Fisola or Giudecca Palanca and then crossing by route 2. Since there was still shoreside access: a normal taxi to the airport would be possible.

RIVER COUNTESS was still there. Towards San Marco, there were not so many damages to see.

Die RIVER COUNTESS ist immer noch da. In Fahrtrichtung San Marco sieht man wenig von den Schäden.
Und dann immer wieder schön: die Fahrt durch den Giudecca-Kanal. Ich versuche ja von der Schweiz mich zu lösen und ausgerechnet an dem schweizerischen Konsulat geht es ständig vorbei. Ich suche jetzt schon mal den passenden Platz für morgen für meine Bilder. Die Anfahrt an San Marco ist immer wieder spektakulär. Egal, wieviele Bilder ich bereits habe: es muss einfach sein.

And then again and again beautiful: the ride through the Giudecca Canal. I was trying to get rid of Switzerland, and I was riding by all the times at the Swiss consulate. I was already looking for the right place for tomorrow for my pictures. The approach to San Marco was always spectacular. No matter how many pictures I already had, it had to be again and again.

In two days I would be moving... here to the Hotel Danieli... James Bond 007 Sean Connery in "From Russia with Love", Roger Moore in "Moonraker" and Daniel Craig in "Casino Royale" (2006) and now me! Luckily I had enough points with Marriott Bon Voy.

In zwei Tagen ziehe ich um... hierher in das
Hotel Danieli
... James Bond 007 Sean Connery in "
Liebesgrüße aus Moskau
", Roger Moore in "
Moonraker
" und Daniel Craig in "
Casino Royale
" (2006) und nun ich! Zum Glück hatte ich genügend Punkte bei
Marriott Bon Voy
.
Hier am San Zaccaria fährt auch die
Shuttle-Linie zum Hilton Hotel Molino Stucky
ab. Der kostet mittlerweile 8,50 EUR (2019) pro Person und Aufenthalt. Später legen wir mit der
roten
(schnelleren: 1:35 Stunde vom
Flughafen
zum
Kreuzfahrtterminal
-
blaue Linie
1:49 Stunde) Flughafen-Linie von
Alilaguna
auch hier an. Allerdings war es eine Fahrt, die hier endete.

Here at the San Zaccaria also left the shuttle-line to the Hilton Hotel Molino Stucky. Meanwhile, they charge you 8.50 EUR per person and stay. Later, we also docked here with the red (faster: 1:35 hrs from airport to the cruise terminal - blue line 1:49 hrs) Airport-Line from Alilaguna. However, it was a ride that ended here.

Now I was heading back to Santa Lucia Train Station through Canale Grande. Via Guggenheim-Museum - Rialto-Bridge.

Nun geht es durch den Canale Grande zum
Bahnhof Santa Lucia
zurück. Über
Guggenheim-Museum
- Rialto-Brücke.
Ich fahre zunächst zum
Bahnhof Venedig-Mestre
, weil ich mich nach den Lagermöglichkeiten für mein Gepäck dort erkundigen will.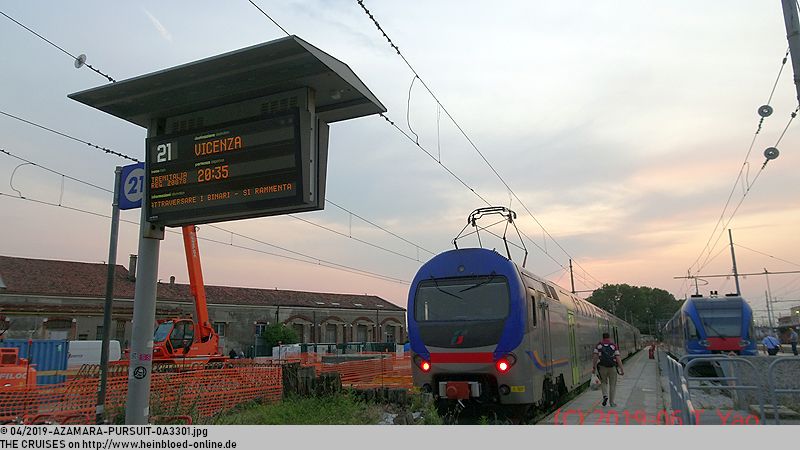 First, I went to Venice-Mestre train station, to check the storage options there for my baggage.

I found out that the Santa Lucia Station was a little larger.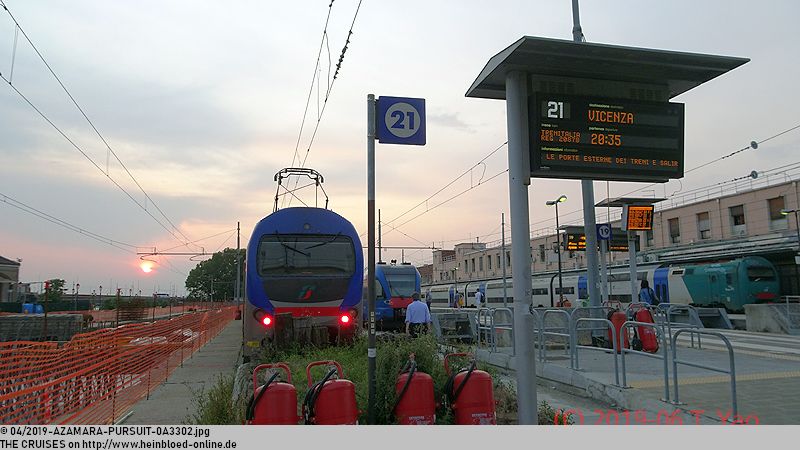 Ich stelle fest, dass der
Bahnhof Santa Lucia
doch etwas größer ist.
Im
Bahnhof Venedig-Mestre
ist die Gepäckaufbewahrung am Hausbahnsteig.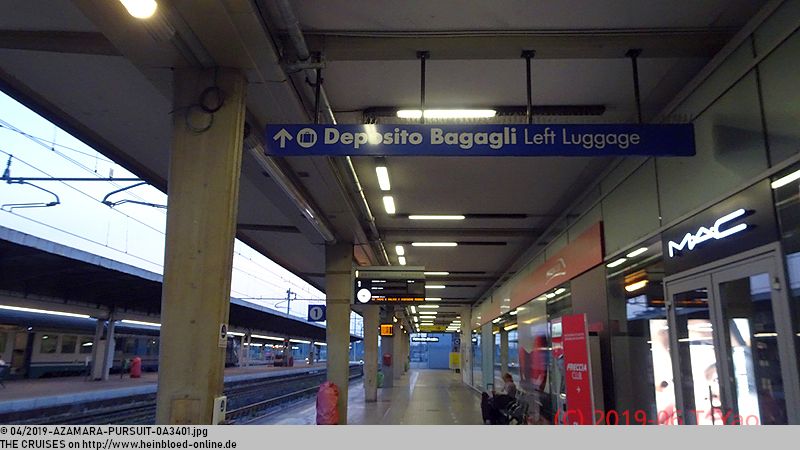 In Venice-Mestre train station the baggage storage was at the platform on the terminal building side.

Also by kiPoint.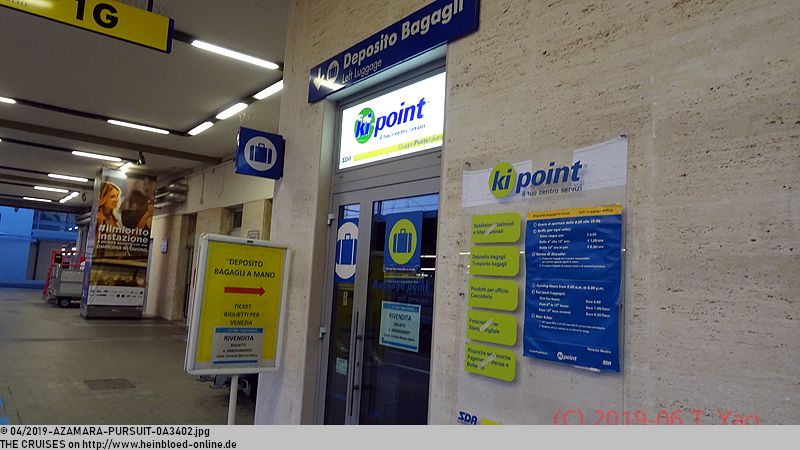 Auch von
kiPoint
.
Allerdings kürzere Öffnungszeiten.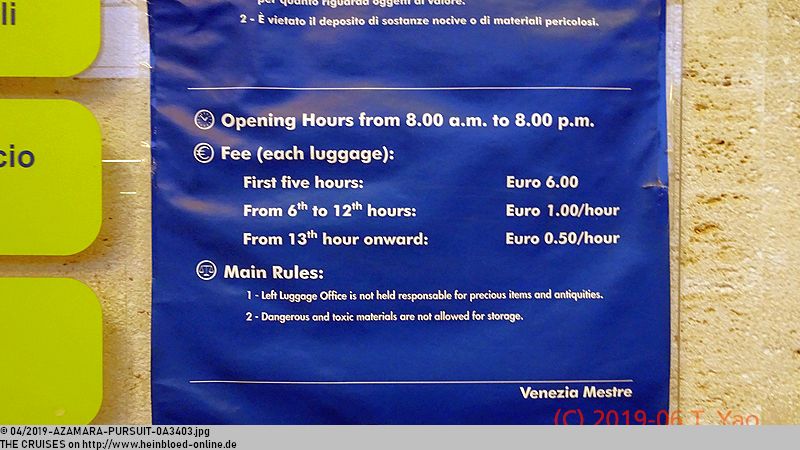 But with shorter opening hours.

I was hungry and had a quick snack. Either I would eat here in the train station and then would miss the next train, or I just took the quick bite at McDonald's and would eat later in the hotel. After I called to double check with the hotel: no problem if I would be back at 21:45 hrs. You could still get something in the restaurant. However, in the restaurant, they did not want to prepare anything when I showed up. But they referred me to the bar. There, on the other hand, the barkeeper was on the phone, while he was trying to take my order and did not listen properly to me. My food was not delivered to the room but made ready for consumption in the bar. I should come down. I was going downstairs to pick it up. He did not want to let me go with a wooden board in my room. The evening ended with less enjoyable memories of a bartender who was making a call and who very selectively picked up information and processed.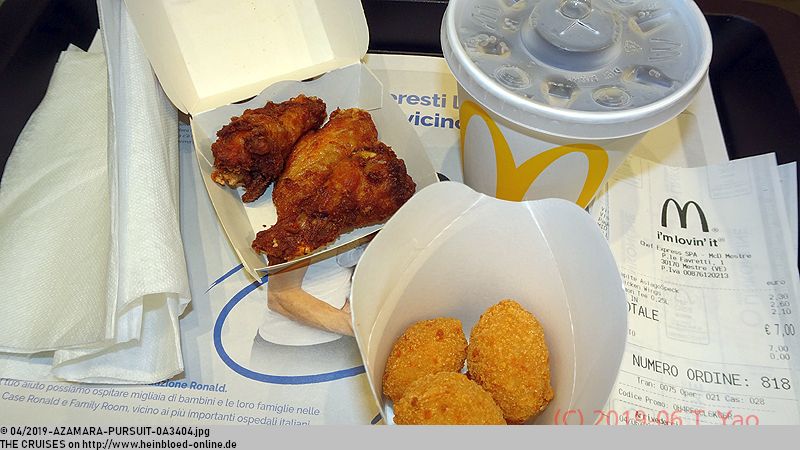 Ich habe Hunger esse schnell einen Snack. Entweder ich esse hier im Bahnhof und verpasse dann den nächsten Zug oder ich nehme eben schnell den Snack bei McDonald's und esse im Hotel. Nach dem ich extra Hotel angerufen habe: kein Problem, wenn ich um 21:45 Uhr komme. Sie bekommen noch etwas im Restaurant. Die wollen allerdings mir um die Zeit nichts mehr machen, sondern verweisen mich an die Bar. Dort wiederum telefoniert der Barkeeper während er meine Bestellung aufnimmt und hört mir nicht aufmerksam zu. Mein Essen wird nicht auf das Zimmer geliefert, sondern für den Verzehr in der Bar fertiggemacht. ich soll runterkommen. Ich gehe runter, um mir das abzuholen. Man will mich allerdings nicht mit einem Holzbrett auf mein Zimmer lassen. Der Abend endet etwas mit weniger erfreulichen Erinnerungen an einen telefonierenden Barkeeper, der sehr selektiv Informationen aufnimmt und umsetzt.
Die anderen Reisen in diesem Blog/
The other voyages in this blog: