Scroll down for English version.

Am 04.09.2009 haben wir das Reisebüro informiert, dass wir am Select Dining Programm teilnehmen.
Am 11.09.2009 wurde dieser Wunsch bestätigt und wir wurden darauf hingewiesen, dass wir die Servicegelder im Voraus zu entrichten hätten. Gleichzeitig wurde eine neue Buchungsbestätigung angekündigt weil sich ja der Endpreis somit ändert.
Am 07.12.2009 wäre die Fälligkeit des Reisepreises gewesen.
Da im Euro-Raum nicht 12 USD sondern ein adäquater Betrag in Euro eingezogen wird, habe ich das Reisebüro am 11.11.2009 angeschrieben, dass ich gerne die neuen Beträge hätte, um die Restzahlung zu veranlassen.
Nach dem mal wieder keine Antwort kam, bin ich doch mal zu Royal Caribbean nach Frankfurt gefahren, um dort meine Restzahlung zu leisten.
Zunächst hat man mich auf mein Reisebüro verwiesen. In diesem Fall habe ich gesagt, das der Vertrag zwischen Royal Caribbean und mir zustande gekommen ist, und dass ich vermutlich der erste Passagier wäre, der auf Erfüllung klagt, damit sie mein Geld annehmen.
Knapp zwei Stunden hat es gedauert und ich hatte die Dokumente in der Hand.
Dabei kamen ein paar Überraschungen noch zu Tage:
Die Anzahlung wird wohl nicht an RCI abgeführt. Das erklärt auch, warum das Reisebüro ursprünglich für die Kreditkartenzahlung eine Courtage wollte, die RCI nicht verlangt. Eine Anzahlung wurde nämlich nicht an Royal Caribbean weitergeleitet und wird wohl in der Branche üblich mit der Provision verrechnet und einbehalten.
Deswegen musste ich die Gesamtsumme dort quasi leisten.
Durch die Terminänderung wurde die Gutschrift für die CENTURY-Reise nicht übernommen. Darauf wurde zwar das Reisebüro ausdrücklich darauf aufmerksam gemacht, aber es ist nicht geschehen. Royal Caribbean bat mich daher nochmals um die Angabe der Kreditkartennummer, um eine Gutschrift zu veranlassen.
Überraschenderweise tauchten dann in der Gesamtrechnung auch im Internet zugebuchte Leistungen wie Ausflüge und Zuzahlrestaurants auf. Aber wie man mir in der Buchhaltung von Royal Caribbean versicherte, stehen diese nur proforma auf der Rechnung und die Kreditkartenzahlungen im Internet werden bei der Berechnung des endgültigen Reisepreises auch entsprechend berücksichtigt.
Nun warte ich mal auf meine Kreditkartenabrechnung, um festzustellen, ob wirklich die Gutschrift erfolgt.
Last not least hatte ich darum gebeten, mal zu prüfen, ob meine 200 USD Bordguthaben als Aktionär aufgebucht wurden. Ich sollte die Unterlagen nochmals einreichen.
Natürlich habe ich meinen Ärger beim Reisebüro sofort Luft gelassen und nachfragt, warum sie nicht einfach antworten. Deren Reaktion: Eine Reise auf der OASIS OF THE SEAS und eine 100-köpfige Gruppe in der kommenden Woche auf der CELEBRITY EQUINOX seien eben wichtiger und man sehe keine Veranlassung auf die Anfrage zu antworten, weil die Rechnung eh in der kommenden Woche gekommen wäre. Kann man das nicht auch zeitnah auf eine Anfrage beantworten??? Nichts dazu gelernt!!!
Die Unterlagen im Internet habe ich sofort ausdruckt und direkt wieder alles markiert, dass ich in USD alles abgerechnet haben möchte.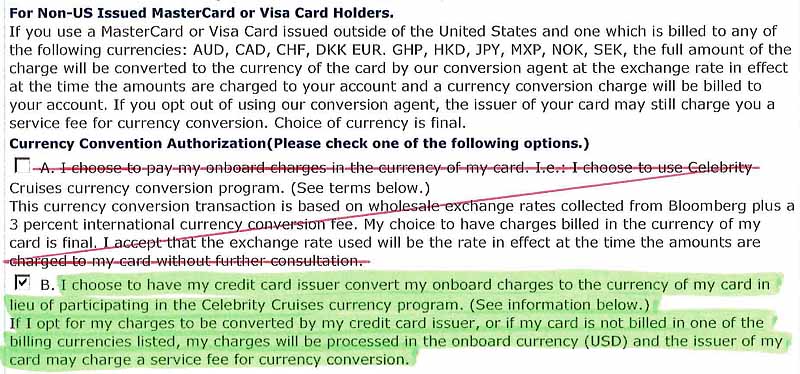 Erstaunt war ich jedoch über die fehlenden Gepäckanhänger.
Stattdessen: links in den Unterlagen von Royal Caribbean Frankfurt und rechts in den Unterlagen des Xpress Passes im Internet.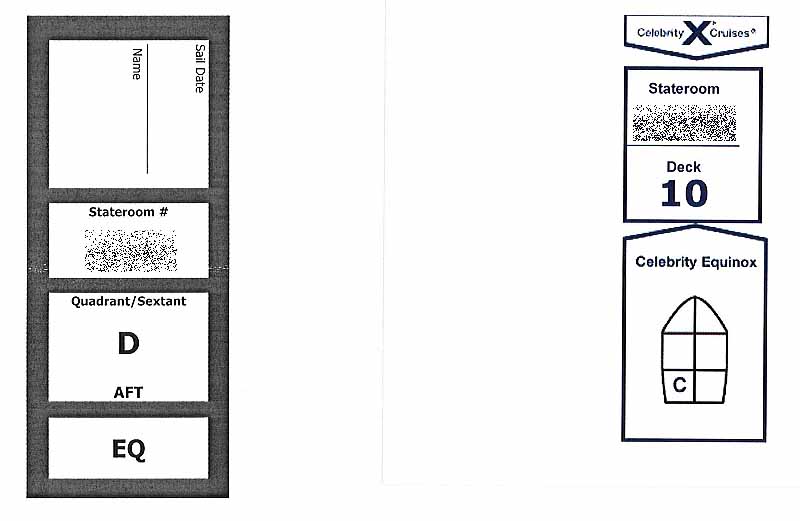 Für die linke Version steht in den Unterlagen:
"Ship baggage tags are available from our Porters at the piers"
(Gepäckanhänger sind von den Gepäckträgern am Pier erhältlich)
Für die rechte Version steht in den Unterlagen:
"They are not real luggage tags. Please use official luggage tags for your bags. If you need extra luggage tags, or if you have forgotten to bring your luggage tags with you, the images below can be used by the porter to create luggage tags at the pier"
(Das sind keine echten Gepäckanhänger. Bitte benutzen Sie offizielle Gepäckanhänger für Ihr Gepäck. Wenn Sie zusätzliche Gepäckanhänger benötigen oder wenn Sie vergessen haben Ihre Gepäckanhänger mitzubringen, kann die Vorlage unten durch den Gepäckträger verwendet werden, um Gepäckanhänger am Pier zu erzeugen).
Zusätzlich??? Vergessen??? Ich wünschte, dass ich welche hätte, nach zusätzlichen zu fragen, die ich vergessen hätte...
Vor allem interessiert mich eines:
Ist nun unsere Kabine wie links markiert in Sextant D oder wie rechts in Sextant C. Ich bin schon jetzt gespannt, ob, wann und wie unser Gepäck unsere Kabine erreicht.

On September 04, 2009 I informed the travel agency that we would like to participate at the Select Dining programme.

On September 11, 2009 our wish was confirmed and they informed us that we had to prepay the service charges. At the same time they informed us that we will get a new booking confirmation due to final price adjustment.

On December 7, 2009 the amount was due.

As you do not pay 12 USD but an adequate amount in Euro I wrote the travel agency on November 11, 2009 that I would like to have a new confirmation of the rate to arrange the final payment.

No answer so far - that was why I personnaly went to Royal Caribbean to Frankfurt to make the outstanding payment.

First they tried to refer me to the travel agent. But I told them that I have a contract between Royal Caribbean and me and that I might be the very first passenger in the history of Royal Caribbean who would sue them for performance by accepting my final payment.

After two hours I had my documents in my hand.

But there were also few surprises:

The deposit was not forwarded to RCI. That would explain why the travel agency asked for credit card fee which were not for RCI. The deposit will not be forwarded to RCI but stayed with the travel agencies as part of their commission.

That's why I need to pay the total amount more or less.

Due to my rebooking my credit note as compensation for our voyage on CENTURY was not forwarded. We asked the travel agent to take of it but nothing happened. Royal Caribbean asked me again for my credit card details to arrange a credit.

It was very surprising that all bookings for shore excursions and alternative dining appeared on the final invoice. But the finance department of Royal Caribbean assured that they will only appear per forma on the bill but the final amount is calculated under the provisions of all internet-credit-card payments.

Now I am waiting for my final credit card bill to see if they really credited everything correctly.

Last not least I asked for a double check if my 200 USD OBC were on my account as I am shareholder. I should send them again all documents.

Of course I did call my travel agent immediately and asked why they did not just answer to requests. Their reaction: An OASIS OF THE SEAS and a group of 100 guests on CELEBRITY EQUINOX next week are much more important and there is no need to answer as the new invoices would have been sent anyway next week. Could not they just tell this when they got the request??? They have not learned anything!!!

I printed out all documents from the internet and marked that they should charge my credit card in USD.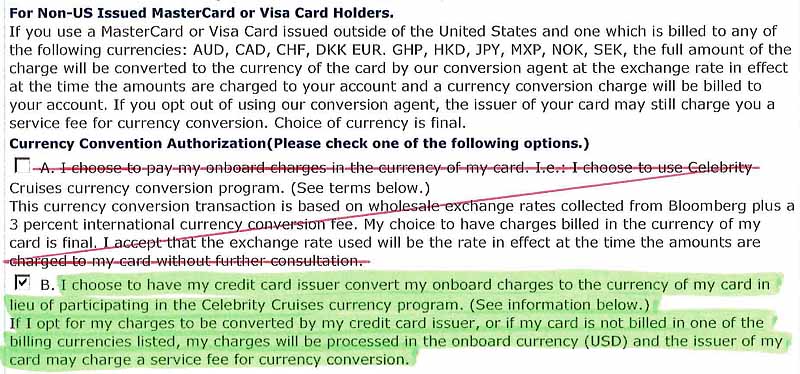 I was surprised on the missing baggage tags.

Instead of this: left the documents from Royal Caribbean Frankfurt and right the documents from the Xpress Pass from internet.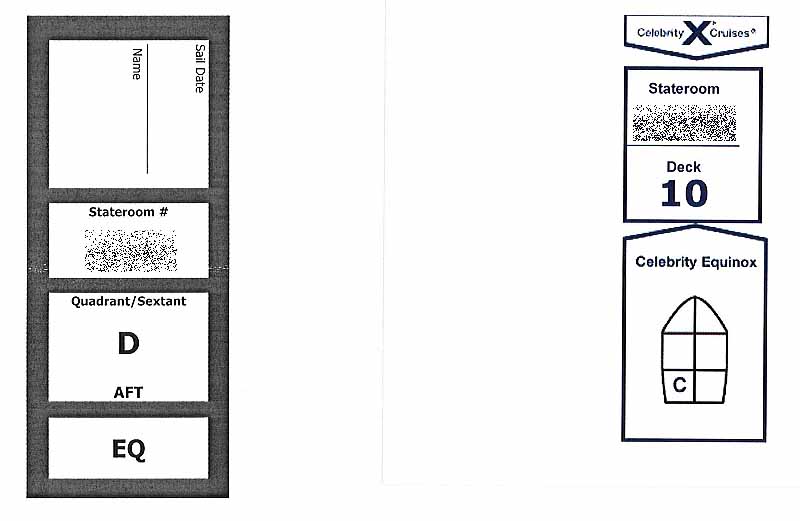 For the left version it was written:

"Ship baggage tags are available from our Porters at the piers."

For the right version it was written:

"They are not real luggage tags. Please use official luggage tags for your bags. If you need extra luggage tags, or if you have forgotten to bring your luggage tags with you, the images below can be used by the porter to create luggage tags at the pier."

Extra??? Forgotten??? I wish I have some to ask for extra which I can forget...

But I am interested in one fact:

Is our stateroom now like on the left side marked in Sextant D or like on the right side in Sextant C. I am curious, if, when and how our bags will reach our stateroom.